Whether it's a cross country vacation, or a trip to the cabin- snacks are always the perfect road trip companion.
We know how it goes. The vehicle is loaded up. The gas tank is full. The miles are whizzing by and you're making excellent time to your destination. . . when suddenly. . . the growl of a stomach and the dreaded complaint, "I'm hungry!" comes from the back seat. But, if you prepare in advance, this phrase doesn't have to mean lost time spent at a gas station or fast-food stop. Be prepared to snack on the go with these simple and time-saving road trip snacks and hacks!
These perfectly portable and portioned containers are ideal for keeping your sweets and treats organized and separated on the open road. With perfectly sized compartments for things like CORN NUTS®, SKIPPY® Peanut Butter Bites, PLANTERS® Trail Mixes and nuts, or JUSTIN'S® Peanut Butter Cups, the options and combinations of snacks are endless! Bonus- these containers are also easy to pop into your cooler if you've decided to fill them with things like HORMEL® Pepperoni and Salami, or HORMEL® GATHERINGS® Party Tray meats and cheeses. Fill remaining spots with fruits or veggies like baby carrots, celery sticks, apple wedges, sliced grapes, raisins or whatever else your family craves!
Oblong and shallow plastic containers are perfect for larger snacks, or things you need to keep cold. These containers stack nicely in a cooler and are perfect for setting on a lap for on-the-go lunches or snacking. Our favorite selections for these containers are Ham and Cheese Sushi Rolls and Pinwheels using HORMEL® NATURAL CHOICE® Lunch Meats (recipes below), PLANTERS® nuts and trail mixes, cubed cheeses, CORN NUTS®, and SKIPPY® protein balls (recipe below).
Mid-sized plastic baskets or tubs are the perfect solution for keeping all your snacks in one location and keeping containers from rolling around the car floor. A midsize tub can easily be tucked into the back of an SUV within easy reach of backseat occupants, or even tucked on the floor or the center of the backseat. To avoid having to pack large bags and potential spills, divide treats into portioned servings using sandwich bags or re-useable baggies. These tubs are also ideal for packing prepackaged travel sized items.
Here's a few of our favorite packable items:
SKIPPY® Squeeze Pouches with apple wedges or celery sticks, crackers and pretzels
WHOLLY® Guacamole and tortilla chips
Crackers
Bottled Water
Water flavoring packets
Don't forget the wet wipes, napkins, hand sanitizer and re-used plastic shopping bags for trash to make cleaning up a breeze.
We've put together some of our favorite portable snack recipes that can be easily added to your 'snack-le box', 'car-go' tub or lunch tray. These portable snacks are easy to prep, easy to eat and help keep bellies full and satisfied on the road.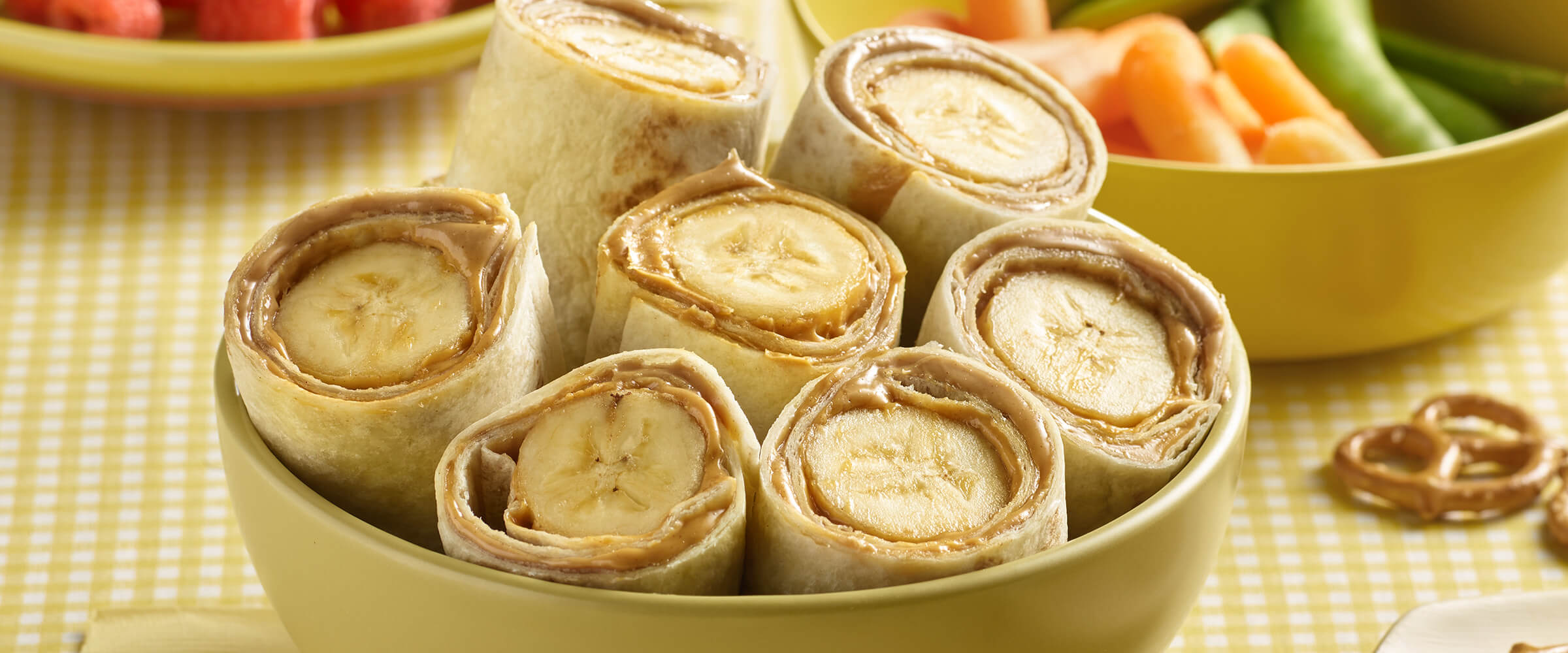 Ingredients
| | |
| --- | --- |
| 1 | (8-inch) flour tortilla |
| 4 | tablespoons SKIPPY® Peanut Butter |
| | 1 banana, peeled |
Directions
Spread peanut butter on one side of tortilla.

Roll banana in tortilla and seal.

Cut into 2-inch pieces.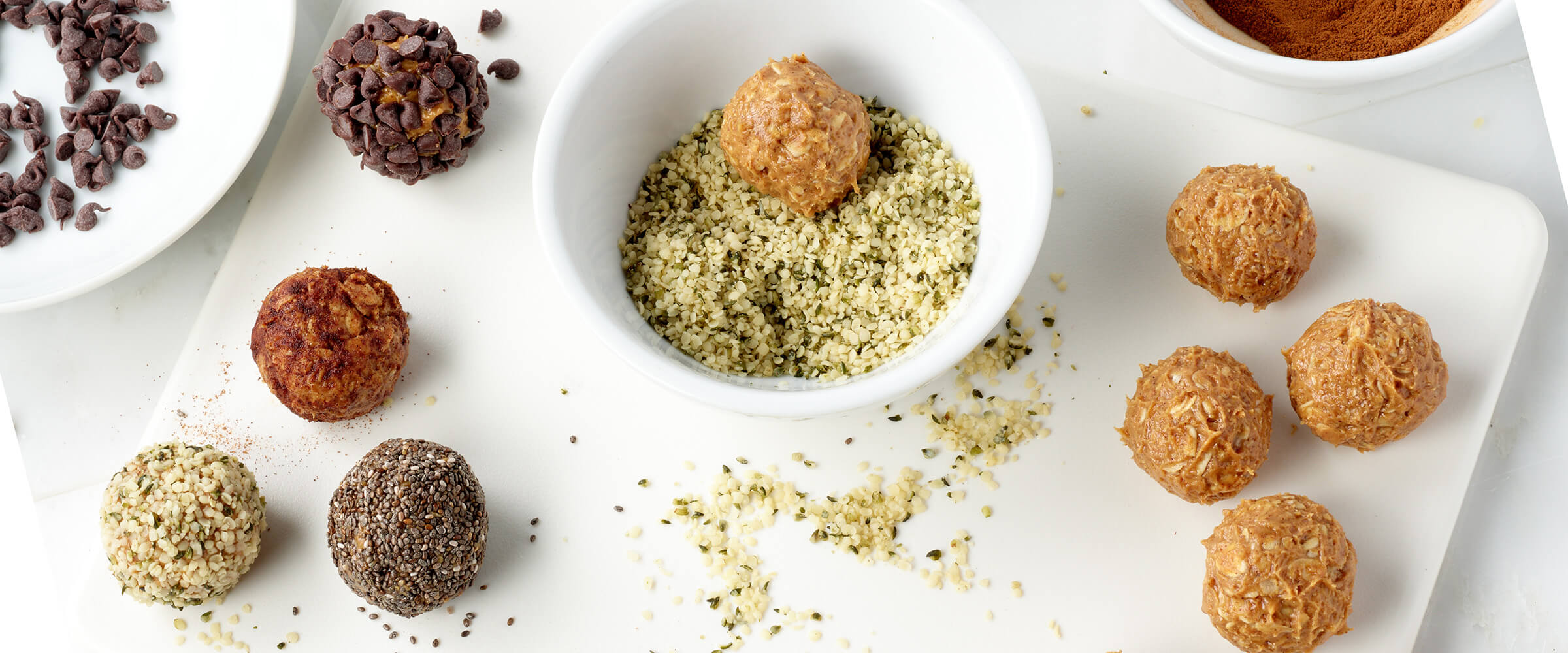 Peanut Butter and Cinnamon Protein Balls
On the Go
Ingredients
1

cup SKIPPY® Creamy or Chunky Peanut Butter Blended with Plant Protein
1

½

rolled oats

⅓

cup honey

1

tablespoon ground cinnamon

1

teaspoon vanilla
| | |
| --- | --- |
| ½ | cup hulled hemp seeds |
| ½ | cup chia seeds |
| ½ | cup mini chocolate chips |
| 2 | tablespoons ground cinnamon |
Directions
In large bowl, combine peanut butter, rolled oats, honey, 1 tablespoon cinnamon and vanilla.

Shape into 24 balls.
For the Garnish
Roll balls in desired garnish.

Store in refrigerator.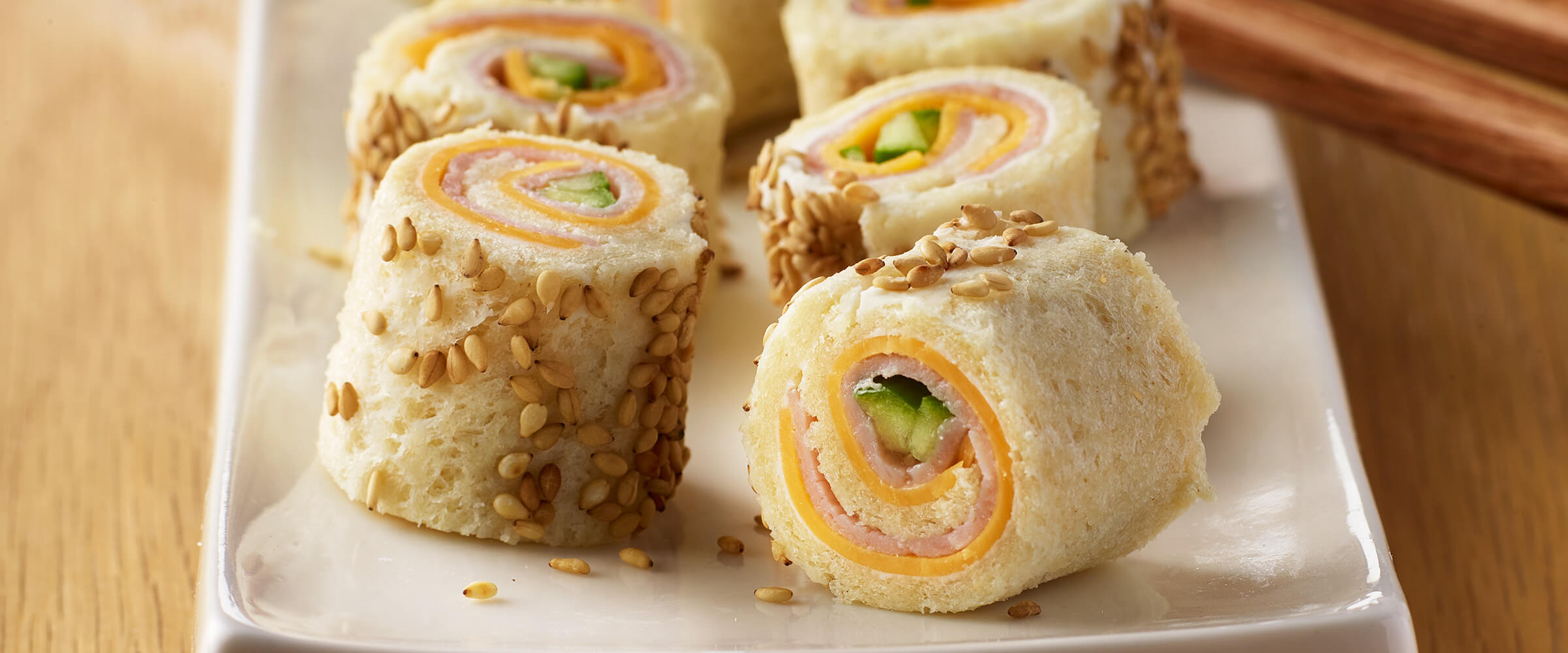 Ingredients
| | |
| --- | --- |
| 2 | slices bread, crust removed |
| 2 | tablespoons cream cheese, softened |
| 2 | slices HORMEL® NATURAL CHOICE® Smoked Deli Ham |
| 2 | thin slices cheddar cheese |
| 2 | tablespoons cucumber matchsticks |
| | Toasted sesame seeds, if desired |
Directions
Place bread slices on cutting board. Using rolling pin, roll each slice of bread a few times to flatten.

Spread each bread slice with cream cheese. Top each with ham, cheese and cucumber.

Roll up, jelly-roll style to enclose filling. Use additional cream cheese to seal edges. Cut into sushi-sized pieces.

Roll in toasted sesame seeds, if desired.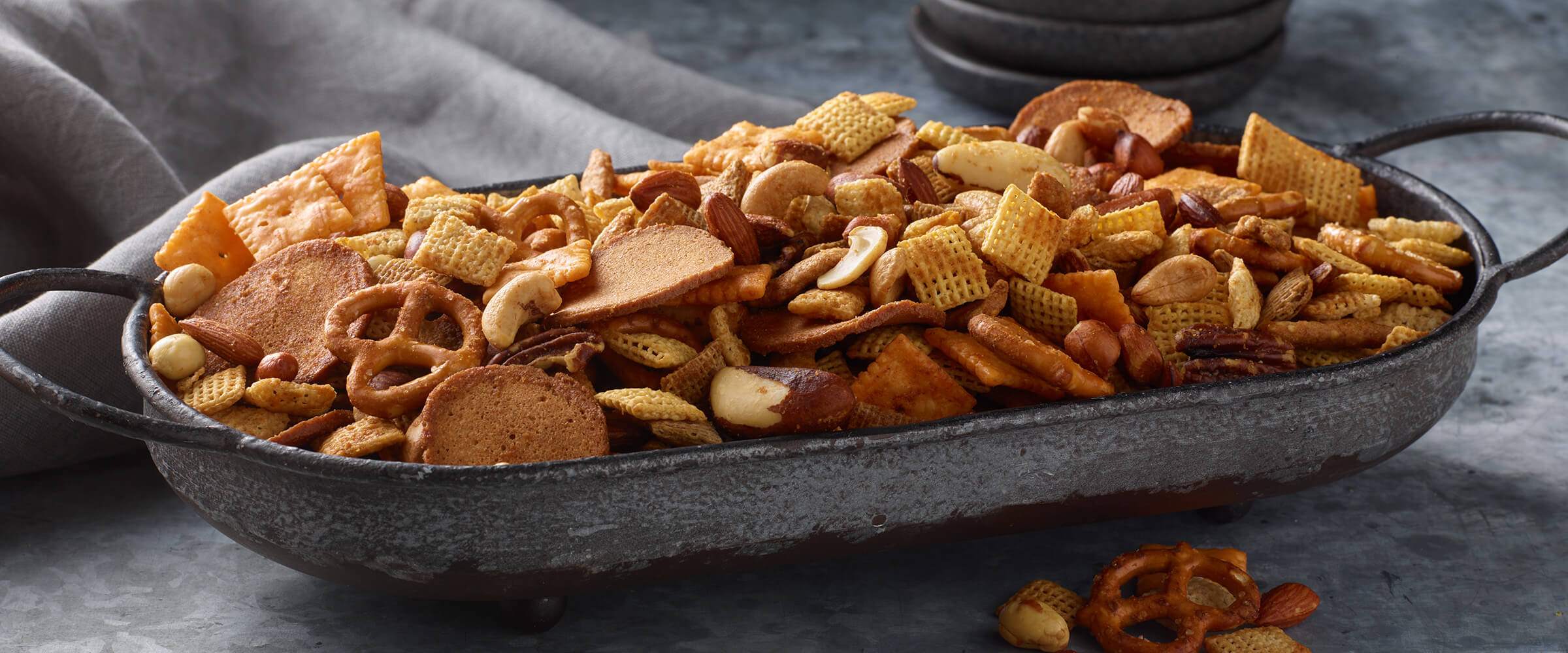 Ingredients
9

cups toasted rice, corn, and wheat squares cereal

1

cup mini pretzels

1

cup sesame sticks

1

cup rye chips

1

(10.3-ounce) can PLANTERS® Mixed Nuts

½

cup butter

2

tablespoons soy sauce

3

tablespoons sriracha
1

½

teaspoon garlic salt

1

teaspoon onion powder

½

teaspoon smoked paprika
Directions
Heat oven to 250°F. Line 2 large baking sheets with parchment paper.

In large mixing bowl, combine cereal, pretzels, sesame sticks, rye chips and mixed nuts.

In small, microwave safe bowl or glass measuring cup, melt butter. Add soy sauce, sriracha, garlic salt, onion powder and paprika. Whisk until well combined.

Pour half of the butter mixture over cereal mixture. Toss well. Pour remaining butter mixture over cereal mixture. Toss well.

Spread mixture out over two baking sheets. Bake for 45 to 60 minutes, gently stirring every 15 minutes.

Remove from oven. Let sit for 20 to 30 minutes or until completely cooled.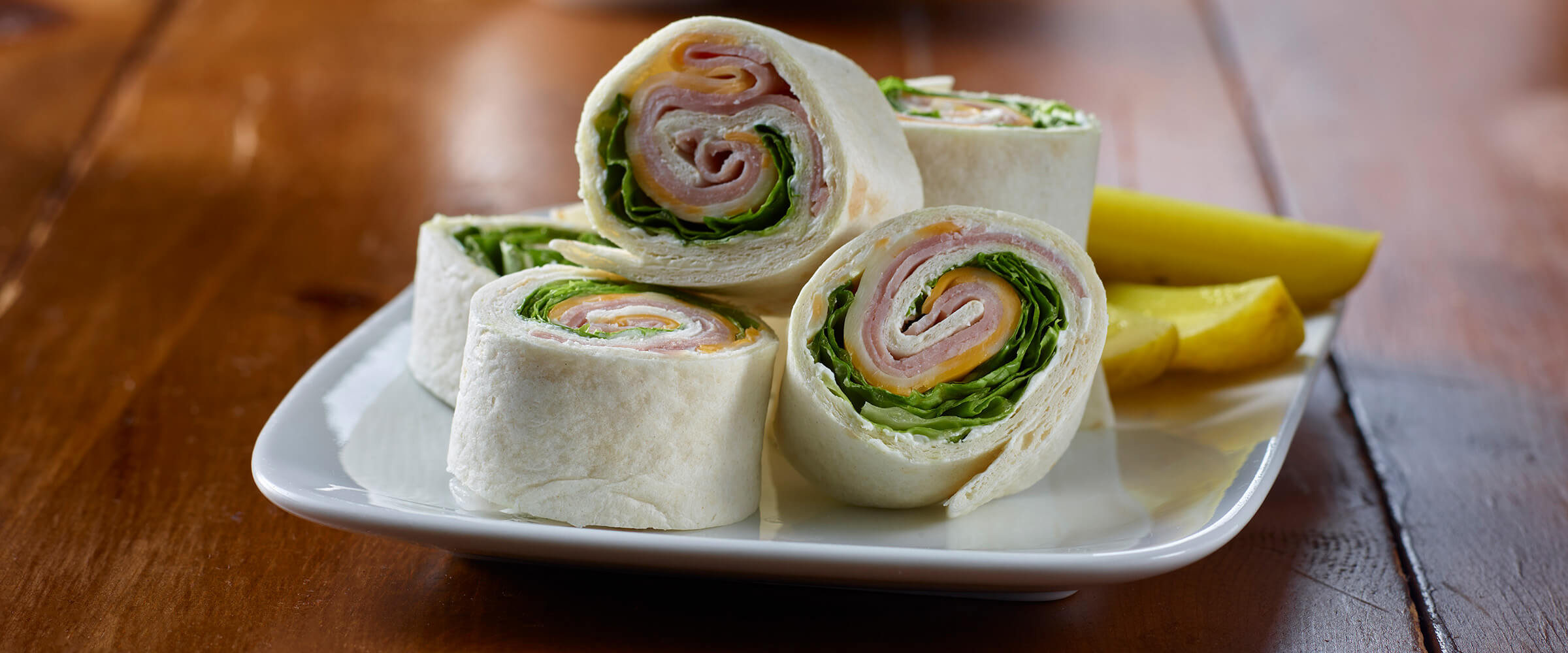 Ingredients
| | |
| --- | --- |
| 1 | burrito size tortilla |
| 1 | tablespoon cream cheese, softened |
| 2 | thin slices Colby-Jack cheese |
| 3 | ounces HORMEL® NATURAL CHOICE® Deli Ham |
| 2 | lettuce leaves |
Directions
Spread cream cheese evenly over tortilla.

Layer cheese, ham and lettuce on tortilla.

Roll up tortilla tightly. Slice tortilla into 1 1/2 inch pieces to serve.