You know how it goes: The family gets together, and all of a sudden you realize: Everybody here has a different dessert favorite!
Well, okay, we may be overstating things just a bit. But if you want to go into the holidays armed with one dessert that'll satisfy a range of "sweet teeth" and tastes and is, get this —is a breeze to make — then take a minute to learn about our 4-Flavor Sheet Pan Pizzaz.
Four quadrants; four kinds of sweets, nuts and chocolates; one sweet, harmonious pie. This is the kind of recipe that rewards with every drop of care you can put in. Four "quadrants," one each devoted to apple/cinnamon, pumpkin, pecan, and peanut butter toppings.
It's got a little something for everyone to love.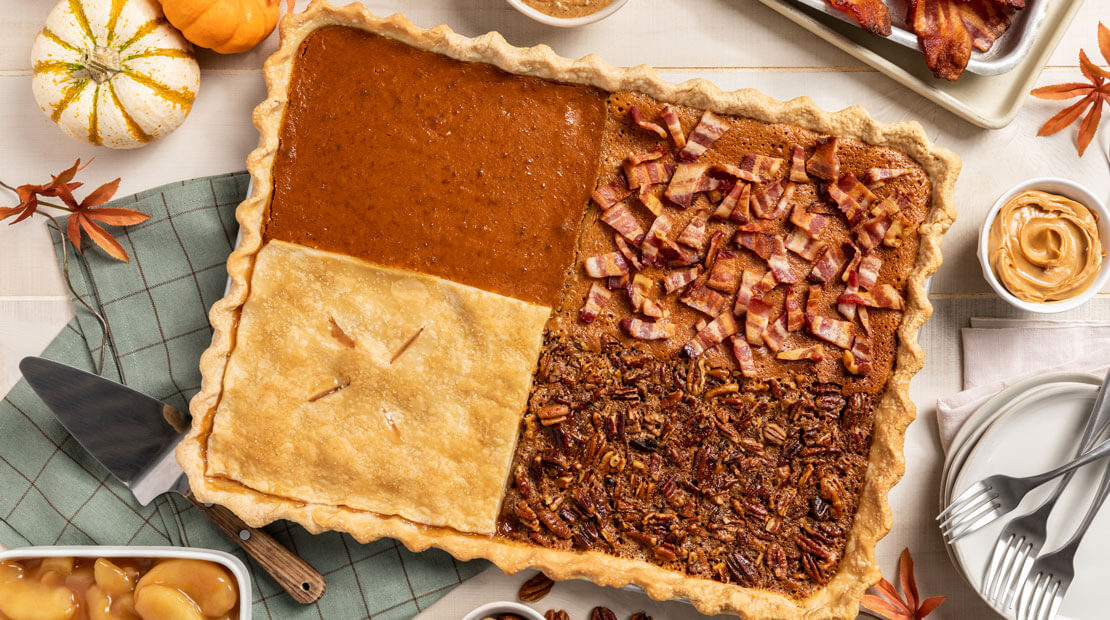 4-Flavor Sheet Pan Pizzaz
Hands-On Time

30 minutes

Total Time

3 hours 30 minutes (plus cooling time)

Serves

16
FOR CRUST & APPLE PIE:

2

(14.1 ounce) packages refrigerated rolled pie crusts

1

(20-ounce) package HORMEL® SQUARE TABLE™ Cinnamon Apples

1

large egg, lightly beaten

1

tablespoon turbinado sugar

FOR PUMPKIN PIE:

1

cup pumpkin puree

1/3

cup JUSTIN'S® Classic Almond Butter

1/3

cup evaporated milk

1/2

cup sugar

1

large egg

1

teaspoon pumpkin pie spice

FOR PECAN PIE:

1/4

cup light brown sugar

1/4

cup light corn syrup

1/4

cup unsalted butter, melted

1

large egg

1/2

teaspoon kosher salt

1

(7.25 ounce) container PLANTERS® Roasted Pecans

FOR PEANUT BUTTER PIE:

1/2

cup light corn syrup

1/2

cup SKIPPY® Creamy Peanut Butter

1/4

cup sugar

2

large eggs

1

teaspoon pure vanilla extract

5

slices HORMEL® BLACK LABEL® Premium Brown Sugar Bacon, cooked and chopped
Instructions
1. For crust and apple pie: Heat oven to 375°F. On a lightly floured work surface, unroll 3 pie crusts and stack on top of each other. Using a rolling pin, roll out pie crust into a 15×20-inch rectangle. Transfer to a 13×18-inch baking sheet and press into the sheet so that the dough hangs slightly over the edge. Crimp edges of pie crust.
2. Cut remaining pie crust into a 7×9-inch rectangle. Pour cinnamon apples in the upper left quadrant of the baking sheet. Place pie crust on top of apples and brush with egg wash. Cut 4 small slits on top of pie crust. Sprinkle with sugar.
3. For pumpkin pie: In a large bowl, using a hand mixer, mix pumpkin puree, almond butter, milk, sugar, egg and pumpkin pie spice together until smooth. Pour pumpkin mixture into upper right quadrant of baking sheet.
4. For pecan pie: In a large bowl, whisk brown sugar, corn syrup, butter, eggs and salt together until combined. Fold in pecans until combined. Pour pecan mixture into lower left quadrant of baking sheet.
5. For peanut butter pie: Whisk corn syrup, peanut butter, sugar, eggs and vanilla in large bowl until combined. Spread peanut butter mixture into lower right quadrant of baking sheet. Bake for 50 minutes to 1 hour, until filling is set and crust is golden-brown. Top peanut butter pie quadrant with bacon. Let cool for 2 hours before slicing and serving.