With the arrival of spring comes a time of celebration and new beginnings. And what better way to mark the spring holiday than with a delicious CURE 81® ham?
But what about the age-old debate: Ham or Turkey for your Spring Holiday meal? Luckily, we've got the perfect solution for this Springtime dinner dilemma!
Whether glazed, roasted, or smoked, ham is a delicious centerpiece for your holiday table. Our signature CURE 81® Spiral Cut ham, coated with our sweet and savory Apple Honey Glaze, is a succulent and delicious dinner-time showstopper that pairs well with almost any side. Ham can also be easily customized from the sweet to the savory, subtle and tangy with various glazes.
Stories
Ham Glazes that Will Change Your Ham
Delicious glaze recipes to try at your next holiday celebration
See Recipes
But for those on team turkey, adding a JENNIE-O® Oven Ready™ Boneless Turkey Breast is the perfect solution, offering all the enjoyment of a traditional turkey with less prep and cook time. Turkey breast is lean and packed with protein, and offers a good base to many different rubs, seasonings, and brines. Roasted, grilled or slow cooked to perfection, a moist and tender turkey breast is sure to leave your guests wanting more.
So, which protein is the best for your Spring holiday dinner table? Why choose between the two when you can have both? By offering both ham and turkey options, you can cater to different tastes while ensuring that everyone has a satisfying and enjoyable meal. Each option offers a wide variety of possible flavors using glazes, marinades, brines, and cooking methods that can be used to complement each other or offer very different flavor profiles.
While the turkey and ham take center stage on the holiday table, the sides and accompaniments are just as important! We've shared a couple of our favorites below, delicious cheesy potato bites and our classic dinner rolls. For even more tasty and inspired side dishes, head to Hormel.com and search our wide array of recipe favorites!
Prep Time
Cook Time
Cook Method
Dish Type
Ingredients
| | |
| --- | --- |
| ½ | cup honey |
| ¼ | cup apple butter |
| ¼ | cup firmly packed dark brown sugar |
| 1 | tablespoon Dijon mustard |
| ¼ | cup cider vinegar |
| 1 | HORMEL® CURE 81® Bone-In Half Ham (7 to 9-pounds) |
Directions
Heat oven to 325°F.

In small saucepan, over medium heat, bring honey and remaining ingredients to a boil. Reduce heat to low and simmer 2 minutes.

Cook ham according to package directions, basting every 30 minutes with honey mixture.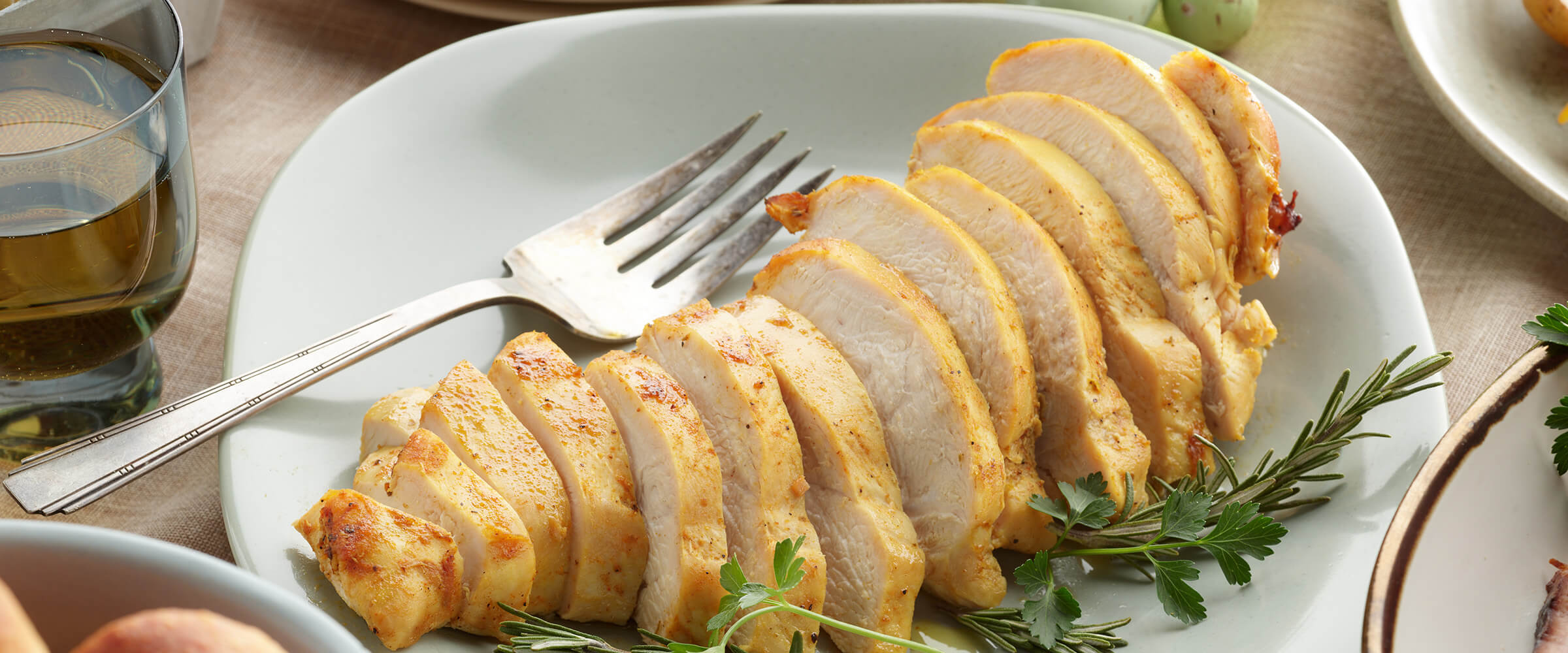 Prep Time
Cook Time
Dish Type
Ingredients
| | |
| --- | --- |
| 1 | JENNIE-O® Oven Ready Boneless Turkey Breast |
Directions
Preheat oven to 375°F. Remove frozen turkey breast from outer package only. Do not remove from cooking bag. Do not grill, microwave or prepare in electric roaster. Note: Do not increase oven temperature. Cooking bag may melt at higher temperatures.

Place in a roasting pan with at least 2″ high sides. Cut three 1/2″ slits in top of cooking bag.

Place pan in oven, allowing room for bag to expand without touching oven racks or walls. Always check doneness with a meat thermometer inserted into the thickest part of the breast. Start checking temperature after 2 hours. Remove from oven when internal temperature reaches 165°F. Based on natural variations in breast size, it may take up to 3 hours to cook. Note: Meat temperature increases rapidly during last hour of cooking.

Let turkey breast rest 10 minutes, cut open top of oven bag. Be cautious of hot steam and juices. Prepare gravy as directed on pouch.

Slow Cooker:
Add one cup water to the bottom of slow cooker. Place turkey breast in the slow cooker. Cut three 1/2-inch slits in the top of the cooking bag. Cook for approximately 4 hours with the slow cooker on HIGH setting. Always cook to well done, 165F as measured by a meat thermometer.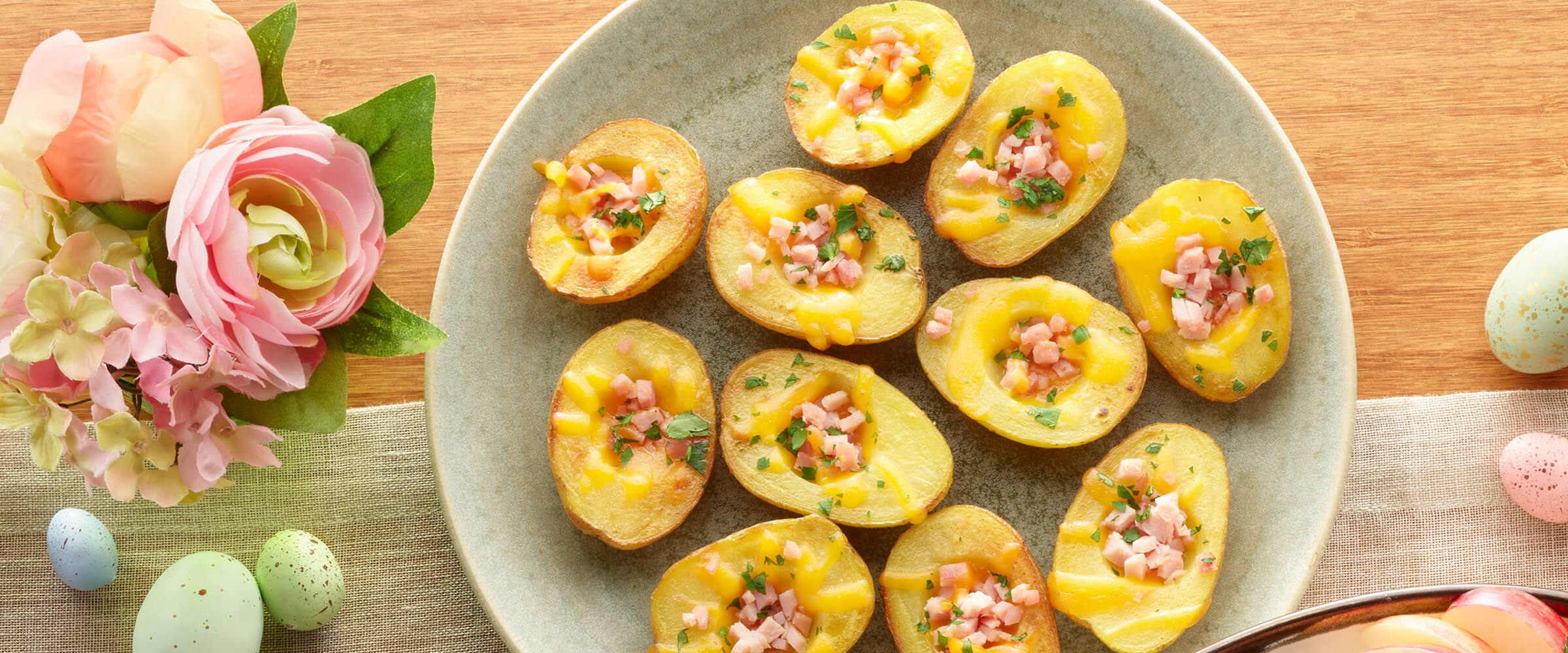 Prep Time
Cook Time
Cook Method
Dish Type
Ingredients
1

pound small Yukon gold potatoes, scrubbed

1

cup finely diced HORMEL® CURE 81® Classic Boneless Ham
1

½

shredded cheddar cheese

½

teaspoon salt

¼

teaspoon black pepper

2

tablespoons chopped parsley
Directions
Place potatoes in large saucepan. Fill with water, covering potatoes. Bring to boil. Turn the heat off. Cover and let potatoes stand 5 to 7 minutes.

Heat oven to 400°F.

Drain potatoes. Cut in half. Using a small spoon, scoop out some of the insides of potatoes. Place in a baking dish. Sprinkle with half of the cheese. Bake 5 minutes, or until cheese is melted.

Top each with ham and remaining cheese. Bake 3 to 5 minutes, or until cheese is melted and potatoes are beginning to brown. Season with salt and pepper.

Garnish with chopped parsley.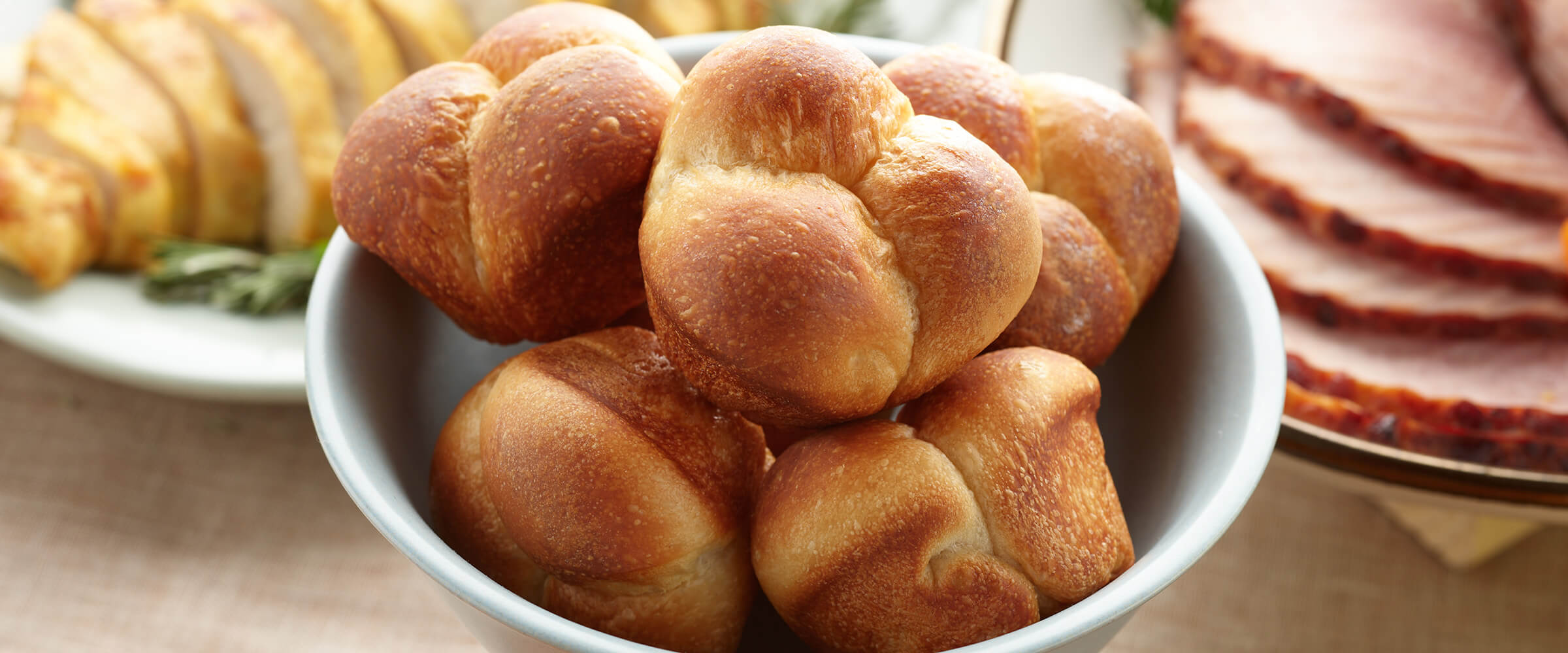 Prep Time
Cook Time
Cook Method
Dish Type
Ingredients
4

cups milk

1

cup sugar

1

cup vegetable oil

8

cups flour
4

½

teaspoons active dry yeast

2

tablespoons salt
Directions
Pour milk into stock pot or Dutch oven. Add sugar and vegetable oil. Stir to combine. Scald mixture and cool to lukewarm (between 90 and 110 degrees).

Add in flour and yeast. Stir together and allow to sit, covered. Stir (or knead just a bit) until combined.

Butter 1 or 2 muffin pans. Form the rolls by pinching off a walnut sized piece of dough and rolling it into a little ball. Repeat and tuck three balls of dough into each buttered muffin cup. Continue until pan is full. Cover and allow to rise for about 1 to 2 hours.

Bake in a 400°F oven until golden brown, about 17 to 20 minutes.