Introducing an instant crowd pleaser to please palates of all ages. Thanks to its undeniably irresistible flavor profile, Pizza Grilled Cheese takes the best of two beloved dishes and makes them even better.
Esteemed chef, cookbook author and beloved TV personality Carla Hall created this scrumptious sandwich, which features JENNIE-O® Ground Turkey with Italian seasoning, garlic powder and onion powder, to help you celebrate the everyday. Hall knows we all need a collection of delicious and easy recipes to enjoy at home any time of day, whatever the occasion, when cooking for one or for a group of loved ones.
Nestled between two slices of Farmhouse white bread, the ground turkey is topped with Italian blend shredded cheese to give this sandwich an enviable cheese pull. While many people use butter on the outside of their bread before cooking, Hall encourages using mayonnaise to achieve the perfect golden-brown color and crispiness. An accompaniment of warm pizza sauce takes this sandwich to hybrid status for a tempting flavor combination you'll want to make again and again.
This sandwich takes minutes to prepare, and you'll end up with a warm, nutritious meal packed with flavor. Pizza Grilled Cheese takes the joy of comfort food to new heights.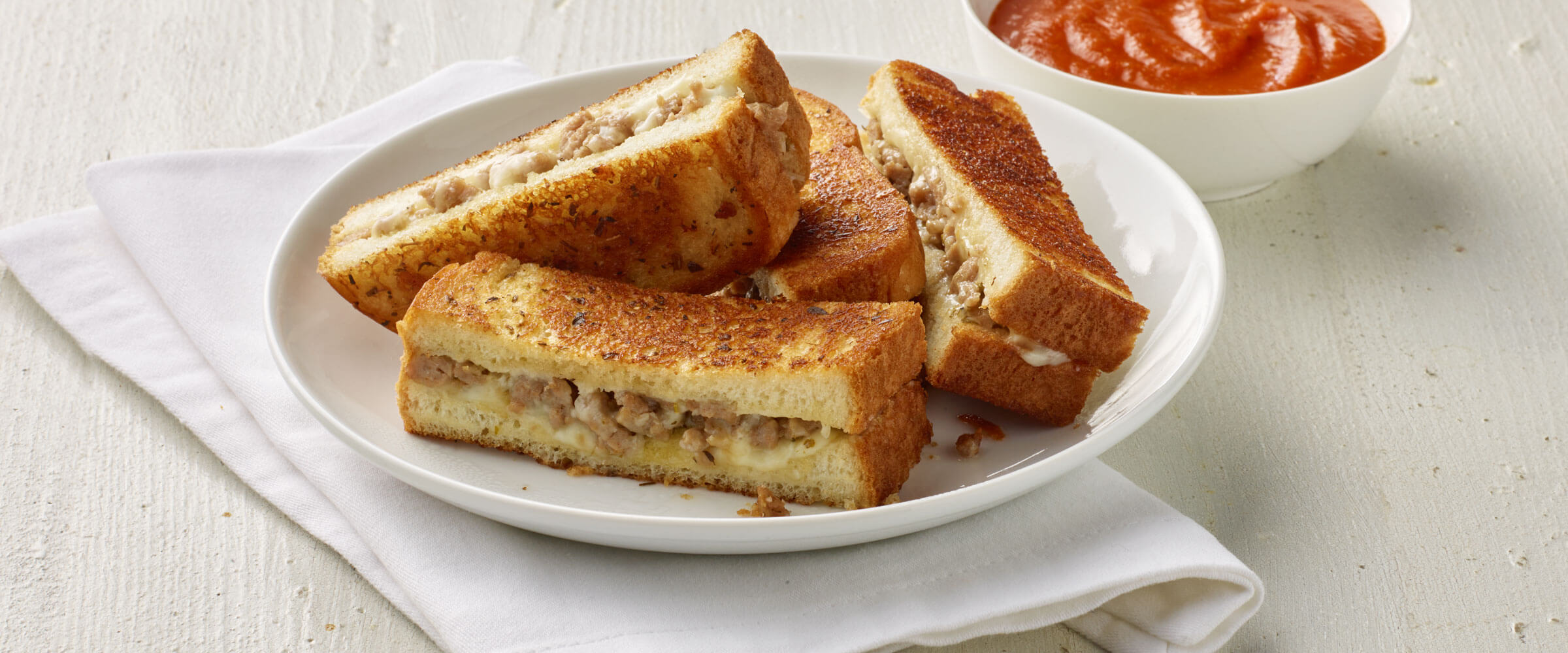 Prep Time
Cook Time
Cook Method
Dish Type
Ingredients
| | |
| --- | --- |
| 2 | tablespoons olive oil |
| 1 | (16-ounce) package JENNIE-O® Ground Turkey |
| 3 | teaspoons Italian seasoning, divided |
| ¾ | teaspoon salt |
| ½ | teaspoon garlic powder |
| ½ | teaspoon onion powder |
| ½ | cup mayonnaise |
| 16 | slices sandwich bread |
| 2 | cups shredded Italian blend cheese |
| | Pizza sauce, warmed for dipping |
Directions
In skillet over medium-high heat, heat oil. Add ground turkey. Stir to crumble, approximately 14 to 16 minutes. Always cook to well-done, 165°F as measured by a meat thermometer. Stir in 1 ½ teaspoons Italian seasoning, salt, garlic powder and onion powder.

In small bowl, combine remaining Italian seasoning and mayonnaise.

Heat large non-stick skillet over medium heat. Spread mayonnaise mixture on one side of each bread slice. Add 4 slices bread, mayonnaise side down, to skillet. Top each with 1/4 cup turkey mixture and ¼ cup cheese. Top with 4 bread slices. Spread tops with mayonnaise mixture. Cook over medium low heat for 3 to 4 minutes per side, or until bread is nicely browned and cheese is melted. Repeat with remaining ingredients to make 8 sandwiches.