This year's Thanksgiving dinner may be different, but it can still be special. We're here to help you rethink your menu planning so you can create a memorable celebration that's just the right size.
Roasting a whole turkey may be too large for your gathering this year. You can still fill the house with the traditional aroma of Thanksgiving Day by roasting a Jennie-O® turkey breast. Our menu includes a step-by-step recipe for the perfect turkey breast. If that feels a bit overwhelming, a Jennie-O® Oven-Ready™ turkey breast is your solution.
Mashed potatoes and gravy are musts for Thanksgiving. Our recipes for both are easy and full-proof. If time is short, or you don't want to peel potatoes, we have your back with Hormel® garlic mashed potatoes.
Roasted Honey and Bacon Brussels Sprouts and a simple Autumn Pear Salad are sides that you will want to enjoy more than on Thanksgiving.
The finale to our dinner is Pumpkin Cheesecake Shooters that are a new twist on pumpkin pie that we know you will love.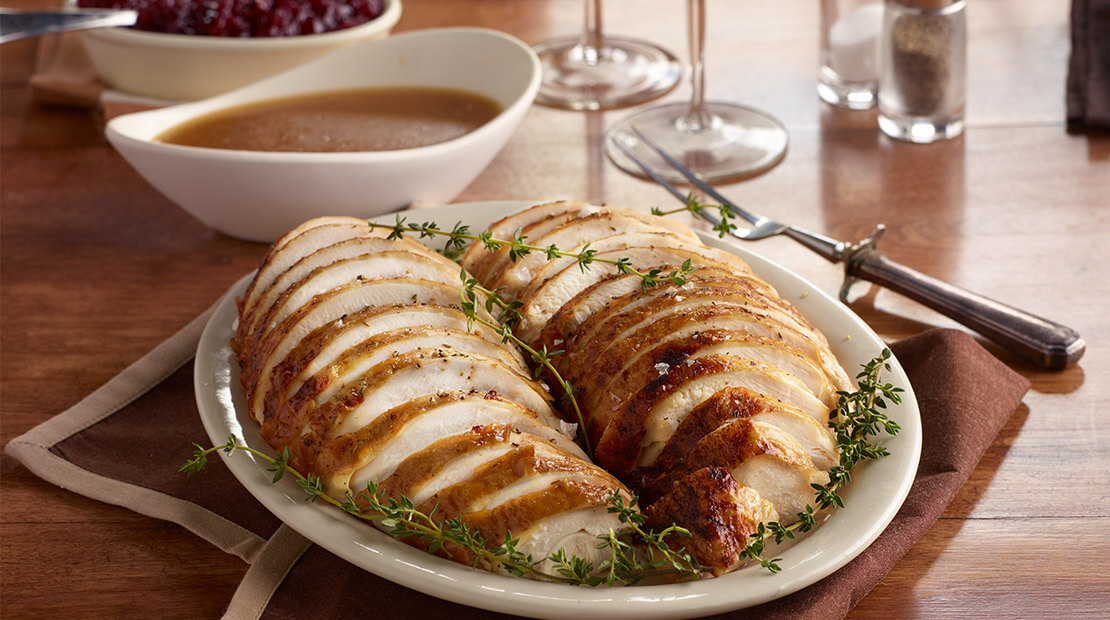 Easy Oven-Roasted Turkey Breast
Hands-On Time

15 minutes

Total Time

3 hours

Serves

8
1

JENNIE-O® Tender & Juicy Young Turkey bone-in whole turkey breast (4½ to 5 pounds), thawed if frozen

1/2

cup butter, melted

1/4

cup dry white wine or apple juice

1 1/2

teaspoons dried thyme leaves

1

teaspoon salt

1

teaspoon paprika

2

cloves garlic, finely chopped

2

teaspoons cornstarch

2

tablespoons cold water
Instructions
Heat oven to 325°F. Place turkey breast on a rack in shallow pan. Roast uncovered 1 hour.
In bowl, mix together butter, wine, thyme, salt, paprika and garlic. Brush turkey with half of the butter mixture. Roast 30 minutes; brush with remaining butter mixture. Roast about 1 hour longer or until meat thermometer inserted into the thickest part of the breast registers 165°F.
Remove turkey from oven and let stand 15 minutes for easier carving. Meanwhile, pour pan drippings into measuring cup; skim fat from drippings. Add enough water to drippings to measure 2 cups. Heat drippings to boiling in 1-quart saucepan. Mix cornstarch and 2 tablespoons cold water; stir into drippings. Boil and stir 1 minute. Serve with turkey.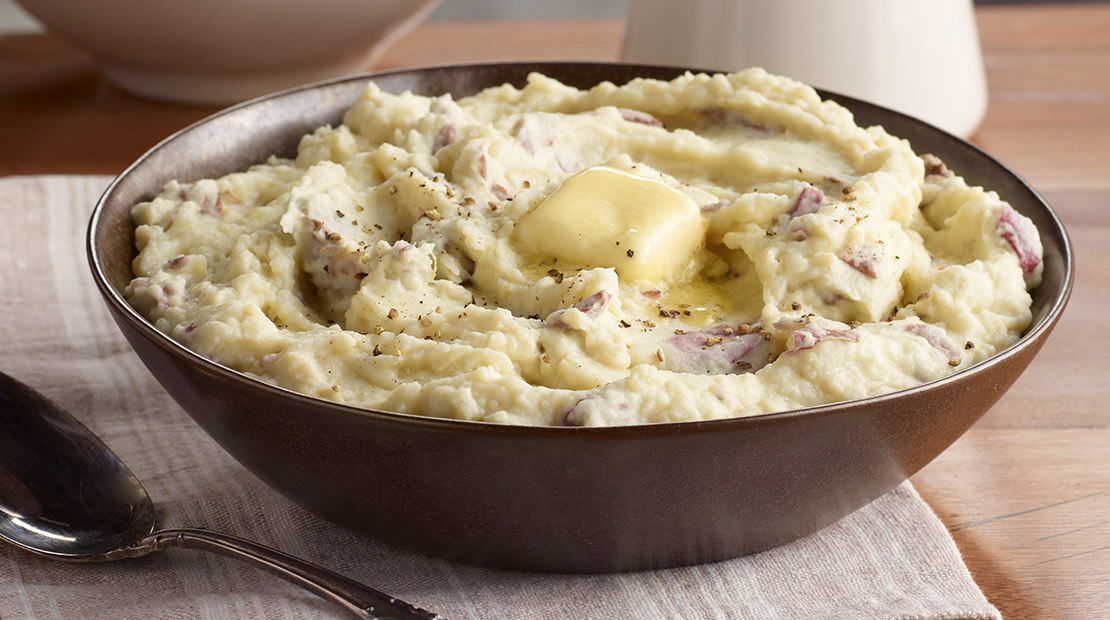 Garlic Mashed Potatoes
Hands-On Time

15 minutes

Total Time

40 minutes

Serves

8
8 to 10

medium boiling potatoes (4 pounds)

12

garlic cloves, peeled

2/3

cup milk

1/2

cup butter, softened

1

teaspoon salt

1/2

teaspoon pepper
Instructions
Scrub potatoes. Leave skins on. Leave whole or cut into large pieces.
In large pot, heat 4 inches water to boiling; add potatoes and garlic. Cover and heat to boiling; reduce heat. Cook whole potatoes 30 to 35 minutes; potato pieces 20 to 25 minutes or until tender; drain. Shake pan gently over low heat to dry potatoes.
Mash potatoes in medium bowl until no lumps remain. Add milk in small amounts, beating after each addition. (Amount of milk needed to make potatoes smooth and fluffy depends on kind of potatoes used.)
Add butter, salt and pepper. Beat vigorously until potatoes are light and fluffy. If desired, dot with butter or sprinkle with additional black pepper.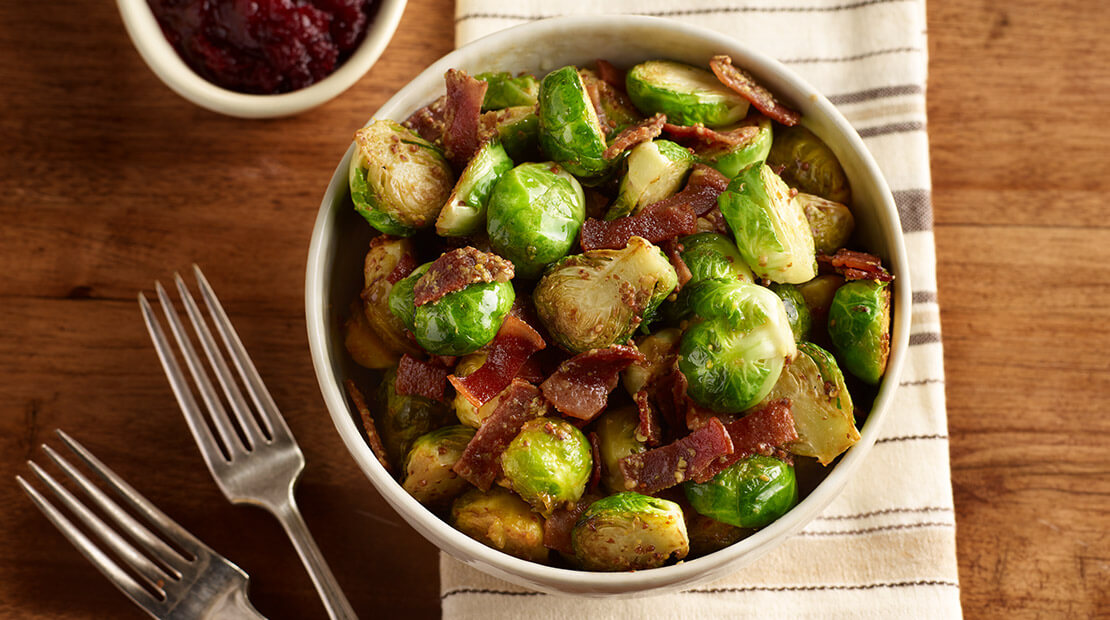 Roasted Honey and Bacon Brussels Sprouts
Hands-On Time

10 minutes

Total Time

50 minutes

Serves

8 to 10
2

pounds Brussels sprouts, trimmed

2

tablespoons stone-ground mustard

2

tablespoons butter, melted

2

tablespoons orange juice

1

tablespoon honey

Salt and freshly ground pepper, if desired

6

slices JENNIE-O® Turkey Bacon, chopped
Instructions
Heat oven to 350°F. On large baking sheet, toss together Brussels sprouts, mustard, butter, orange juice, honey, salt and pepper, if desired. Bake 40 minutes or until crisply tender.
In skillet over medium heat, cook bacon 5 minutes or until browned and crisp; remove to paper towel to drain. Always cook to well-done, 165°F. as measured by a meat thermometer. Add to Brussels sprouts; toss to combine.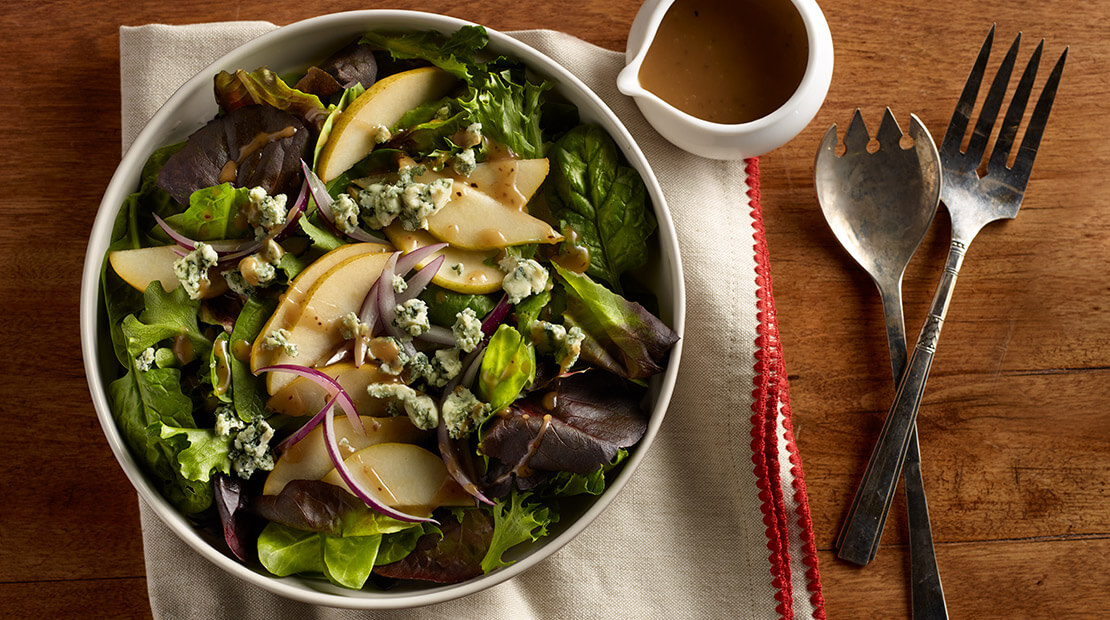 Autumn Pear Salad
Hands-On Time

10 minutes

Total Time

10 minutes

Serves

8
4

cups mixed salad greens

1

red onion, thinly sliced

1/2

cup crumbled blue cheese

2

pears, cored and cut into bite-size pieces

1/2

cup balsamic vinaigrette
Instructions
In serving bowl, toss together salad greens, red onion, blue cheese, pears and balsamic vinaigrette. Serve immediately.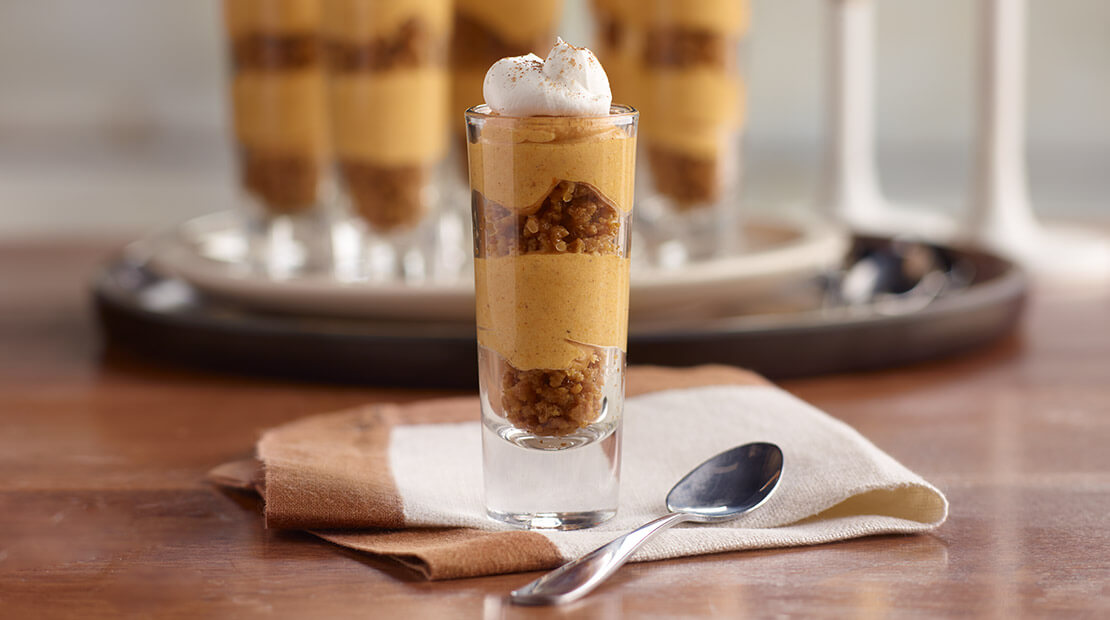 Pumpkin Cheesecake Shooters
Hands-On Time

15 minutes

Total Time

30 minutes

Serves

8
4

gingersnap cookies, crushed

1

tablespoon butter, melted

1

cup ready-to-eat cheesecake filling

1

cup pumpkin pie filling

1 1/2

teaspoons pumpkin pie spice

1/2

cup heavy whipping cream

1/4

teaspoon vanilla

1/4

teaspoon powdered sugar
Instructions
In small bowl, stir together crumbled cookie crumbs and melted butter. In medium bowl, combine cheesecake filling, pumpkin pie filling and pumpkin pie spice until blended.
Cover the bottom of 8 shot glasses with a spoonful of the cookie mixture. Put a heaping spoonful of pumpkin mixture in each shot glass on top of cookie mixture. Top pumpkin mixture with another spoon full of cookie mixture and a heaping spoonful of pumpkin mixture until glass is full. Refrigerate.
Before serving, in bowl, combine cream, vanilla and powdered sugar. Using a hand mixer on low speed, beat until soft peaks form. Top each glass with a dollop of whipped cream.