Pepperoni. Chocolate. Peanuts. When it comes to summer fun, picnics and parties, are there any three better ingredients? We don't think so. Sure, you got your watermelon, your gazpacho, your parfait. Not bad, but, come on. When it comes to the flavors that everybody craves, pepperoni, chocolate and peanuts take the (ahem) cake.
Now imagine turning the classic, savory yumminess of our big three flavors into the most refreshing, colorfully delectable cocktails you could imagine. Each one custom-made for our "Summer of Yum," 2022.
A bloody Mary, infused with the spicy, savory warmth of pepperoni. Bursting with color and intriguing flavor pairings. Tomatoes have never had it so deliriously good!
Pepperoni Pizza Bloody Mary
Hands-On Time

4 hours

Total Time

4 hours 15 minutes

Serves

1
Chili lime seasoning or celery salt for glass rimming

Bloody Mary mix

2 ounces HORMEL® Pepperoni Infused Vodka

1

cup HORMEL® Pepperoni slices

2

cups vodka

Suggested garnish

Pepperoni, pepperoni sticks, string cheese, fresh basil, pizza slice, cherry tomatoes, lime wedges, bacon strips, celery, pickled okra, pepperoncini, olives, pickled onions, pickled spicy green beans
Instructions
Bloody Mary Directions
In tall, rimmed, ice filled glass, pour vodka. Add Bloody Mary mix. Skewer and add suggested garnish, as desired.
HORMEL® Pepperoni Infused Vodka Directions
Heat oven to 350°F. Line large, rimmed baking sheet pan with foil. Lay pepperoni slices out on sheet pan in single layer. Bake 6 to 8 minutes, or until pepperoni is beginning to crisp and fat is rendered.
Transfer pepperoni slices and rendered fat into a large glass jar. Add vodka. Cover jar and shake vigorously. Allow to sit in a cool, dry place 3 hours or overnight, shaking occasionally.
Strain mixture, discard pepperoni. Keep stored in clean glass jar in refrigerator for up to 3 months.
An ingenious blend of spirits, sliced banana, chocolate and peanut butter.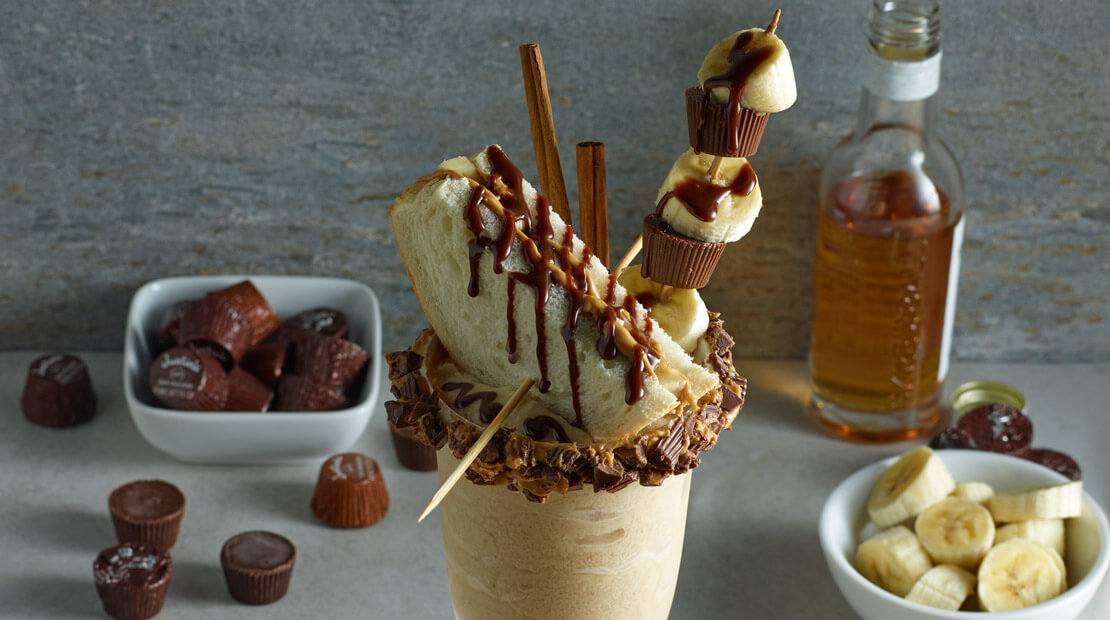 Peanut Butter & Banana Frozen Cocktail
Hands-On Time

15 minutes

Total Time

20 minutes

Serves

1
1/3

cup JUSTIN'S® Classic Peanut Butter, divided

8

JUSTIN'S® Mini Dark Chocolate Peanut Butter Cups, chopped

1

large banana

1/2

cup unsweetened almond milk

2

ounces peanut butter whiskey

1

ounce banana liqueur

1/4

teaspoon cinnamon
Instructions
Spread rim of large glass with 2 tablespoons of peanut butter. Roll in chopped peanut butter cups.
In blender cup place remaining peanut butter, banana, almond milk, whisky, banana liqueur and cinnamon. Add ice. Blend until smooth. Pour into prepared glass.
Garnish with fresh banana slices and additional peanut butter cups.
A bold, tasty, peanut-based punch. Fascinating and complex flavor profile. At once familiar and refreshing. A peanut innovation George Washington Carver would approve of!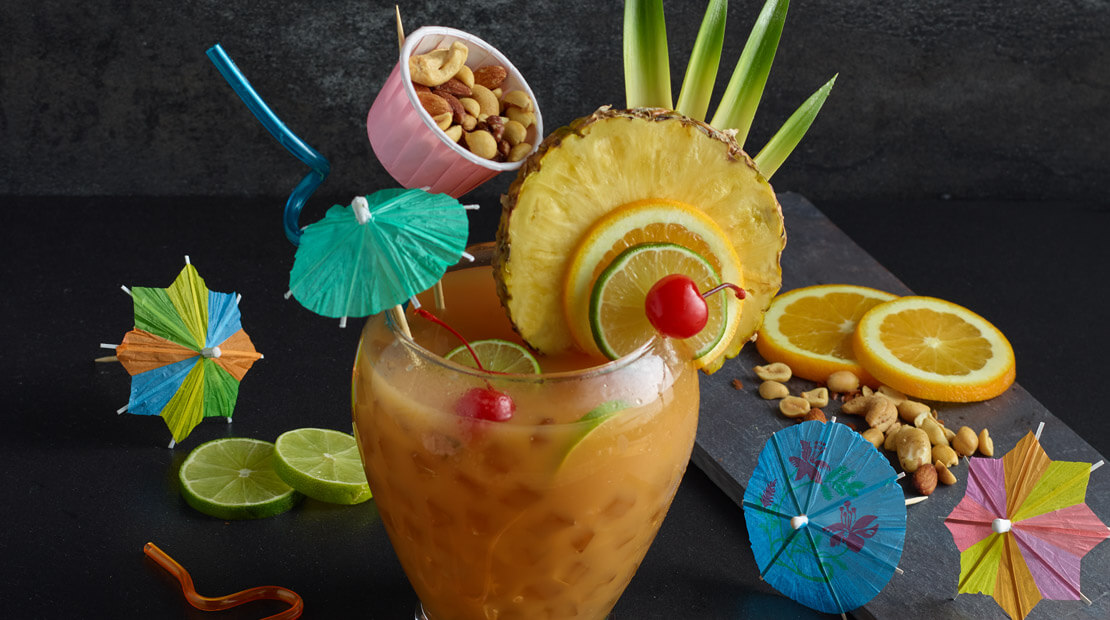 PLANTERS® Punch
Hands-On Time

4 hours

Total Time

4 hours, 15 minutes

Serves

1
2 ounces dark rum
1 ounce lime juice
1 ounce orange juice
1 ounce pineapple juice
2 dashes bitters
1 ounce PLANTERS® Mixed Nut Orgeat
2 cups PLANTERS® Lightly Salted Mixed Nuts
1 1/2 cups granulated sugar
1 1/4 cups water
1 teaspoon orange flower water
1 ounce vodka, optional
Instructions
Punch Directions
In mixing glass place all ingredients. Add ice and shake. Strain into tall ice-filled glass.
Garnish with 2 pineapple fronds, fresh pineapple cubes and an orange half-moon slice
PLANTERS® Mixed Nut Orgeat Directions
In blender or food processor, chop nuts until very finely chopped.
In saucepan over medium heat, combine the sugar and water. Stir continuously until sugar has dissolved and the liquid is clear.
Add chopped nuts. Bring to a simmer over low heat, stirring continuously. When mixture comes to a boil, remove from heat.
Cover. Allow mixture to sit 3 to 12 hours. Strain mixture through a fine mesh strainer pressing with spoon to extract liquid.
Stir in orange flower water and vodka, if using.
Store in refrigerator in glass jar or bottle, for up to 1 month.