Pizza is arguably the number one family favorite meal. The combination of crust, sauce and cravable toppings brings together people across generations and occasions. We collected three of our favorite recipes across a variety of tasty flavor combinations: potato puffs and bacon, pepperoni and hot honey, and veggies and peanuts!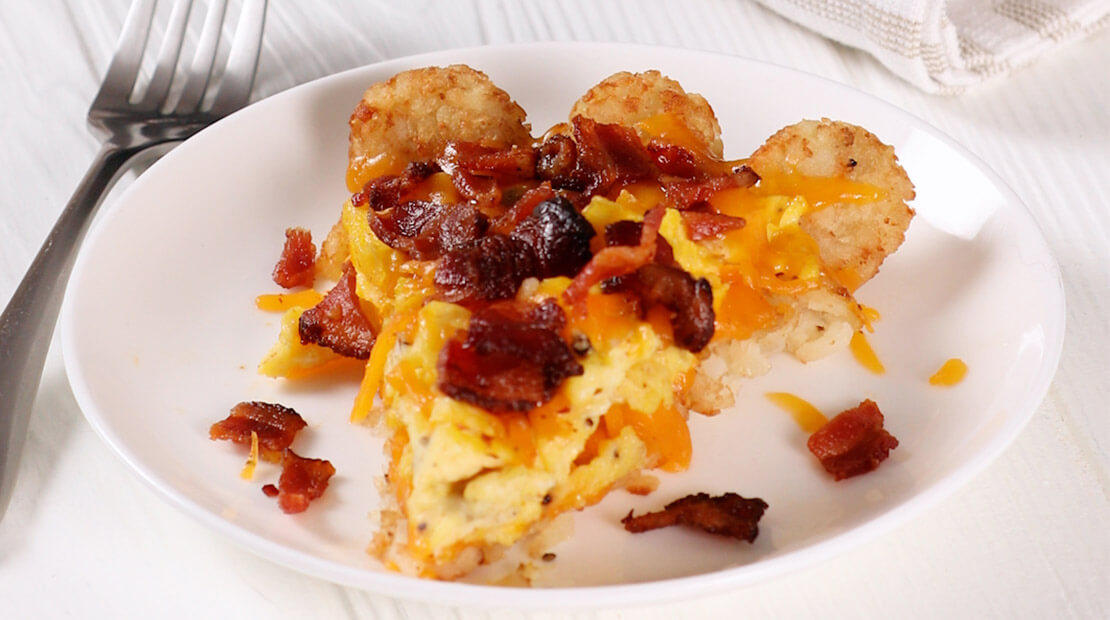 Bacon Potato Puffs Breakfast Pizza
Hands-On Time

15 minutes

Total Time

45 minutes

Serves

2
1

(30-ounce) bag potato puff crowns

1

tablespoon vegetable oil

2

cups shredded Cheddar cheese, divided

6

eggs, lightly beaten

1/4

teaspoon kosher salt

1/4

teaspoon freshly ground pepper

1

cup cooked, crumbled HORMEL® BLACK LABEL® Jalapeño Bacon
Instructions
Heat oven to 425°F.
Line bottom and up sides of 10-inch skillet with potato puff crowns. Bake 10 minutes. Remove from oven and press with spatula to flatten. Sprinkle with 1 cup cheese.
In medium bowl, whisk together eggs, salt, and pepper. Heat large non-stick skillet over medium heat. Add egg mixture and cook, stirring often 2 minutes or just until softly set. Spoon egg mixture over cheese. Top with remaining 1 cup cheese and bacon.
Return to oven and bake 10 minutes or until heated through.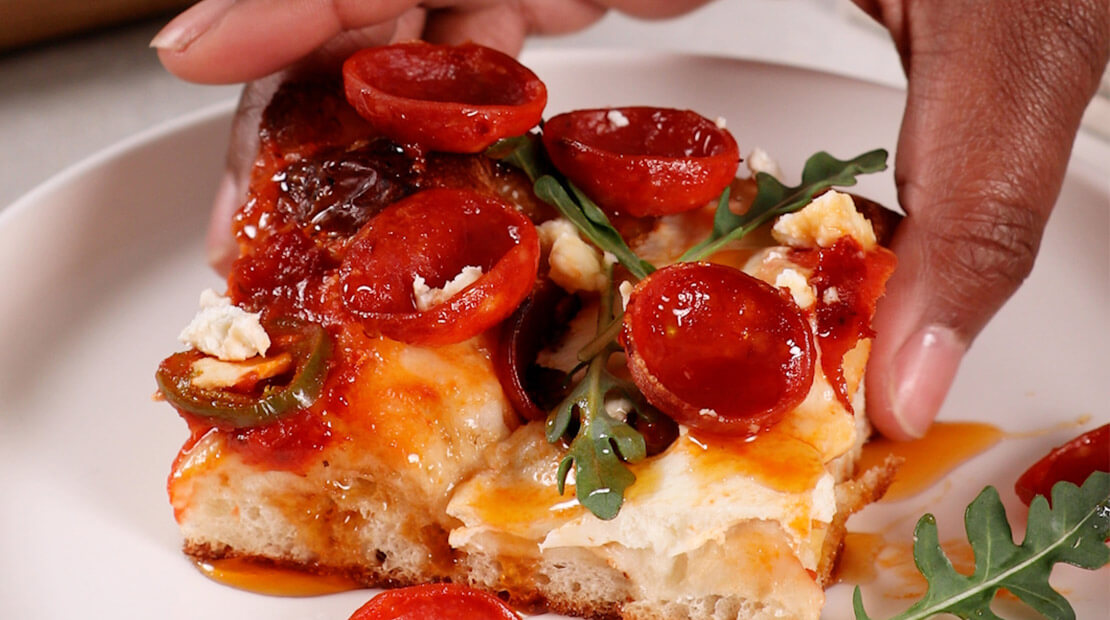 Detroit-Style Pizza with Hot Honey
Total Time

45 minutes

Serves

6
1

tablespoon olive oil

1

pound pizza dough

1

(5-ounce) package HORMEL® Pepperoni Cup N' Crisp, divided

8

ounces brick cheese, cut into 1/2-inch cubes

8

ounces mozzarella cheese, cut into 1/2-inch cubes

1 1/2

cups pizza sauce

Fresh jalapeño slices

Additional toppings; baby arugula and goat cheese

Mike's Hot Honey®, for serving
Instructions
Drizzle olive oil into Detroit-style pizza pan or 9 x 13-inch baking pan. Use fingertips to gently push dough toward the pan edges until it starts to shrink back and won't stretch any farther. Cover pan with plastic wrap and let rest 15 minutes to allow dough to relax.
Press dough into the sides and corners of the pan. Cover with plastic wrap and let rise 30 minutes.
Meanwhile, adjust oven rack to lowest position. If using a pizza stone, place on bottom rack and heat oven to 500°F.
Lay half the pepperoni evenly over top of dough. Top with cheese, spreading evenly all the way to edges of pan. Spoon sauce over surface in three even rows. Top with fresh jalapeño slices.
Transfer pizza to bottom rack of oven. Bake 10 minutes. Remove from oven and quickly arrange remaining pepperoni over top of pizza. Bake 5 to 8 minutes longer or until cheese is bubbly and edges have turned dark brown.
Remove pizza from oven, run spatula around edges to loosen from pan and let rest 10 minutes. Transfer pizza to cutting board, top with additional toppings. Serve with Mike's Hot Honey®.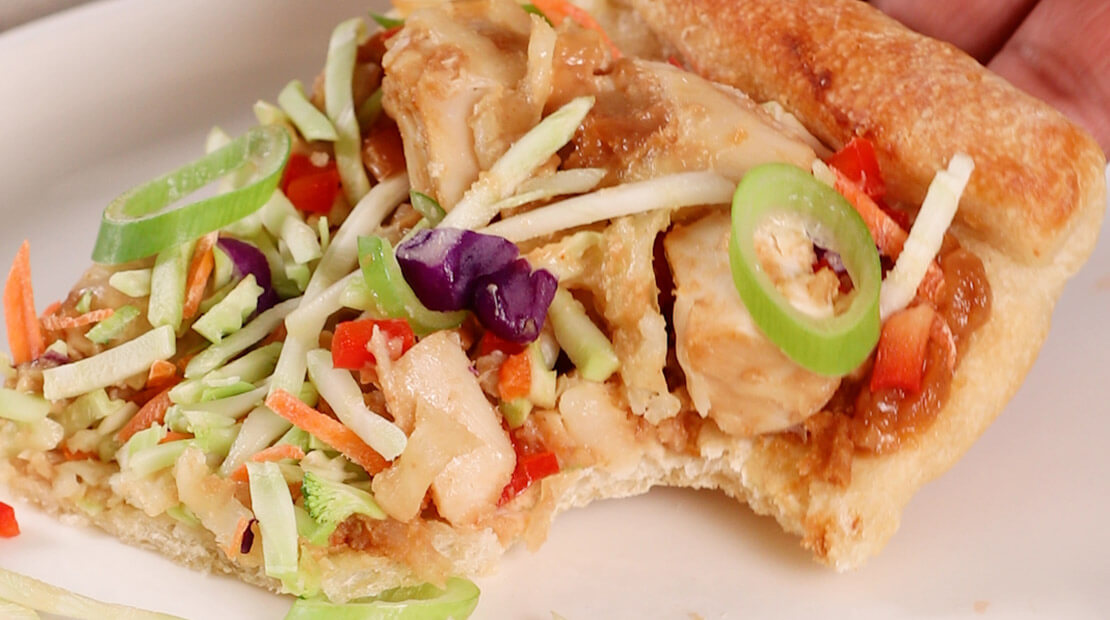 Spicy Thai Pizza
1

(11-ounce) can refrigerated thin crust pizza dough

2/3

cup HOUSE OF TSANG® Bangkok Peanut Sauce

1 1/2

cups coarsely chopped cooked chicken

2

tablespoons peanut butter

1 1/4

cups shredded mozzarella and Provolone cheese blend

2/3

cup broccoli slaw mix

1/4

cup sliced green onions

3

tablespoons finely chopped red bell pepper
Instructions
Heat oven to 400ºF.
Unroll dough onto parchment paper. Roll or pat dough into 15×10-inch rectangle. Transfer dough from parchment paper to baking sheet. Bake 8 minutes.
In bowl, toss together 2 tablespoons peanut sauce and chicken. In small bowl, combine remaining peanut sauce and peanut butter; spread over hot crust. Top with chicken mixture and cheese. Bake 10 minutes or until cheese is melted and crust is lightly golden.
Top pizza with slaw mix, onions and bell pepper. Cut pizza into pieces to serve.