Chef Christina Machamer, "Hell's Kitchen" winner, private-chef and certified sommelier; and Laurie March, Los Angeles home expert, TV personality and producer; headlined a Hormel Foods-hosted Instagram Live event on Thursday, May 14. Machamer made mini tostadas using La Victoria® salsa & Herdez® guacamole salsa. Viewers posed questions to them about hosting virtual happy hours and pairing wines, cocktails and mocktails with different dishes live on Instagram.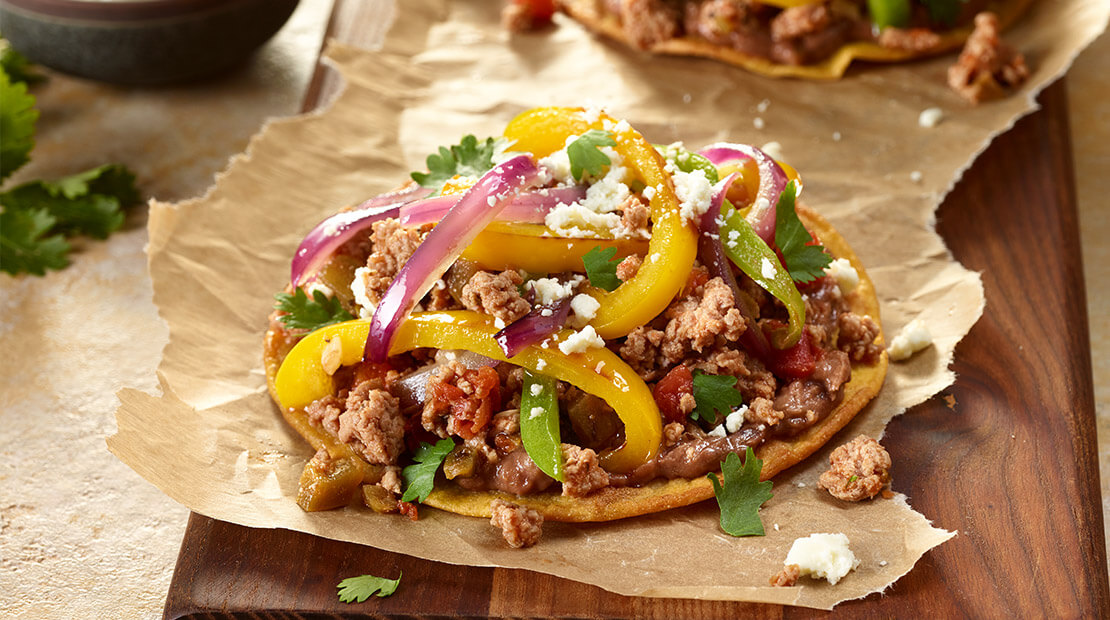 Chef Christina's Tostadas
Total Time

30 minutes

Serves

6
Tostadas

Canola oil for frying

6

CHI-CHI'S® white corn tortillas

Kosher salt, to taste

1

(16-ounce) package Jennie-O® lean ground turkey

1/2

cup LaVictoria® salsa, such as LaVictoria® salsa ranchera hot

1

tablespoon chili powder

1

teaspoon cumin

1/2

teaspoon smoked paprika

1/2

teaspoon garlic or onion powder

1/4

teaspoon cayenne pepper

1

spring fresh oregano or ½ teaspoon dried oregano

Toppings

Refried beans, black beans or pinto beans

Shredded cheese

Shredded Romaine lettuce or red cabbage slaw

Avocado

Diced tomato

Pickled or fresh red onion

HERDEZ® guacamole salsa or WHOLLY® Guacamole classic guacamole

Fresh cilantro

Lime wedges
Instructions
Pour 2 inches oil into deep heavy skillet. Heat oil to 375°F. Add tortillas one at a time. Do not overcrowd skillet. Cook 1 to 2 minutes or until golden brown. Transfer to paper towel line plate. Sprinkle with salt.
In large skillet, cook turkey as specified on the package. Always cook to well-done, 165°F as measured by a meat thermometer. Add salsa and spices to turkey. Simmer 5 to 10 minutes or until hot.
Top each tostada with turkey mixture, toppings and Chili Lime Crema.
Chili Lime Crema
1/4

cup mayonnaise

1/4

cup Mexican crema or sour cream

zest from 1 lime

cayenne powder or chili powder, to taste
Instructions
In small bowl, stir together ¼ cup mayonnaise, ¼ cup Mexican crema or sour cream, zest from 1 lime and cayenne powder or chili powder, to taste.
Chef Christina's Tequila Berry Lemonade
1/4

cup fresh or frozen berries or mint

Ice

3/4

cup bottled or fresh lemonade

1/4

cup tequila

Berries, mint and/or lemon slices, for garnish
Instructions
Add berries or mint to glass jar or Collins glass and muddle slightly. Top with ice. Add lemonade and tequila. Garnish with berries, mint spring and/or fresh lemon slices. Serves 1.