Whether by choice or by necessity, even the most accomplished and credentialed chefs in the world reach for packaged food on occasion. That should come as a comfort to the millions of us who are sheltering in place to limit the spread of the novel coronavirus. You're likely donning more hats than usual; let us handle the toque, beginning by helping you get your pantry in tip-top shape.
Pantry Tips

From A Master Chef
The current outbreak of COVID-19 throughout the world has many people thinking about their homes' food supply, but there are many other reasons to have a well-stocked pantry. More ordinary occurrences such as storms, minor illnesses, transportation issues and even hectic schedules make an emergency stash in your cupboards and in your fridge and freezer a smart idea.
We asked Certified Master Chef Ron DeSantis for some recommendations on how to create an emergency pantry now and anytime you'd like to be prepared for the unexpected.
As you think about what to put in your pantry, be sure to put in food that you like to eat and wouldn't mind eating regularly. Drawing from your pantry supply on an ongoing basis will ensure you won't have food that is at or beyond the expiration date.
The objective is to have shelf-stable food that is nutritious, easy to prepare and generally liked by members of your family. You don't have to be making gourmet meals. Believe it or not, a small shelf can hold the beginnings of seven or eight simple meals. Pasta, canned beans, dry lentils, canned tomatoes, tuna and SPAM® classic are excellent examples of items to always have on hand.
As an aside, an emergency pantry can come in handy when unexpected guests drop by and when you want to contribute to a local food drive. Just remember to replace what you've taken.
Other pantry staples are tomato puree, nut butters, ramen, honey and breadcrumbs. Don't overlook canned vegetables. They're great as side dishes, for use in soups, stews and casseroles, and to make a good last-minute salad. Additional items for the pantry are: cereal, oats, nuts, taco kits, salsas, canned condiments pickles, shelf-stable cheese and Hormel® Compleats® microwave meals!
Frozen products can supplement an emergency pantry nicely. If you have been to your local grocery store lately, you may have observed that fresh fruits and vegetables are in short supply while frozen products are aplenty. Frozen fish is also available. A whole turkey is an excellent thing to have in your freezer, too. Pick up an extra one when prices are low; it will keep for up to two years in a deep freeze. The current COVID-19 pandemic isn't bringing a power outage, so frozen food will stay that way until you want to use it.
There are also good-quality ready-to-eat meals in the frozen food section of the store. Be sure not to dismiss that area. As far as additional sources of protein and variety, salami has a remarkable shelf life. In fact, a lot of artisan salami in the supermarket doesn't need refrigeration. Eggs are an affordable and excellent source of protein and are adaptable to breakfast, lunch and dinner.
These kinds of ingredients you can have … in the house all the time in your pantry.

Certified Master Chef Ron DeSantis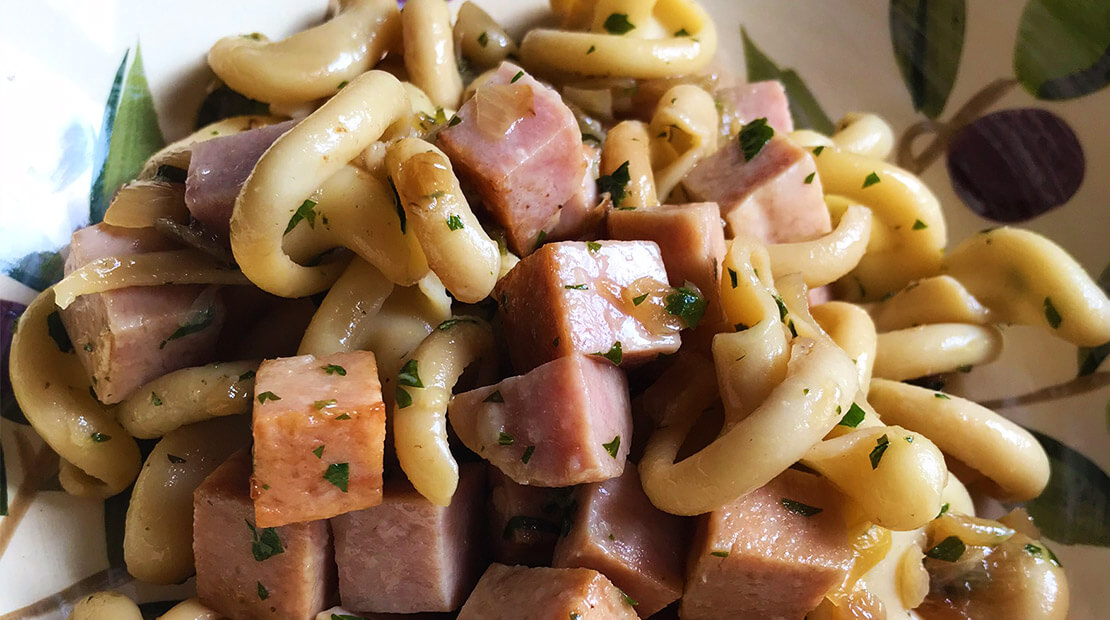 SPAM® Classic and Noodles
1

(16-ounce) package dry pasta

3

tablespoons oil

1

(12-ounce) can SPAM® Classic, cubed

1

onion, chopped

3

tablespoons chopped parsley

3

tablespoons soy sauce

1/2

teaspoon kosher salt

1/4

teaspoon black pepper
Instructions
Prepare pasta according to package directions; drain, reserving 1 cup pasta water.
In large stockpot over medium-high heat, add oil. Heat 20 seconds. Add SPAM® Classic and cook 3 to 4 minutes or until golden brown, stirring frequently. Remove SPAM® Classic from pan. Add onion to stockpot and cook 3 to 4 minutes or until golden brown. Return SPAM® Classic and cooked pasta to stockpot. Stir in a small amount of reserved pasta water to moisten. Add parsley, soy sauce, salt and black pepper; stir to combine.