Notwithstanding Emily Paster's success as an attorney-turned-chef, author, blogger, food photographer and founder of Chicago Food Swap, she's a lot like us. For starters, Paster is a mom who's taken her everyday juggling routine up a few notches, keeping her career moving forward as she shelters in place with her teens. Believing there's no reward without some risk, she's making the new normal work for her and her family, reminding all of us that sometimes you just have to go for it. Here, she explains how – and why – to get your kids involved in preparing family meals.
Cooking with Kids
During this time of sheltering in place, parents are finding that they are cooking for their families more than ever. They are also spending more time than usual with their kids and are sometimes even at a loss for how to keep kids happy, engaged and away from their screens.
One idea is to get your kids involved with preparing the family's meals. Not only can bringing kids into the kitchen teach them important life skills, it can be a way to have fun together as a family. Yes, cooking with kids can be more time-consuming – and frankly, messier – than doing it by yourself. But it can also be rewarding, educational and a way to pass on cherished family traditions.
If you are interested in cooking with your kids, but are not sure where to begin, here are some helpful tips to get you started:
Get the right equipment. Having the right equipment will help you feel more comfortable entrusting your children with kitchen tasks. You may have much of this equipment in your kitchen already, such as an inexpensive plastic cutting board and unbreakable prep bowls made out of metal or plastic. Consider purchasing nylon kid-safe knives, which are inexpensive and can be found online. (In a pinch, you can also use plastic knives from restaurant takeout.) Also, a sturdy step stool can be helpful in allowing children to reach the counter or stove in a safe manner.
Don't forget about kitchen hygiene and food safety. Remind kids to wash their hands before they start cooking and after touching raw meat and raw eggs. Tasting while you cook is a great habit to get into; just do so with a clean utensil every time. Always defrost meat in the refrigerator or the microwave. Promptly pack up and refrigerate leftovers.
Get kids involved with menu planning and making a shopping list. (But now is not the moment to take kids to the grocery store with you!) When planning a weekly menu, set parameters. Explain how many times you can have pasta this week; how many meals can include red meat or how many should be vegetarian. If not, you might end up having pizza or spaghetti every night! Perhaps insist on at least one new recipe a week, but get the kids involved in choosing it. Teach kids to think about balanced meals with servings of protein, vegetables and whole grains.
Work clean! Doing dishes is a part of cooking, and professional chefs know how important it is to clean as you go and keep your work space neat and tidy. Encourage kids to rinse and wash dishes as soon as they finish with them, and put away ingredients away right after using them.
How old your kids are will determine what kitchen tasks are appropriate for them. There are many ways younger kids age 8 and under can help in the kitchen while still staying safe. Enlist your elementary-school-aged kids to measure ingredients and place them into bowls for a professional-style mise en place; rinse produce; do any mashing or squeezing of ingredients; stir and whisk ingredients together; or toss ingredients with a large spoon or even clean hands. Kids this age can help make sandwiches and salads, which often do not require using the oven or stove. Baking is also great to do with younger kids, as long as the adults help with putting items in the oven and taking them out.
For kids ages 9 and up, this is a good time to start teaching them knife skills. Kids this age can also learn to use the stove – with adult supervision, of course – for tasks such as making pasta and cooking eggs. The more experience your kids gain in the kitchen, the more responsibility you can give them. Once kids hit the teen years, they should be able to prepare their own breakfast, pack a healthy lunch for school and prepare simple family meals.
With many states closing school buildings for the reminder of the year, many parents are wondering how to enhance kids' online learning. There are many ways to incorporate academic skills into cooking and make the time in the kitchen especially enriching. Here are some ways to combine cooking and learning, organized by subject.
Math

A lot of baking is about ratios. (Investing in a digital scale, which is a great tool for better baking, is helpful for teaching this.) A pound-cake batter, for example, is equal amounts by weight of flour, egg, sugar and butter. But a pancake batter is 2 parts flour and 2 parts liquid to one part egg and 1/2 part fat (melted butter or oil). Once you know the ratio needed and the weight of one of the ingredients, can you figure out how much the other ingredients should weigh? (For more on ratios in baking, I recommend the book "Ratio" by Michael Ruhlman.)
For volume measurements, think about equivalents, like 3 teaspoons is 1 tablespoon, and 4 tablespoons is 1/4 cup. Ask your kids how many tablespoons are in a 1/2 cup? How many teaspoons?

Social Studies or History

One fascinating subject that ties cooking to history is where ingredients come from. You can research which ingredients originally came from the Americas, such as potatoes, tomatoes, chocolate, peppers and pumpkin. Prepare a meal that only uses ingredients that originally came from the Americas. Research how chocolate traveled from Mexico to Europe and how it become trendy there in the 1700s, and then make some extra-chocolatey brownies or Xocolatl, which is an Aztec chocolate drink.
During the pandemic, people are having trouble finding certain ingredients in the stores, like flour and eggs. Learn about other times in American history, such as the Great Depression or WWII, when it was hard to find certain ingredients. What did home cooks do? Try a Depression-era recipe, such as a Vinegar Pie, which relies on pantry ingredients instead of fruit.
For geography, everyone pick a country and find a dish from that country to cook. Try to think beyond familiar places like Mexico, France and China. What is a dish from Brazil? How about Sweden? Morocco? Vietnam?

Reading or Language Arts

Ask kids to write a recipe for something they definitely know how to make, like a bowl of cereal or a peanut butter and jelly sandwich. Then have another child (or parent) make the recipe following the child's instructions exactly. Did it work? Why or why not? Now try making the dish and writing down the instructions as you go. Was that better?
So many beloved children's books have lots of scenes of food or cooking in them, from the "Little House" books to Harry Potter to Dr. Seuss' "Green Eggs and Ham." Can you make a recipe inspired by a favorite book? (For inspiration, look at the website www.thelittlelibrarycafe.com.)
To inspire your kitchen adventures with your children, here are three recipes at differing levels of difficulty that you can make with your kids, using simple pantry ingredients. The first recipe is for an easy nut-butter granola that can be customized according to your family's preferences, dietary restrictions and what is in your pantry. This is a forgiving, simple project that kids can take the lead on by tasting and experimenting to discover what they like. Compare the amount of sugar in this homemade granola to the amount in your favorite store-bought granola. You might be surprised by what you find!
The next two recipes are a little more challenging but still offer some fun ideas for family dinners that kids can help prepare. First, we have a recipe for chicken tinga, a classic Mexican dish of shredded chicken in a slightly spicy, smoky tomato sauce. You can use chicken tinga as a taco or tostada filling and offer an array of toppings, based on what you have available, to suit everyone's palate. Second, a recipe for a Japanese-inspired turkey meatball in a tangy-sweet sauce served with crunchy, quick-pickled cucumbers. You can make a traditional tare sauce yourself if you are feeling ambitious, or use your favorite bottled Asian sauce to keep things simple.
Easy Nut-Butter Granola
My kids love to make a batch of homemade granola on the weekend and mix it with milk or yogurt for breakfast or a snack all week long. You can customize this recipe by using your favorite nuts, seeds and dried fruits, taking into account any allergies in your house. If you need to avoid nuts altogether, simply add another cup of rolled oats. Other ideas for add-ins include flaked coconut and crystalized ginger. Come up with your own signature house recipe!
Some homemade granola recipes call for egg whites, but cracking and separating eggs can be challenging for young chefs and raise food-safety concerns, let alone the fact that eggs have been hard to come by recently! In this recipe, nut butter and a small amount of liquid sweetener, such as honey, maple syrup or agave, help bind the ingredients together, eliminating the need for eggs. Nut butter also adds extra protein to keep everyone full and satisfied longer. As long as you help younger children chop the nuts and dried fruit and use the oven, this is a great recipe for all ages to do.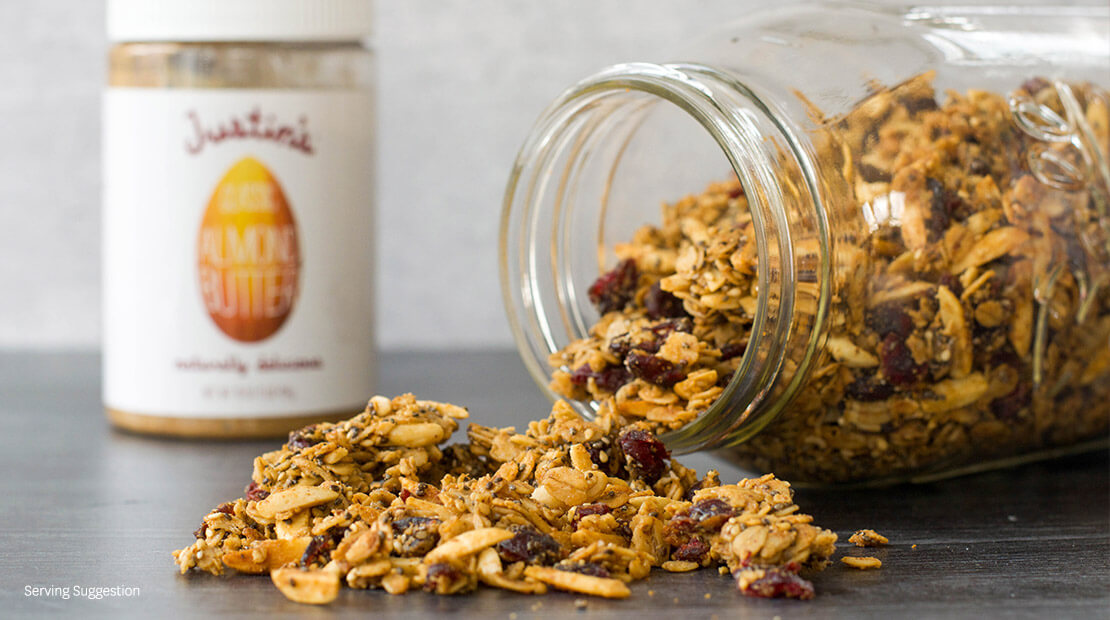 Easy Nut-Butter Granola
2

cups old-fashioned rolled oats

1

cup chopped raw nuts, such as pecans, almonds or walnuts

1

cup chopped dried fruit, such as cranberries, cherries or apricots

1/2

cup seeds, such as sesame, poppy, flax, pumpkin or chia seeds

2

tablespoons brown sugar

1

teaspoon salt

1/2

teaspoon cinnamon

1/3

cup nut butter, such as JUSTIN'S® almond butter or JUSTIN'S® cashew butter

1/4

cup vegetable oil

1/4

cup liquid sweetener, such as honey, maple syrup or agave nectar

1

teaspoon vanilla extract
Instructions
Heat oven to 325°F. Line rimmed baking pan with parchment paper. In large bowl, combine oats, nuts, dried fruit, seeds, brown sugar, salt and cinnamon; toss to combine. In small bowl, whisk together nut butter, oil, sweetener and vanilla until smooth. Add nut butter mixture to oat mixture and stir with a spatula to evenly coat dry ingredients. Spread mixture into an even layer on the prepared baking pan. Bake 20 to 25 minutes or until lightly browned and fragrant, tossing once halfway through to ensure even baking. Immediately push mixture to the center to help form clusters. Allow to cool completely. Store granola in large jar or container. Enjoy plain or with milk or yogurt. Makes 3½ to 4 cups.
Chicken Tinga
Chicken tinga is a beloved Mexican classic that can be used as a taco filling or tostada topping. You can use leftover chicken or supermarket rotisserie chicken, or poach two large boneless, skinless chicken breasts. Chipotle chilies in adobo can be a little spicy, so go easy on the sauce if you have sensitive palates in your family. My older child loves the smoky, spicy flavor.
Enlist young cooks to shred the chicken. Older kids can help slice the onion and sauté the ingredients on the stove. Put out an array of toppings, and let members of the family customize their own tacos or tostadas.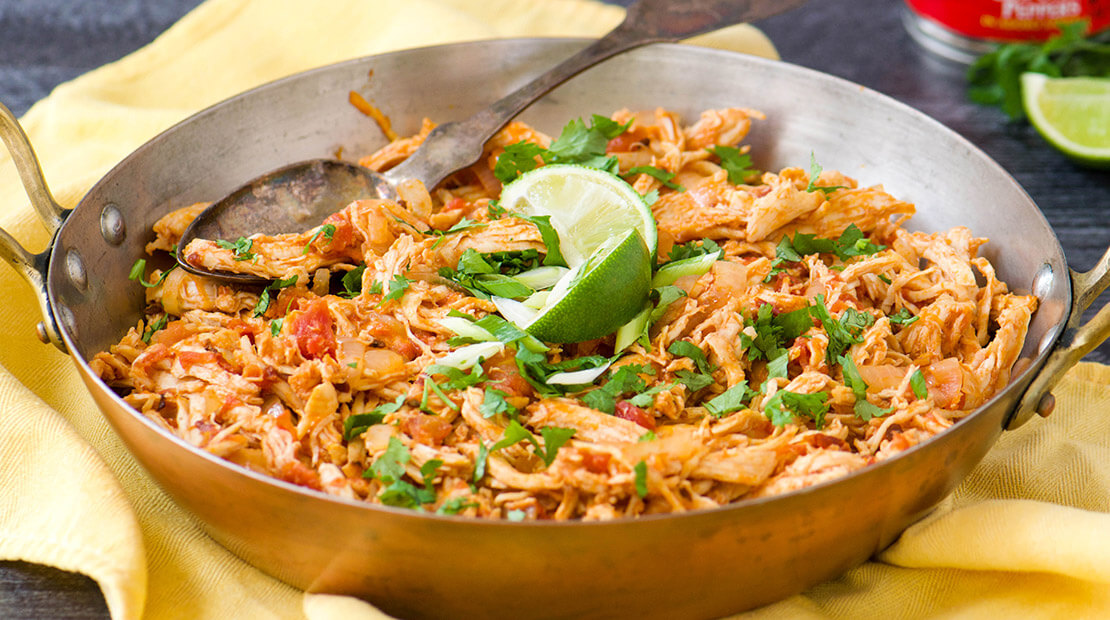 Chicken Tinga
4

cups cooked, shredded chicken breast (or 1 1/2 pounds boneless, skinless chicken breast)

3

tablespoons vegetable oil

1

white or yellow onion, halved and sliced

2

teaspoons cumin

1

teaspoon salt

2

cloves garlic, minced

1

(15-ounce) can diced tomatoes

1

can EMBASA® chipotle chiles in adobo

1

lime, if desired

For serving:

Corn or wheat tortillas or taco shells

Refried beans

Queso fresco or cotija

Chopped fresh cilantro

2

ripe avocados, diced

Lime wedges
Instructions
Heat vegetable oil over medium heat in heavy, deep skillet or sauté pan. Reduce heat to medium-low. Saute onion 8 minutes or until softened and translucent. Season with cumin and salt. Add garlic and shredded chicken; stir to combine. Add tomatoes, 1 chopped chipotle pepper and 1 to 2 tablespoons adobo sauce. Bring mixture to a boil; reduce heat to simmer and cook 5 minutes or until thickened. Taste and adjust seasonings. Add juice from the lime, if desired.
Serve chicken tinga in hard or soft taco shells or layer with refried beans on a tortilla. Top with crumbled cheese, chopped cilantro or diced avocado. Spritz with more lime juice.
Japanese Turkey Meatballs

Tsukune
Lightly seasoned chicken or turkey meatballs are a standard offering at Japanese barbeque or yakitori restaurants. Brushing the meatballs with the thick, syrupy tare sauce at the very end of cooking gives them a beautiful lacquered appearance and an irresistible salty-sweet tang. An easy shortcut is to use your favorite House of Tsang® sauce instead of making the tare sauce. I recommend the Szechaun spicy sauce or the classic stir-fry sauce.
This is a more advanced recipe for an adventurous young cook working with adult supervision.
The quick Asian-style pickled cucumbers may be prepared in advance and provide a fascinating lesson on how vegetables transform when exposed to vinegar. With some fragrant jasmine rice on the side, you have a complete meal that everyone in the family can enjoy.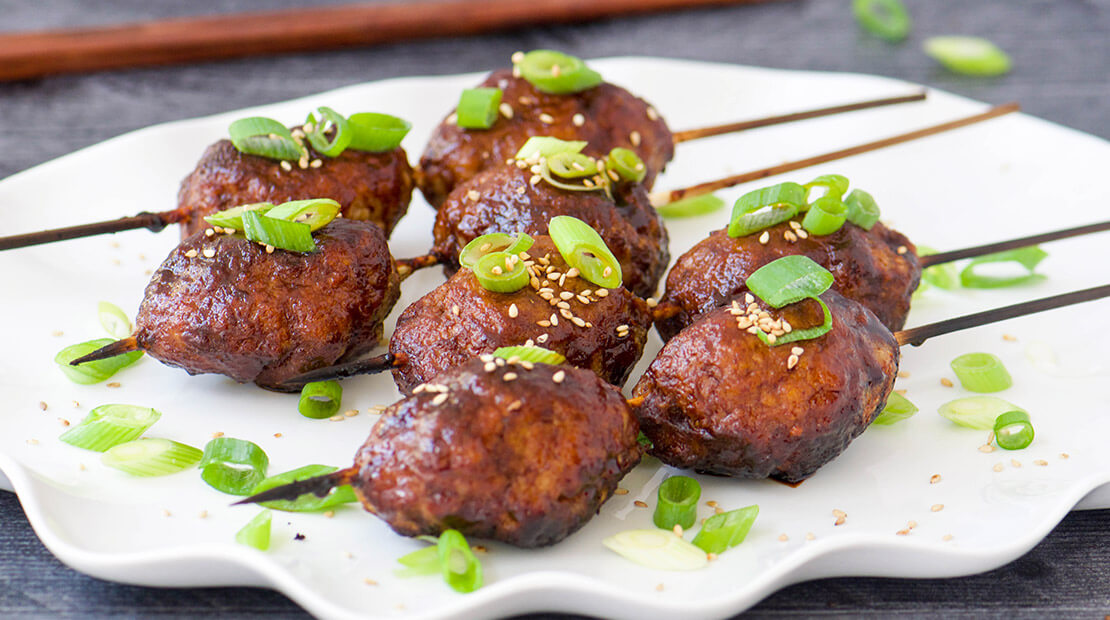 Tsukune (Japanese Turkey Meatballs) with Quick-Pickled Cucumbers
Total Time

1 hour

Serves

12 meatballs or 4 servings
Quick-pickled cucumbers

1

cup rice-wine vinegar

1

cup water

1/2

cup sugar

1

teaspoon salt

1

hothouse or English cucumber, sliced

Meatballs

1 1/2

pounds JENNIE-O® ground turkey

1

egg, beaten

1/2

cup panko or other dry breadcrumbs

1

tablespoon vegetable or sesame oil

1

clove garlic, minced

1

teaspoon salt and black pepper

1/4

teaspoon ground ginger

Tare sauce

1/2

cup soy sauce

1/2

cup mirin or rice wine

3

tablespoons water

1

tablespoon rice wine

1

tablespoon brown sugar

2

green onions, white and light green part only, sliced
Instructions
To make the pickles, in small saucepan, combine rice wine, water, sugar and salt. Bring to a boil over high heat, stirring to dissolve sugar and salt. Remove from heat and add sliced cucumber to the brine in the saucepan. Allow cucumbers to stand 10 minutes. Transfer cucumbers and brine to a large jar or plastic container and refrigerate until needed. (May be done in advance.)
To make the meatballs, in large bowl, combine turkey, beaten egg, breadcrumbs, oil, garlic, salt, pepper and ginger; stir with fork to combine. Lightly coat your hands with oil to prevent sticking, and scoop approximately 2 heaping tablespoons of the meat mixture. Roll into a ball and form meat into 3-inch oval patty. Repeat with remaining meat. Place meatballs on a plate or platter. Cover and chill until firm, at least 15 minutes and up to overnight.
To make the tare sauce, in small saucepan, combine soy sauce, mirin, water, rice wine, brown sugar and green onions. Bring to a boil over high heat, stirring to dissolve sugar. Reduce heat and simmer over medium-low heat until the mixture is thick and syrupy. Remove from heat. (Can also use a favorite House of Tsang® sauce, such as the classic stir-fry sauce.)
Thread the meat patties onto metal or bamboo skewers. (If using bamboo skewers, cover the exposed part with foil to prevent burning.) Heat broiler. Spray broiling pan with nonstick cooking spray. Place skewers on broiling pan. Broil 5 to 7 minutes on one side; turn and broil 4 minutes longer. Brush tare sauce on the meatballs. Broil 1 minute to allow the sauce to glaze the meatballs.
Serve meatballs warm with pickles and rice on the side. Serves 4 (12 meatballs).