Planning a week's worth of meals on a tight budget can be stressful, so we tapped into our experts through The Pantry Project to help us think through this challenge. Host Laurie March and guest, Chef Sandy Pollock – one half of the Casserole Queens dynamic duo and New York Times best-selling cookbook author – to offer up tips on planning nutritious meals to feed your family on a budget.
Meal Planning 101
Howdy! I'm Sandy Pollock, and I live in Wimberley, Texas. I'm one-half of the dynamic duo called the Casserole Queens.
I'd like to share with y'all some of the tips I've learned while developing a meal-planning system for myself. There are a ton of meal-planning resources online, and it can get confusing and overwhelming when you're trying to simplify and streamline the lives of your family. Meal planning is also a hyperpersonal thing, and you know your family's likes and dislikes best. But my hope is that you take away a few helpful ideas from this blog post to get you started.
What is meal planning?
A meal plan is just a tool to help you focus your time, energy and money to create the best, healthiest and budget-conscious menu for you and your family.
If you are like me, you've walked into the grocery store with zero plan and walked out with way too much random food that will probably end up in the trash can. I do that way less these days, and taking the time to make a simple plan is a big reason why.
Why meal plan?
Reduce stress. Knowing what you will be having for meals makes life run so much more smoothly. If you've planned your meals ahead of time and know what your game plan is, then when someone asks, "What's for dinner?", you won't end up in the fetal position in a corner somewhere.
Less food waste equals saved money. I've noticed a huge difference in the amount of food we throw away since settling into a meal-planning lifestyle, and I get an extra kick from seeing the pantry/freezer/fridge becoming emptier over the course of two weeks. That means my plan worked, and that feels so good!
You'll be less likely to grab takeout because you're exhausted and have no idea what to cook. Been there. Done that. A lot. Also, COVID-19 has changed the way humans access their food. Running out to grab a bite just isn't as carefree as it once was.
Improve your relationship with food. You'll discover what works and doesn't work for your family and what holds longer in the fridge or spoils quickly. You'll start to see a great pantry build up before your eyes, tailored just for you.
Whom is meal planning for?
Everyone! But you especially might want to think about meal planning if:
You're facing food insecurity and don't have reliable access to enough affordable, nutritious food. Maybe you've been furloughed or laid off due to the pandemic, and you don't know when you'll return to work and a secure paycheck. Meal planning can help you stretch every last dollar in your grocery budget.
You're trying to make the switch to a healthier lifestyle. Getting hold of what you are putting in your body is the key to living healthier. With a plan, you are in control. Isn't that a nice thought?
You're busy and flat-out overloaded. Maybe you're a nurse on the front lines of the pandemic fight, and you're exhausted mentally, physically and emotionally. The last thing you need is to stress about dinner.
How to meal plan
First off, don't be hard on yourself. You don't need to be Julia Child straight out of the gate, and you don't have to jump to beef Wellington on your first night. (But if you do, just let me know what time I should arrive!)
Make a two-week plan of attack. The ultimate goal is to make your grocery list resemble what your meal needs are for the next two weeks. That's it. Maybe you'll make the same thing four times over the two-week period, but that's OK. At the end of the two weeks, repeat, and you will get better and better.
Make a list of meals you already know how to make. You know what your family likes and dislikes – what goes over well and what goes in the trash bin. Stick with those successful meals as a starting point for menu ideas. Feel free to try new things, but maybe just keep it to one or two new dishes every couple of weeks. If a dish goes over well, you can add it to your arsenal. If it did not go over well, you can have a little recipe-burning bonfire in the backyard.
Give your menu a theme. I've found that giving my meal a theme helps focus my brain and makes mealtime more festive. Here are some quick ideas:
Mexican Monday. Try tacos, quesadillas or empanadas.
Pizza Night. This is a great way to use up all the extra bits in your kitchen, and it's an inexpensive dish everyone will like.
Breakfast for Dinner. My hubby's favorite and a great use for leftover veggies, herbs, sauces, meats and more. Try egg sandwiches, omelettes or frittatas.
Casserole Night. See the recipes below
Go shopping in your own pantry/freezer/fridge. You will almost certainly find something you forgot about that got shoved in the back of the pantry. If it hasn't expired and you think you and your family will eat it, then write it into the plan. If you think your family won't eat it, do yourself a favor and get rid of it. If it's not expired, consider donating it to a local food bank. Knowing exactly what you have on hand that you and your family will eat is a big part of settling into a meal-planning lifestyle.
Prepare in advance to save time and effort later. I roast a bunch of veggies at the beginning of the week, and we use those to make quick and delicious meals. I take the veggies and toss them together with some rice, fresh herbs and a drizzle of olive oil. Easy and delicious!
Don't meal plan or shop when you're hungry. This is a no-brainer. I am so guilty of doing this more regularly than I'd like to admit. It ends up the same every time. Too much random food in the basket equals paying way too much for food we'll probably end up throwing away. Ugh!
Buy fruits and veggies that are in season. Fresh fruits and vegetables tend to be less expensive when they're in season. They're often tastier, too, because they often come from local farms. FruitsAndVeggies.org is one of my favorite resources for finding out what's in season and how to pick the freshest in the market.
Grow your own herbs. Fresh herbs add amazing flavor to even the simplest dishes, but they can be pricey at the supermarket — especially if you're spending $2-$3 on sage when you might only need a few leaves. Growing fresh herbs at home is inexpensive, easy and kind of fun. It also ensures that you always have them available.
In my tiny apartment-balcony garden, I've planted:
Basil. Great for pizza, salads and pesto.
Dill. Perfect with salmon, in dips, with potatoes and in soups.
Sage. So flavorful in beans! Also good in soups and stuffing.
Rosemary. Works with so many dishes: potatoes, soups, salads, stews, chicken, pork, steaks, oily fish and so much more.
Starting your pantry
You'll know best what to stock your pantry with, but here's a list of things that work for me to get you started:
Salt
Pepper
Olive oil
Vegetable oil
All-purpose flour
Granulated sugar
Pasta (I like penne)
Rice (I like basmati)
Bread
Beans (I buy dry white beans mostly)
Tomato sauce
Eggs
Milk
Butter
Potatoes
Onions
Garlic
Lemons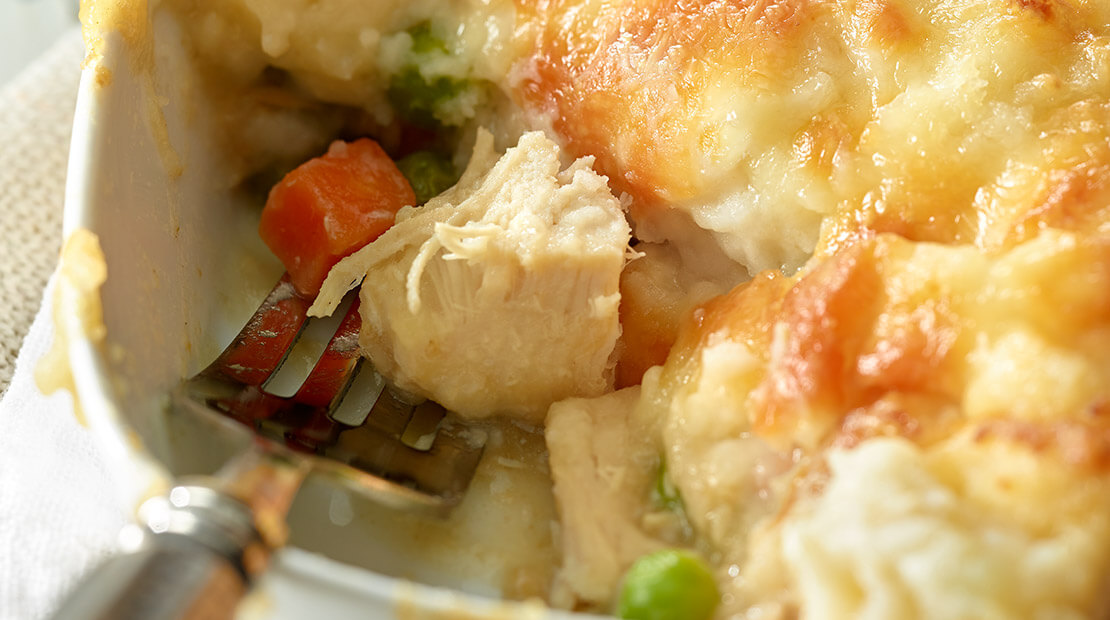 World's Greatest Chicken Pot Pie
1

sheet frozen puff pastry

2

tablespoons butter

1

roasted chicken, deboned or 2 (10-ounce) cans Hormel® chunk breast of chicken, drained

1/4

cup chopped sweet red pepper

2

medium shallots, thinly sliced

3

tablespoons all-purpose flour

2

teaspoons salt

1

teaspoon dried tarragon, crushed

1

teaspoon black pepper

2

cups milk

1

cup heavy cream

1/3

cup dry white wine

1 1/2

cups peas, blanched

1 1/2

cups diced carrots, blanched

2

potatoes, peeled, diced and boiled

1

egg plus 1 tablespoon milk (for egg wash)
Instructions
Heat oven to 425°F. Thaw puff pastry according to package directions. Meanwhile, in large skillet, melt butter over medium-high heat. Add chicken, sweet pepper and shallots. Cook 5 minutes, stirring frequently. Stir in flour, salt, tarragon and black pepper. Add milk and cream all at once. Cook and stir until thickened and bubbly. Stir in wine, peas, carrots and potatoes; heat thoroughly. Transfer the hot chicken mixture to a 1½-quart casserole. Place pastry over the hot chicken mixture in a casserole dish. Brush puff pastry with egg wash then cut slits in pastry to allow steam to escape. Bake 30 to 45 minutes.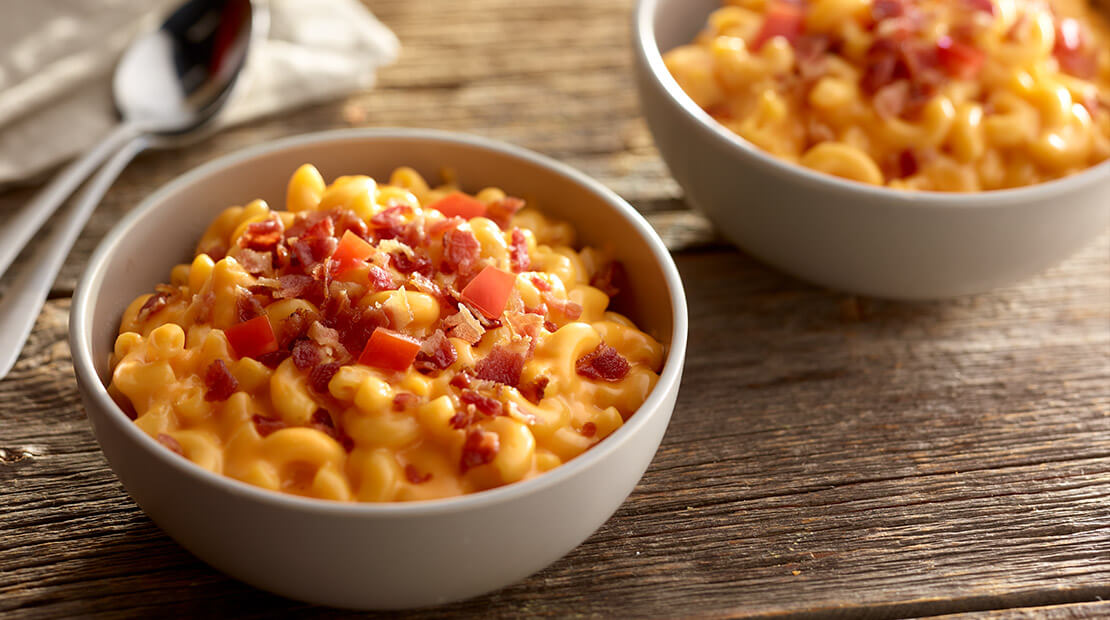 Lunch Lady Doris Spicy Mac and Cheese
1 1/2

cups uncooked elbow macaroni (about 3.5 cups cooked)

3

cups fresh or thawed broccoli florets

1/2

cup sun-dried tomatoes

2

tablespoons unsalted butter

1/3

cup sliced green onions, green parts only

2

tablespoons all-purpose flour

2

teaspoons cayenne pepper

1 1/2

teaspoons dried basil

1

teaspoon salt

2

cups whole milk

1 1/2

cups shredded sharp cheddar cheese, divided

1

cup shredded Gruyère cheese

1

cup shredded Gouda cheese

1/2

cup Hormel® Real Bacon Pieces, if desired
Instructions
Heat oven to 350˚F.
Cook macaroni according to package instructions. If using fresh broccoli, blanche by boiling in salted water 1 to 1½ minutes, then plunge in an ice bath to stop cooking. Drain. If using frozen broccoli, thaw and drain broccoli. Add broccoli to macaroni. Set aside.
Meanwhile, place sun-dried tomatoes in a small bowl and add enough hot water to cover. Let stand 10 minutes or until softened. Drain well; chop into 1/4-inch pieces and set aside.
Melt butter in medium saucepan over medium heat. Add green onions and cook 2 minutes or until tender. Stir in flour, cayenne pepper, basil and salt. Add milk and cook, whisking, until smooth, slightly thickened and bubbly. Add ¾ cup cheddar cheese, Gruyère cheese and Gouda cheese, a little at a time, stirring well after each addition, until the cheeses are melted. Stir in macaroni, broccoli and sun-dried tomatoes. Transfer to 9 x 13-inch casserole dish and sprinkle the top of the casserole with remaining 3/4 cup cheddar cheese and bacon pieces, if desired. Bake 25 minutes or until cheese is melted, bubbly around the edge and the casserole is heated through.
If you need some more recipe inspiration, check out "Good and Cheap" by Leanna Brown.
Leanna worked with low-income families in New York City to create this wonderfully thoughtful cookbook for people who want to eat delicious food while keeping a tight hold on their budget. She provides a free PDF version of her book on her website!