Chef Vanessa Cantave may not remember where you were born, what kind of car you drive or if you went to college, but when it comes to your food preferences, she has total recall. "I'll remember the craziest list of a person's dietary preferences over just about anything else …. It's all stored in just this one part of my brain," she says. Cantave reveals her superpower in the latest podcast segment of "Heart to Table," the new digital series from Hormel Foods.
She and host Laurie March nosh on everything from Cantave's road to culinary school to leftovers (…nextovers) to how the love and nurturing that goes into feeding a baby evokes emotions surrounding food. The Brooklyn-based chef is mom to sons Christian, 6; and Sebastien, 2.
She is also adept at delighting the many guests who seek her out for her culinary wizardry. As the co-founder and executive chef of Yum Yum Catering and Events, Cantave was once in banking, marketing and advertising before breaking up with the business world to return to her first love – cooking. Already in New York City for her job and busy inhaling the cornucopia of food options in the Big Apple, she stopped into an open house at the French Culinary Institute. Within 24 hours, she was the school's newest student.
Her parents were incredulous, she says. As far as she was concerned, there were no regrets; just a lot of hard work being a full-time, top-of-her class student trying to make ends meet waiting tables in the city that never sleeps. "Tip your server for real," she says. "Because it's a hard job!"
So is being a mom, and Cantave shares her experience there as well. She's a single parent who gets it done and more, finds enjoyment at times in being alone. "… I like certain elements of being single, whether you're talking about being an entrepreneur or being a solo parent or whatever it is. And then there are times when you wish you had a whole team of people around or a guy to help me with these babies. Or at least the dishes, right? Come on!"
I don't know how not to slice my banana and fan it out. Everybody doesn't do that?

Chef Vanessa Cantave
If Cantave has demonstrated anything, it's her ability to cover all bases. She does that with aplomb in her professional endeavor, combining her business background with her culinary prowess, adding her special brand of magic every step of the way. Even when she creates a meal, be it for the little men in her life or for a grown-up client, she creates a mood with linens, lighting, glassware and dishes. Plating is her jam, she says. "I don't know how not to slice my banana and fan it out. Everybody doesn't do that?"
In spite of her penchant for perpetual plating, she knows how to keep it real. Cooking for the younger set means a lot of pancakes, chicken nuggets, pasta and pizza. She tips her hand with March, explaining how she does that with love and how she manages to take those kid staples and transform them into an adult meal for herself.
She makes it look easy, but in fact, that isn't always the case. "Sometimes there's a lot of effort to make it look effortless," she says. And yet, the satisfaction is second to none.
"I think there's so much strength in doing things by yourself …. When you kind of get out there and do it for yourself … there is a core of strength required to do that."
From the Kitchen of

Chef Vanessa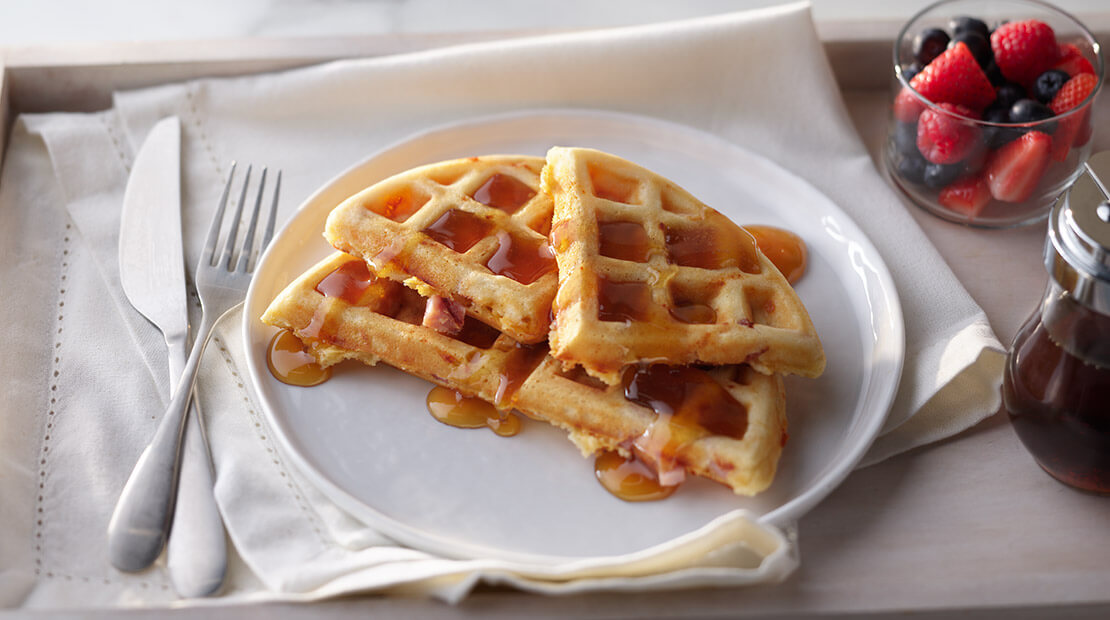 Savory Ham and Cheddar Waffles
Hands-On Time

10 minutes

Total Time

30 minutes

Serves

8
1 3/4

cups all-purpose flour

1

teaspoon baking powder

1

teaspoon kosher salt

2

eggs, separated

1

cup whole milk

1/2

cup unsalted butter, melted and cooled

3/4

cup cold water, plus a bit more, if needed

1

cup grated extra sharp cheddar cheese or pecorino cheese

3/4

cup diced HORMEL® CURE 81® ham

1/4

cup maple syrup or honey, if desired

1

Calabrian chili pepper (in oil), if desired
Instructions
Heat waffle iron.
In small bowl, combine flour, baking powder, and salt. Set aside.
In medium bowl, whisk egg whites by hand or with a mixer until soft peaks form. Set aside.
In large bowl, whisk together egg yolks and milk. Gradually add the dry ingredients to the egg yolk-milk mixture until combined. Slowly add melted butter to the mixture and whisk until combined. Add cold water and whisk until combined. If batter is too thick, add more water, 1 tablespoon at a time, until it is not too thick or too thin.
With rubber spatula, gently fold cheese and ham into the batter. Gently fold beaten egg whites into batter until combined.
Prepare waffles according to manufacturer's directions. Serve immediately.
*Bonus Tip: Finely chop one Calabrian chili and add to ¼ cup of honey or maple syrup for a deliciously spicy addition to this savory waffle!
Chef's Note: Keep waffles warm by transferring to a lined baking tray in a 200°F oven.