If pop culture has taught us anything, it's that you can put any kind of food on a stick.
But where did it all start? Who did it first? We present to you, the shish kebab.
The term "shish kebab" comes from the Turkish words "sis," meaning "skewer" or "sword," and "kebap", meaning "roast meat." Shish kebabs were first used by nomadic tribes in the Middle East, especially in the region that is now Turkey. These tribes often had to use various types of meat, or whatever was available for survival. For that reason, they used marinades and seasonings not only to tenderize the meat, but to cover the natural (sometimes gamey) flavors of the meat.
Shish kebabs eventually made their way around the Middle East and Mediterranean Rim to Greece via the Turks, where the skewered dish took on a new trait: vegetables! The Greeks enjoyed using lamb, tomatoes, peppers, onions and various spices – making it an entire meal right on the stick. The shish kebab that was once cooked for desert survival had now become a savory dish.
You say "kebab," I say "kabob"
You've probably seen recipes for both kebabs and kabobs. So, which is correct? Actually, both. Each term is linked to a specific geographic region. While the 'kebab' version is typically used in areas that are Arabic speaking, such as Lebanon and Syria, 'kebob' is more typically used in countries such as Iran and Armenia. The truth is, they're used interchangeably quite often, and there's no right or wrong way to put the "bob" in shish kabob.
Mediterranean-Inspired

Turkey Kabobs
This recipe combines fresh mint, basil and garlic with Greek yogurt for a flavorful and zesty marinade.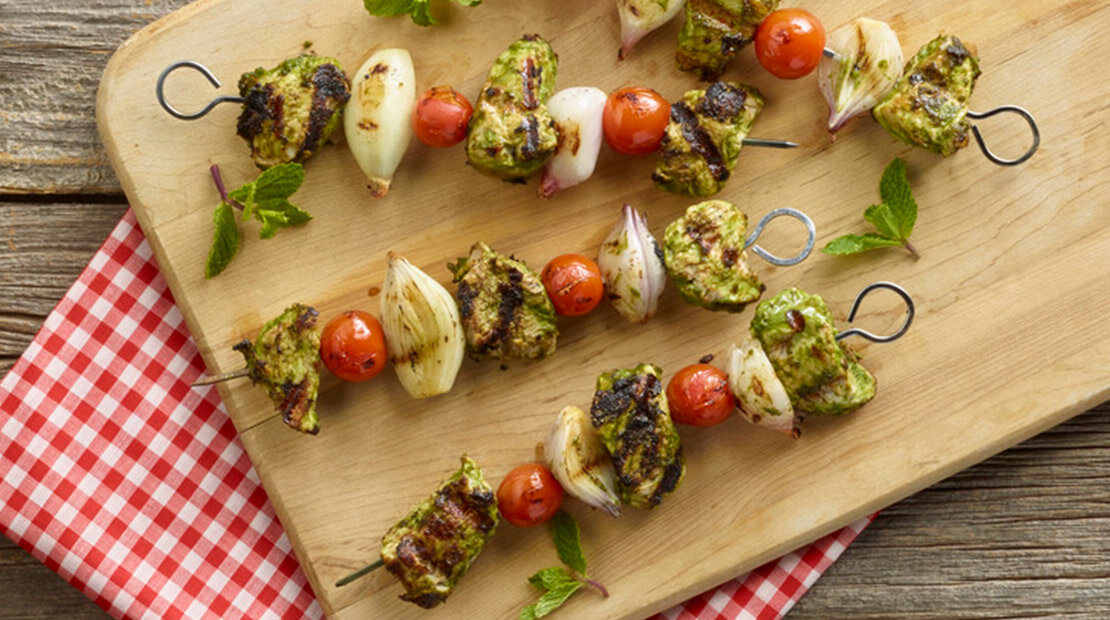 Turkey Kabobs
Hands-On Time

20 minutes

Total Time

90 minutes

Serves

6
3/4 cup

Greek yogurt

1 cup

chopped fresh basil leaves

1 cup

chopped fresh mint leaves

3 tablespoon

olive oil

1 teaspoon

salt

1/2 teaspoon

freshly ground pepper

2

cloves garlic, coarsely chopped

1/2 (24-ounce) package

JENNIE-O® Savory Roast Turkey Breast Tenderloin, cut into 10.5 to 2 inch pieces

1 cup

cherry tomatoes

6

shallots, cut in half
Instructions
Process yogurt, basil, mint, olive oil, salt, pepper and garlic in food processor or blender, until smooth.
Pour yogurt mixture over turkey pieces and stir to combine. Cover and refrigerate 1 hour or overnight.
Remove turkey from marinade, discarding excess marinade. Thread turkey pieces, tomatoes and shallots onto metal skewers.
Prepare grill for medium heat. Cook skewers on grill, 12 to 15 minutes, turning skewers a quarter turn every 3 minutes.*
*Always cook turkey until well done, 165 F as measured by meat thermometer.
Chinese-Inspired

Szechuan Pork Kabobs
The robust flavors of HOUSE OF TSANG® Szechuan sauce give these kabobs a Chinese-inspired flavor.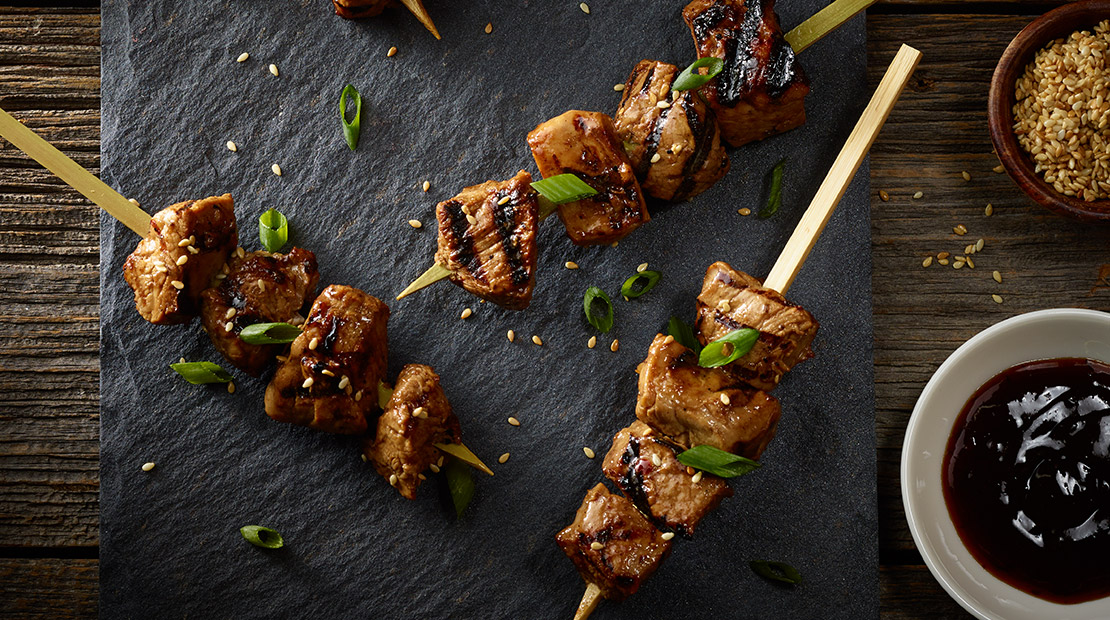 Szechuan Pork Kabobs
1 lb

HORMEL® Pork Tenderloin, cubed

1/2 cup

HOUSE OF TSANG® Szechuan Spicy Stir-Fry Sauce

1 tablespoon

canola oil

2 tablespoon

rice wine vinegar

1 tablespoon

light brown syrup

Garnish:

sliced green onion, toasted sesame seeds
Instructions
In large bowl, combine pork and ingredients, tossing to coat. Cover and refrigerate for at least 1 hour or up to 24 hours.
Remove from refrigerator and discard marinade.
Thread pork pieces onto metal skewers. Prepare grill for medium heat. Grill kabobs 12 to 15 minutes, turning often until pork is cooked through.
Garnish with sliced green onion and sesame seeds, if desired.
Bacon Bourbon BBQ

Chicken Kabobs
The smoky bold flavors of barbeque sauce, bourbon and bacon bring an American-inspired flavor to chicken in these bacon bourbon kabobs.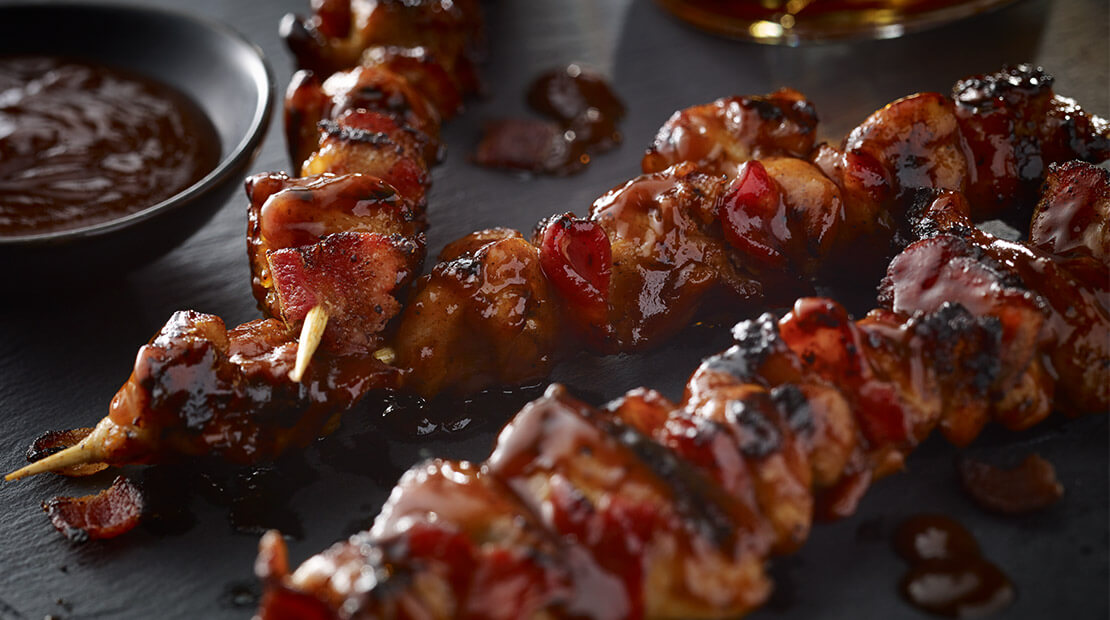 Bacon Bourbon Barbeque Chicken Kabobs
Total Time

30 minutes

Serves

8
1 (16-ounce)

bottle barbeque sauce

1/4 cup

bourbon

2 teaspoon

kosher salt

1 teaspoon

freshly ground pepper

1/2 teaspoon

garlic powder

1/2 teaspoon

onion powder

3 tablespoon

packed dark brown sugar

2 tablespoon

smoked paprika

1 (12-ounce) package

HORMEL® BLACK LABEL® Premium Cherrywood Bacon, divided

2 lbs

boneless, skinless chicken thighs, cut into 1 inch pieces
Instructions
Heat grill to 400 F.
In a small bowl, combine barbeque sauce and bourbon. Reserve 1/3 sauce mixture.
Combine kosher salt, next five ingredients and six bacon slices in food processor; pulse until smooth. Place chicken in a bowl and rub with salt mixture.
Cut remaining bacon slices into 1½-inch pieces.
Thread chicken pieces onto metal skewers alternately with remaining bacon pieces.
Place skewers on grill. Cook 3 to 5 minutes on each side, or until cooked through. Brush with barbeque sauce mixture and cook an additional 1 minute on each side.
Serve with reserved barbeque sauce mixture.
Orange Marmalade

Honey Mustard Ham Kabobs
The sweetness of orange marmalade and the spices in honey mustard bring the perfect blend of flavors to ham in these kabobs that are perfect for summer.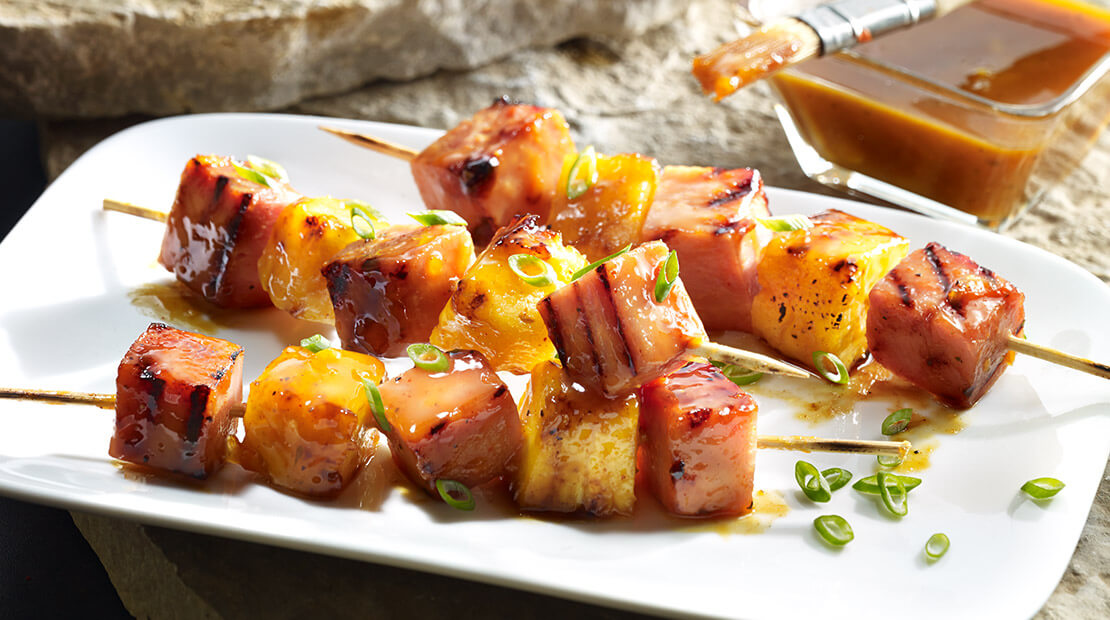 Summer Ham Kabobs
Total Time

30 minutes

Serves

6
3/4 cup

honey mustard barbeque sauce

1/2 cup

orange marmalade

1 1/2 lbs

HORMEL® CURE 81® Classic Boneless Ham, cut into 1 inch cubes

1 1/2 cups

cubed fresh pineapple

skewers

green onions, chopped
Instructions
Heat grill to medium-hot.
In small bowl, combine barbeque sauce and marmalade; mix well. Remove ½ cup mixture for basting, reserve remaining mixture.
Thread ham and pineapple chunks on skewers; brush with barbeque sauce mixture reserved for basting.
Grill skewers 10 minutes or until browned, turning frequently and basting with remaining barbeque mixture.
Sprinkle with chopped green onions, if desired. Serve with reserved sauce.
The beauty of the Shish Kabob is there's no right or wrong recipe, there's no 'correct' recipe for a Shish Kabob. Tap into your inner foodie and get creative with flavors, proteins, vegetables, and marinades!