Light up the charcoal and grab your favorite spatula – we're grilling today, folks. After all, there's only one way to properly celebrate July as National Grilling Month, and that's with firing up the barbeque at home.
We have a few of our favorite products featured in these tasty summer meals – and don't worry, they're not just the basic cheeseburger or typical steak. When you use quality ingredients, grilling is a tried-and-true cooking method that keeps the inside of foods tender and juicy while searing the outside, giving it a robust and roasted flavor. And any type of grill will do – charcoal, gas, electric, wood pellet – we won't judge! Now, let's get to celebrating this mouthwatering holiday and dig into the recipes.
Recipes
Crunchy cucumbers, crisp red onion and tender pork tenderloin all on a warm and soft pita bread – does it get any better than that? Well, these Grilled Pork Pita Skewers are cooked on metal skewers, making prep, grilling and clean up a breeze. Apparently, it can get better.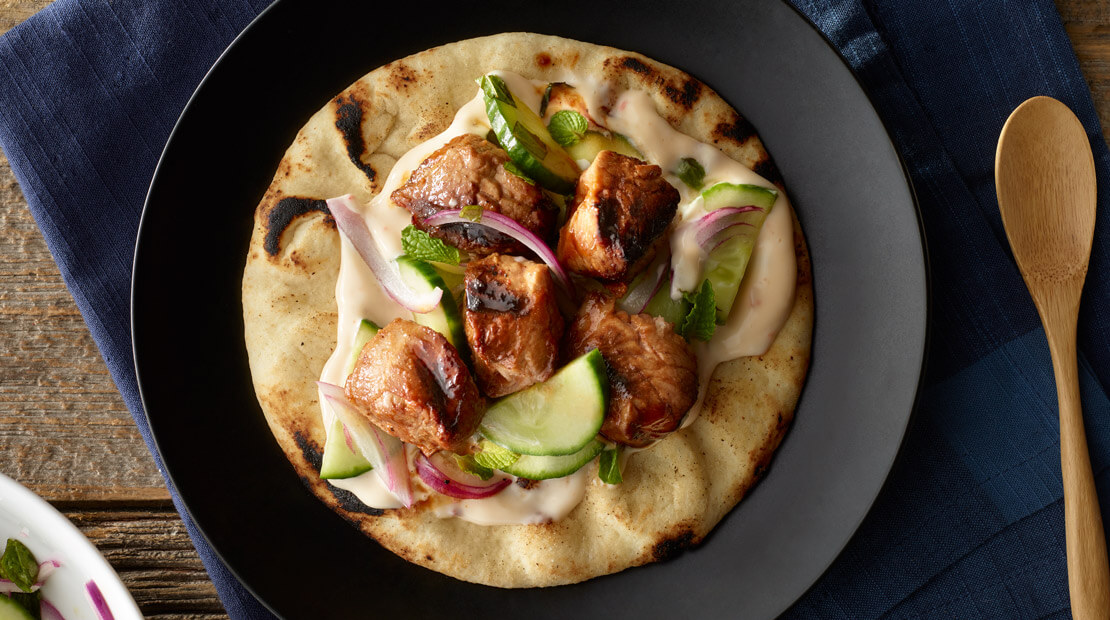 Grilled Pork Pita Skewers
1

(1 ¼-pound) package HORMEL® pork tenderloin, cubed

1/4

cup HOUSE OF TSANG® General Tso sauce

2

teaspoons HOUSE OF TSANG® stir-fry oil

4

pita bread

1/2

cup mayonnaise

3

tablespoons HOUSE OF TSANG® Sweet Chili sauce

1

tablespoon rice vinegar

1

tablespoon chopped fresh mint

1

teaspoon HOUSE OF TSANG® sesame oil

2

teaspoons sugar

2

small cucumbers, sliced

1/4

cup sliced red onion
Instructions
Prepare grill for medium-high heat. Grease grill. In medium bowl, combine pork and sauce; stir to combine. Thread pork onto 4 metal skewers. Grill 8 to 10 minutes or until pork is cooked to your liking, turning occasionally; keep warm.
Brush oil on both sides of each pita bread. Grill 2 minutes each side of until grill marks appear. In small bowl, combine mayonnaise and sweet chili sauce; set aside. In small bowl, combine vinegar, mint, sesame oil, sugar, cucumbers and onion. Toss to combine.
Place pita breads on boards or plates. Spread half mayonnaise mixture on pita bread. Place pork skewer on bread. Spoon cucumber salad over top. Spoon remaining mayonnaise mixture over salad and pork
Summer is the perfect season for a lighter and more refreshing dish at mealtime. Nourishment meets smoky-flavored goodness with the Charred BLT Salad. We highly recommend the bacon topping for a savory indulgent addition.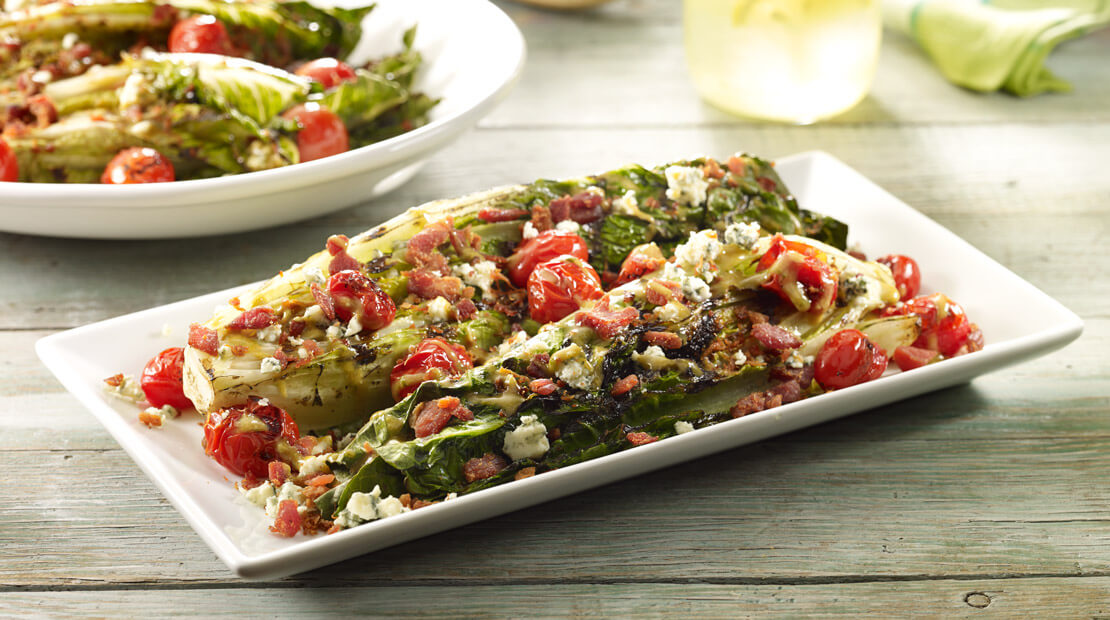 Charred BLT Salad
1

pint grape tomatoes

salt and pepper, to taste

2

tablespoons olive oil, plus more for drizzling on lettuce

3

romaine lettuce hearts, halved lengthwise

1

(2.8-ounce) jar HORMEL® Real Bacon Pieces

2

ounces blue cheese, crumbled

Ingredients for pesto vinaigrette:

5

tablespoons olive oil

2

tablespoons pesto

2

tablespoons balsamic vinegar

2

tablespoons Dijon mustard

1

tablespoon lemon juice

3

cloves garlic, minced

salt and pepper, to taste
Instructions
To make vinaigrette, stir together all ingredients until combined.
Heat grill to medium-high heat.
Make an aluminum foil packet large enough for tomatoes, place tomatoes on foil and sprinkle them with salt, pepper and 2 tablespoons olive oil.
Wrap tomatoes in foil. Grill 10 to 15 minutes or until tomatoes shrink and are soft to the touch.
Drizzle cut sides of lettuce with olive oil and place lettuce, cut side down, on grill rack coated with cooking spray.
Cook lettuce 5 minutes or until the leaves begin to wilt and are marked with grill marks; remove to platter.
Top romaine with tomatoes, bacon, cheese, and pesto vinaigrette.
Everyone needs a go-to shareable for summer nights on the patio. Our Grilled Tomatoes with Pepperoni is a quick and easy appetizer or side dish to pair with your other grilled favorites.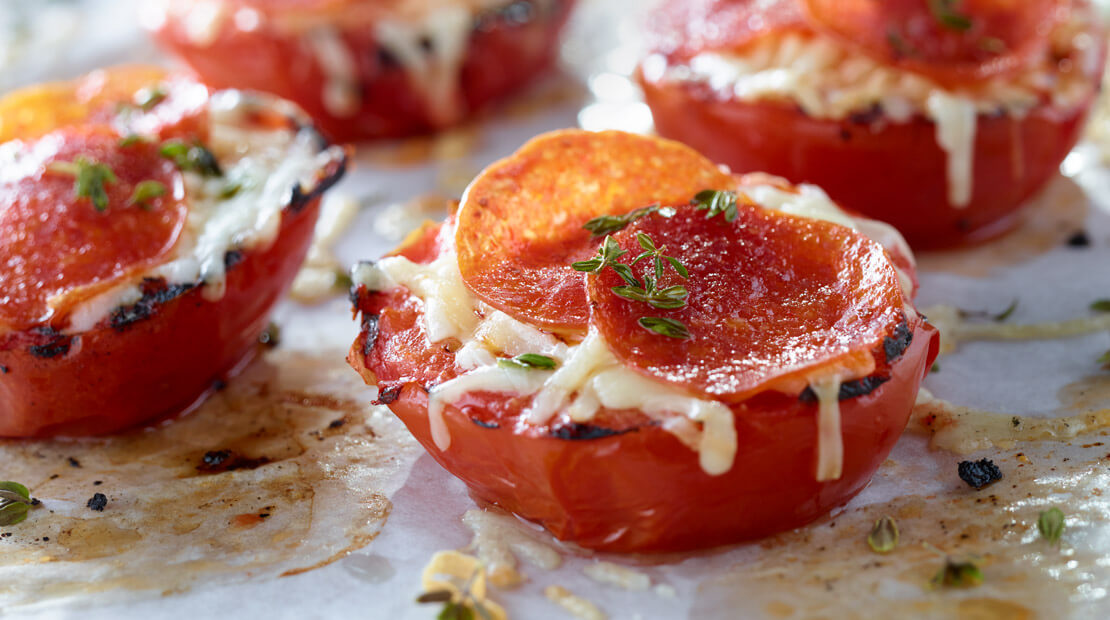 Garlic Grilled Tomatoes with Pepperoni
3

tablespoons olive oil

2

cloves garlic, minced

4

tomatoes, sliced in half

1/2

cup shredded Italian blend cheese

16

slices HORMEL® Pepperoni

1

tablespoon fresh thyme leaves
Instructions
Prepare oiled grill for high heat. In small bowl, combine olive oil and garlic.
Place tomatoes cut side down on grill. Grill 3 to 5 minutes or until lightly charred.
Turn tomatoes over and spoon olive oil mixture into tomatoes.
Sprinkle 1 tablespoon cheese on each tomato. Place 2 pepperoni slices on top of each tomato.
Continue to grill 3 minutes. Remove from grill and sprinkle with fresh thyme.
No matter where you live, this Pork Loin and Swiss Sandwich will satisfy. Even if it's not sunny where you're grilling today, the slices of juicy tomato and lemon garlic pork loin filet will take you on a stress-free mental vacation.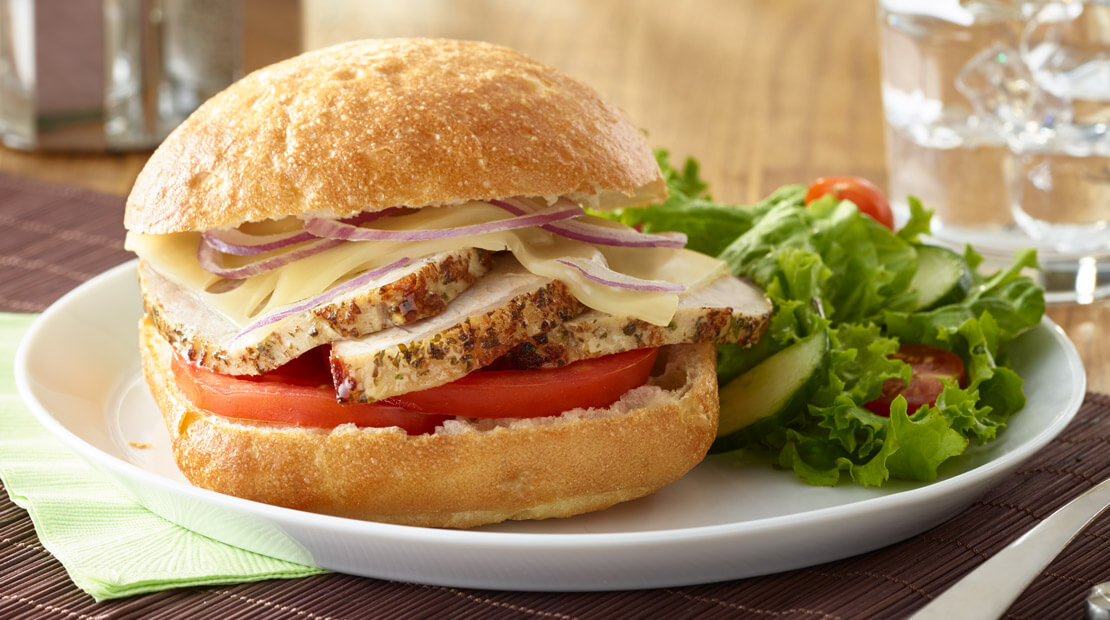 Pork Loin and Swiss Sandwich
Total Time

30 minutes

Serves

4
1

(1-pound) HORMEL® Lemon Garlic Pork Loin Filet

4

hoagie buns, split and toasted

3

tomatoes, sliced

8

slices Swiss cheese

Garden salad
Instructions
1. Cook pork according to package directions. Cover; let stand 10 minutes. Cut into thin slices.
2. Layer tomatoes, onion and sliced pork and Swiss cheese on each bun. Serve with salad if desired.