With Valentine's Day restaurant reservations harder than ever to come by, we teamed up with popular Food Blogger Bev Weidner to put together a tasty menu for the ultimate Valentine's Day at home. Watch as she demonstrates delicious Lasagna Roll-Ups and a trendy cheese board for the holiday below. Scroll down for the full shopping list and her recipe.
Valentine's Day

Shopping List
Lasagna Rollups:
2 cloves garlic
1 lemon
2 cups baby spinach
Chopped parsley, for garnish
1 (16-ounce) package Jennie-O® lean ground turkey
12 dried lasagna noodles (from 16-ounce package)
4 cups tomato or marinara sauce
1 tablespoon dried Italian seasoning
1 pinch crushed red pepper flakes
Coarse salt and pepper, to taste
1 (15-ounce) container ricotta cheese
1½ cups shredded Parmesan cheese
For the charcuterie plate:
1 (10-ounce package Columbus® Genoa salami
1 (3-ounce) package Columbus® prosciutto
1 (8-ounce) wheel brie
1 (7-ounce) package cheddar cheese, such as a white reserve
2 (1.4-ounce) packages Justin's® milk chocolate peanut butter cups
2 to 3 mandarin oranges
1/2 cup almonds
1/2 cup olives
Favorite crackers
Optional: clippings from an evergreen or flowers around the house, for garnish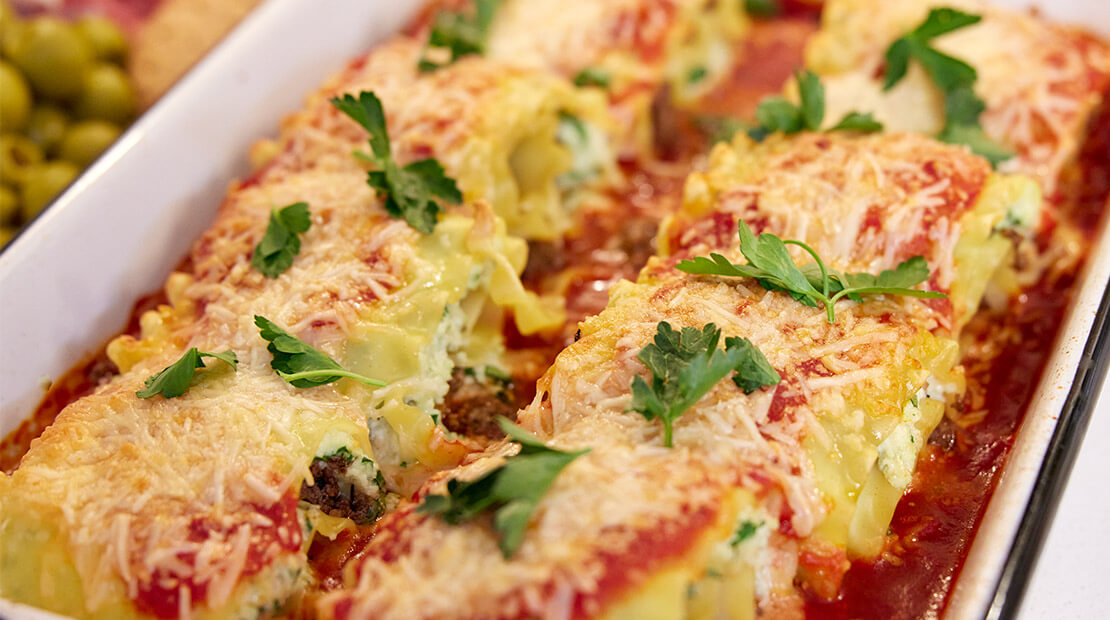 Lasagna Roll-Ups
Hands-On Time

15 minutes

Total Time

55 minutes

Serves

12
1

(1-pound) package JENNIE-O® lean ground turkey

1

tablespoon dried Italian seasoning

1

pinch crushed red pepper flakes

12

uncooked lasagna noodles

1

(15-ounce) container ricotta cheese

2

cups baby spinach, chopped

2

garlic cloves, minced

1

teaspoon lemon zest

1 1/2

cups shredded Parmesan, divided

4

cups tomato sauce or 1 (28-ounce) jar marinara sauce, divided

Fresh parsley, for garnish
Instructions
Heat oven to 400°F. Spray large skillet with nonstick cooking spray. Heat skillet over medium-high heat. Add ground turkey to hot skillet. Stir to crumble, approximately 14 to 16 minutes. Always cook to well-done, 165°F as measured by a meat thermometer. Stir in Italian seasoning and red pepper flakes.
Cook lasagna noodles according to package directions for al dente. Drain well. Place noodles on large work surface.
In medium bowl, mix ricotta cheese, spinach, garlic, lemon zest, and 1 cup Parmesan cheese. Spoon 1 cup tomato sauce in bottom of 13×9-inch baking dish.
Spread ¼ cup ricotta cheese mixture over each lasagna noodle. Top with ⅓ cup turkey mixture. Tightly roll up each lasagna noodle from short end. Place rolls, seam side down, in prepared pan. Pour remaining tomato sauce over rolls. Sprinkle with remaining ½ cup Parmesan cheese.
Bake 20 minutes or until sauce is bubbly. Let stand 5 minutes before serving. Garnish with fresh parsley.