The avocado is having a moment.
This popular fruit's history dates back 65 million years to a giant, four-tusked ancestor of the elephant that once roamed ancient Mexico. This creature inadvertently played a part in the avocado's journey, swallowing the fruit whole and contributing to its eventual spread and cultivation.
Originating in Central and South America, the avocado gained appreciation from ancient civilizations for its remarkable nutritional value. With the age of colonial expansion, Spanish voyagers introduced this exotic fruit to Europe and beyond, propelling it toward global renown.
Avocados have since only grown in popularity as consumers recognized the many health benefits of its phytochemicals, antioxidants and other nutrients that can lower cardiovascular inflammation.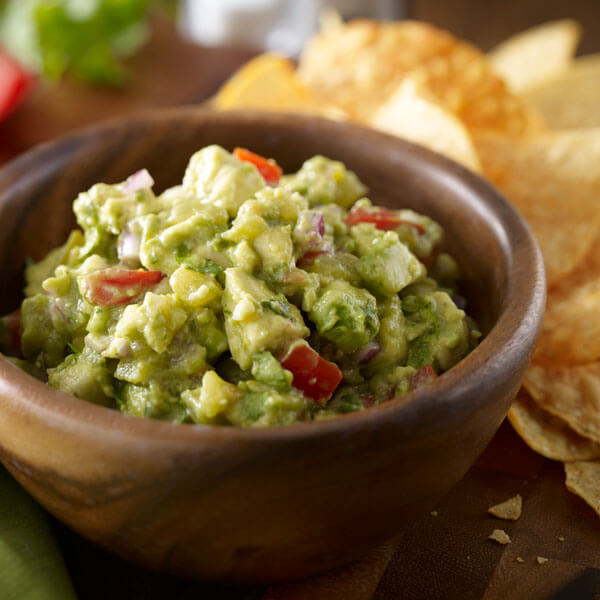 According to the market research firm Statista
Today, the average American consumes a whopping eight pounds of the fruit a year.
Mexico is still the world's largest avocado-growing region, and with the market set to nearly double in the next three years, health-focused, eco-conscious avocado aficionados are naturally interested in the crop's carbon footprint.
"I go on a lot of sales calls nowadays to talk about sustainability with our customers," says Andrew Lower, senior director of operations at MegaMex Foods. "Sustainability is key throughout the entire life cycle of our products, from the fields and orchards to our customers."
Sustainability Initiatives
As part of the Hormel Foods 20 By 30 Challenge to achieve 20 sustainability goals by the end of 2030, Lower's team has doubled down on initiatives to ensure that Wholly® products and its suppliers reduce waste and water use, and pursue sustainable farming practices, among other priorities. Sustainability starts in the avocado groves, Lower says. Wholly® products only use Hass avocados, which are higher in monounsaturated fats than other varieties and lend its products the creamy texture and slightly nutty taste that avocado enthusiasts adore.
More than 84% of Mexico's avocados are grown in the state of Michoacán, where the nutrient-rich volcanic soil, frequent rain showers and varied elevation enable farmers to harvest from trees year-round, allowing for a continual and abundant yield to meet consumer demand. The avocado boom has been accompanied by a heightened urgency to protect the surrounding rainforest and to engage in responsible farming practices, Lower says.
To ensure Wholly® brand avocados are sustainably sourced, the shipment sourcing certifications are gathered and added to a database of farm locations. This allows the company to plot the GPS coordinates on a map and pinpoint the exact locations of the farms to compare the data with historical land-use maps that reveal how the region's forest cover has changed over time. These data points help Wholly® make sure that they are buying avocados grown in orchards that do not encroach on the native forest.
"I think that's pretty exciting and kind of cutting edge in this space," Lower says.
Embracing

A Holistic Approach
One of the brand's processing plants is located in Sabinas, and it is one of the largest regional employers, providing more than 3,000 jobs. The team produces both Wholly® and Herdez® guacamole and salsa out of this facility. Ties between the company and the community run deep. The maker of Wholly® products provides a free shuttle for employees who don't have transportation. In 2022, buses in Colombia and Mexico traveled a combined distance of over 350,000 miles, leading to substantial cost savings and a reduction in fuel emissions. The company also offers paid managerial internships to young people, among other benefits. When the team behind Wholly® products learned that the Sabinas fire department didn't have a single fire truck to fight blazes in this tinder-dry town of 65,000 people, brand executives decided to purchase one and donate it to the town.
In addition to working with ethical growers, the brand is kicking off a partnership with a Mexican nonprofit that replants native trees in areas that have been deforested in both Michoacán and the neighboring state of Jalisco, another big avocado-growing state. Biodiversity is key for avocados. Lush rainforests attract a greater number of honeybees and other insects that are crucial to pollinate the avocado trees' tiny, cream-colored blossoms.
Unlike the rainy west coast of Mexico where avocados are grown, Sabinas, about six hours south of the Texas border, is in an arid zone that is facing a historic, climate change–induced drought.
"The region is very water-stressed and it will continue to get worse," Lower says.
To respond to the water shortage and to conserve as much as possible, last year the maker of Wholly® products added new technology and improved processing at their existing water treatment facility that allows the plant to repurpose most of the water it uses.
"We've achieved a 70% water reuse rate, significantly reducing the amount of water we have to get from the shared water supply on an annual basis, so that was a huge, huge development for us," Lower says. "The investment in our water project paid for itself in savings within 16 months. So we're pursuing both projects that pay off in the short run and projects like reforestation that will take a generation to have an impact. But it's the right thing to do for the long term." The team is working towards achieving a 70% reduction in water withdrawals for 2023.
Electricity-wise, in 2022, the Sabinas plant derived 100% of its power from a wind Power Purchase Agreement (PPA) in Mexico, doing its part to help Hormel Foods reach its goal of matching 100% of its global energy use with renewable sources by 2030. By 2029, the Sabinas facility plans to reduce its operational greenhouse gas emissions (Scope 1 & 2) by 50% with efficiency measures via process and equipment improvements (ISO 50001), and upgrading high-impact refrigeration systems.
70
Amount of water reused
by the brand each year
100
Of all power from renewables
Goal for the year 2024, up from 95% in 2022
Reducing Food Waste

from the Plant to Table
Reducing waste throughout the lifespans of its products is another focus, Lower says. In years past, after being sliced and peeled at the plant, the avocado pit and peel would have been discarded. Today, the pits and peels are collected and given to a local farming co-op to use as cattle feed — supporting the verified 84% of the facility's total waste that is diverted from landfills towards recycling, reuse, or other processes.
On the consumer side, one of the reasons that Wholly® Guacamole consistently tops consumers' "best taste" lists is a unique technology that also contributes to a longer shelf life — meaning, less food waste.
The maker of Wholly® products pioneered the use of high-pressure processing (HPP) in avocados. HPP is a technology that preserves food naturally by using 87,000 PSIs of pressure to destroy the microorganisms that cause food-borne illness and spoilage. Because HPP doesn't require heat, it doesn't affect the taste, texture or nutritional value of the avocados and it extends products' shelf life by up to 60 days.
In the same vein, the brand has recently tweaked its packaging to further minimize food waste. After getting feedback from consumers who said it was difficult to scrape out the last bits of guac from a square container, Wholly® product packaging was reconfigured to make the edges rounder, like a bowl, as well as resealable.
The next time you pop open a container of Wholly® guacamole, you can not only enjoy the delicious taste, you can know that the fruit was grown sustainably with future generations in mind.