In October 2016, Di Lusso Deli Company built the world's tallest sandwich.
This official Guinness World Record attempt resulted in 60 layers of bread, mustard and salami that stood for over a minute without falling, breaking the previous record by more than 20 layers.
Top Chef's Padma Lakshmi was in attendance and created a custom Di Lusso® sandwich recipe for the event.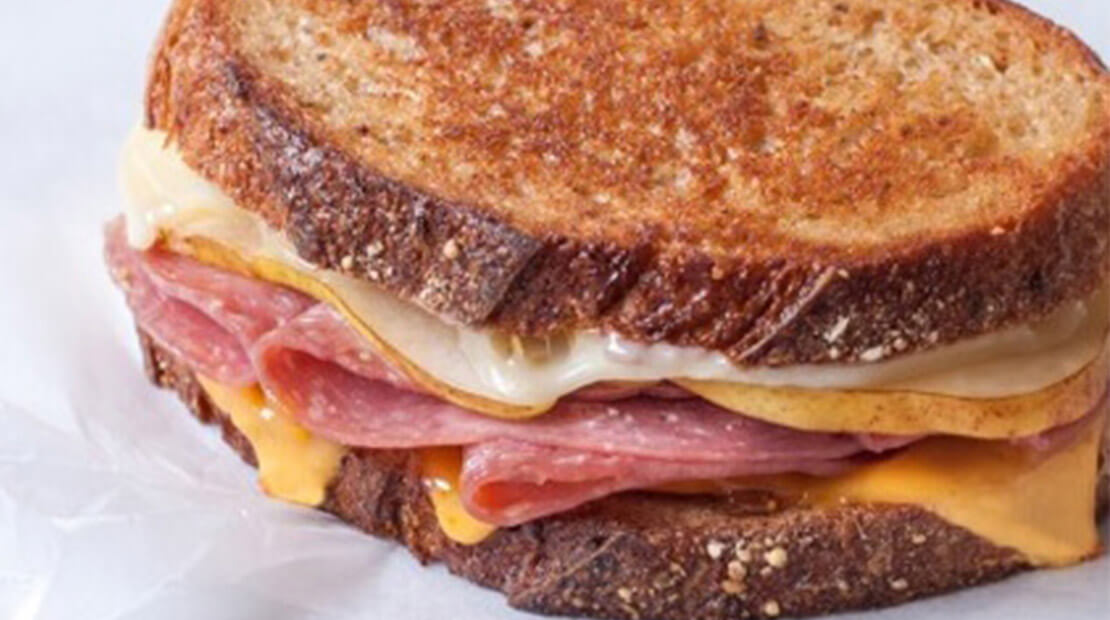 Padma's Sweet and Spicy Salami Toastie
Total Time

30 minutes

Serves

1
2

slices sourdough bread

2

tablespoons butter (room temperature)

1

tablespoon hot pepper jam

3

deli slices of Di Lusso® genoa salami, sliced in half

3

slices of Di Lusso® Cheddar cheese

1/4

teaspoon Herbs De Provence
Instructions
Spread one tablespoon of butter on one side of one slice of the sourdough bread, set aside.
Spread the hot pepper jam evenly across the one side of the other slice of sourdough.
Layer salami slices on top of the jam, and then add the slices of cheddar on top of salami. Sprinkle the herbs de Provence evenly over the top of cheese. Place the other slice of sourdough on top of the assembled sandwich with butter side up.
Melt the remaining tablespoon of butter in a large, nonstick skillet over medium high heat. Transfer the sandwich into the skillet, with the buttered side facing up. (The unbuttered side of the sandwich will go directly into the melted butter in the pan.)
Cover the skillet, cooking sandwich until golden brown on the bottom, about 2-3 minutes. When golden, carefully flip the sandwich over and toast uncovered for another 2-3 minutes more, until golden brown. Serve warm.