Austin to be Illuminated Red and Green in Honor of 2020 High School Graduates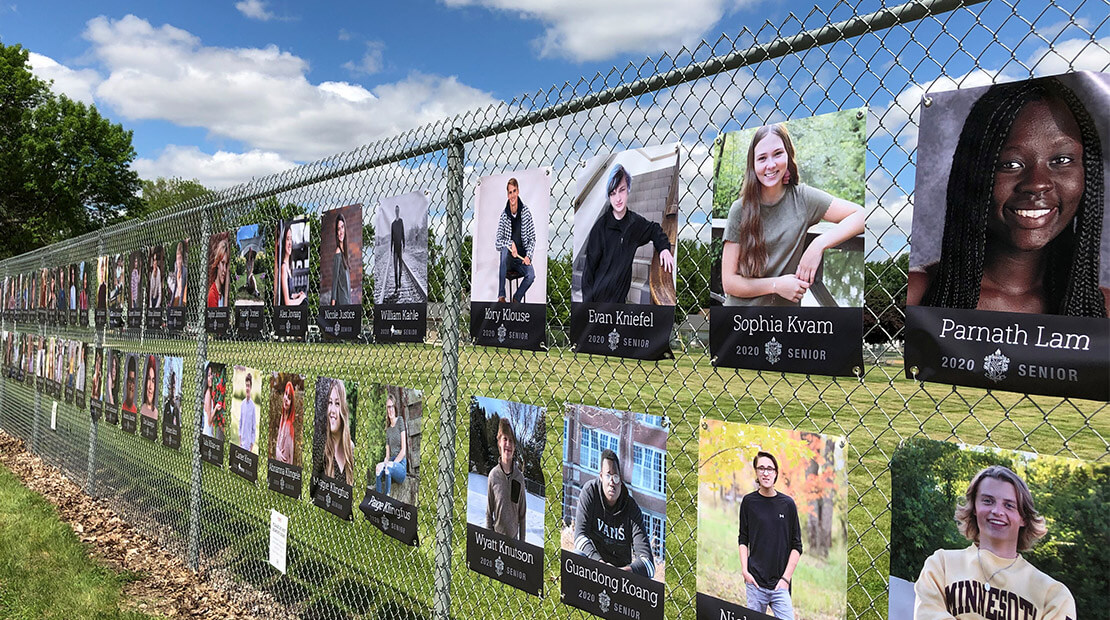 Austin Daily Herald
Iconic locations in Austin will be illuminated red and green in honor of this year's graduating seniors from two local high schools. The buildings' illumination is just one of the ways the community of Austin is rallying to support its graduating seniors.
Due to the COVID-19 crisis and state social distancing guidelines, this year's graduation ceremonies and after graduation activities had to be significantly altered. As a result, Hormel Foods has been working with high school officials, the Project Graduation Committee, made up of graduating senior class parent volunteers and area community members, to provide financial support and creative ways to show appreciation to all graduating seniors from both Austin High School and Pacelli High School.
In addition to its efforts in Austin, Hormel is also honoring all graduates within the Hormel Foods family during a national #OperationGraduation celebration that will be aired live on the Hormel Foods YouTube on June 10. During this event, the company's National Merit Special Scholarship Winners will present mini-commencement addresses, along with special entertainment.
Beginning May 29, area graduates will be honored in a number of ways including:
Virtual graduation ceremony – On June 5 at 4 p.m., Austin High School will be hosting a virtual graduation ceremony for the senior class. The link to the ceremony can be accessed on the Austin Public School website http://www.austin.k12.mn.us/. The ceremony will include commencement speakers, presentation of distinguished graduates, presentation and acceptance of the senior class, and graduate recognition.
Presentation of diplomas – The evening of June 5, the Austin High School senior class will proceed to the high school from 6–8 p.m. to receive their diplomas "drive-through" style. The event, which includes the playing of "Pomp and Circumstance", will take place on the east side of the campus. Students will line up single file in their vehicles and one at a time, drive to a designated spot, take a candid photo, and receive their diploma. Students will be dressed in cap and gown.
Graduates on Display– Individual banners with the name and photo of each Austin High School and Pacelli High School graduate will be displayed on the fence at Wescott Field. Large congratulatory banners will also be displayed on fences along 14th Street and Fourth Avenue Northwest and in front of the Hormel Foods plant along 14th Avenue Northeast. A banner will also be placed at the Spam Museum, 101 Third Ave. NE, where graduates and community members will be able to sign and write a note of encouragement from June 1 to 5 from 1-5 p.m. Electronic billboards with messages honoring the Class of 2020 will be placed by each of the high schools.
Virtual scavenger hunt – The Project Graduation Committee will host a virtual scavenger hunt that will unfold over the last week of school. The scavenger hunt will replace the traditional "post-graduation lockdown event" typically held for graduates. There is no cost for seniors to participate and each student will download an app to their phone that will instruct them to complete missions, accumulate points and win various prizes such as a flat screen TV. Hormel Foods is donating prizes for the event, along with other local businesses and citizens. The virtual game will begin Monday, June 1 at 8 a.m. and will conclude with the Austin High School graduation events on Friday, June 5 at 9 p.m. Daily missions will be comprised of text responses, photo sharing, video submissions, and a few geographic location "check in" activities. All missions follow current Minnesota social distancing guidelines and stay within the policies set by the Austin Public High School.
Senior class gift bags – As part of the virtual scavenger hunt, one of the missions will lead 2020 seniors to the Spam Museum to sign the banner and pick up a gift bag full of items donated by community businesses. As a special touch, congratulatory cards from Austin area senior citizens will be added to each of the gift bags. Called, "Seniors to Seniors" the more than 300 personalized cards honor the Class of 2020 and congratulate them on their achievements.
Light Austin red and green – Throughout the week of June 1 Austin local businesses and residents are being encouraged to display red and green lights in a show of support for the 2020 graduating classes of Austin High School and Pacelli High School. The Hormel Foods Corporate Offices, Austin Plant and Spam Museum will all be participating in this event.
"As proud members of the Austin community, we all knew we wanted to do something to honor our 2020 graduates," said Steve Venenga, vice president of Grocery Products Marketing, who has a son graduating this year. "The company always supports its communities and as a parent, I couldn't be more proud of how we have stepped up to help ensure these graduating seniors have an incredible graduation. I would like to thank my colleagues who worked on this effort. We are so proud of them and are thrilled to have the opportunity to recognize them for all of their hard work."