Chef Jordan Andino On Cooking Inspiration, Filipino Heritage And SPAM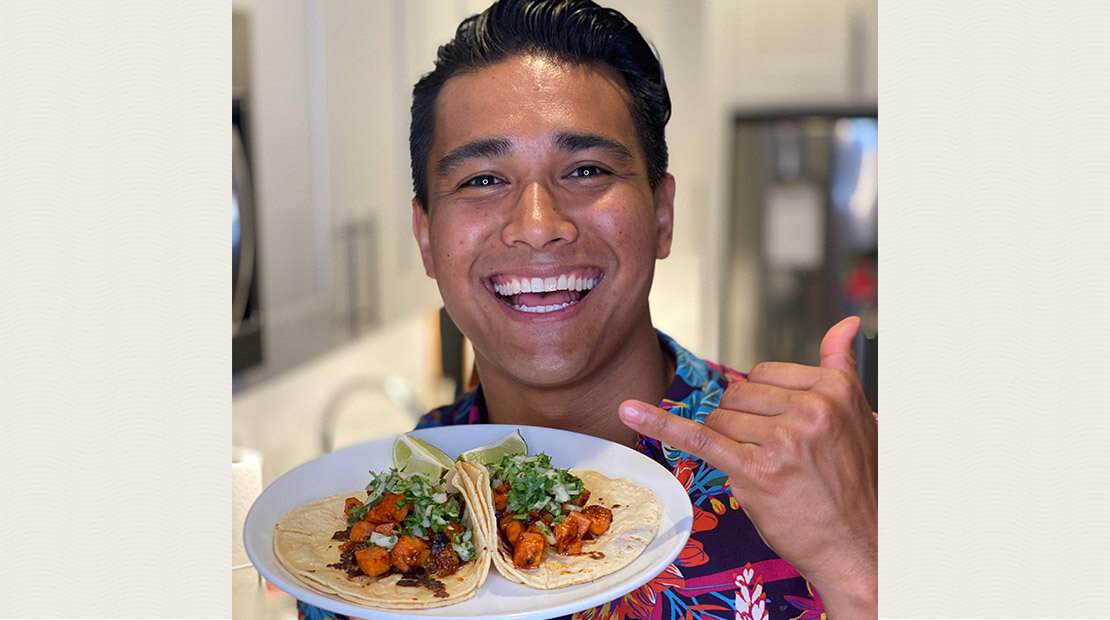 Forbes
In the U.S. SPAM tends to have a bad reputation, though ironically many share a love for Filipino and Hawaiian cuisine, both of which utilize SPAM in many of their dishes.
Chef Jordan Andino, Filipino cuisine expert and host of "Late Nite Eats" on the Cooking Channel, is someone who grew up cooking with and enjoying SPAM with his family. He's the Executive Chef at Flip Sigi, a Filipino taqueria, where he brings flavors from his upbringing and heritage and marries them with popular Mexican cuisine. Dishes include: adobo chicken tacos, adobo-rito and sinigang flip bowl.
He's recently partnered with the SPAM brand with the hope of popularizing it in the states through his inventive fusion cuisine and zeal for Mexican food. With his expertise in Filipino cuisine, he merges the bold flavors that this type of food is known for, think garlic and vinegar, with the complimentary dishes everyone loves from Mexican cuisine. The result? Unique recipes like the Cheesy SPAM Pastor Tacos, which we will get to later!
We chatted with Chef Andino on his heritage, cooking inspiration, Filipino and Hawaiian cuisine, the stigma of SPAM and more. Here's what he had to say.
How has your Filipino heritage influenced the food you cook and your recipe creations?
My heritage is what drives me to be innovative each day in the kitchen. I've taken my classical French and Italian training and used that to modify the best elements of Filipino dishes to create the recipes that are predominantly seen on my menus for both my restaurant, Flip Sigi, events and personal chef dinners!
For someone who doesn't know anything about Filipino food, how would you describe it? The flavors? Types of dishes?
Filipino food is an amalgamation of three major cuisines that speak to many parts of the world: Spain, U.S. and China.
You can find garlic, vinegar, sugars, rice and pork in pretty much ALL regions of the country and especially in the country's more popular dishes: chicken and pork adobo, sinigang, turon, halo halo, pancit, tapsilog, sisig, and Jollibee!
Let's talk about the SPAM brand. It's pretty clear the U.S. loves Hawaiian and Filipino cuisines (most at least know about lumpia!) and SPAM often is incorporated in both cuisines rice-based dishes. That said, SPAM has somewhat of a stigma here. Why would you say that is and why are you trying to change that?
The SPAM brand has a stigma in the U.S. because most people aren't aware of the flavor profile and the countless ways you can utilize SPAM varieties in everyday recipes. SPAM products arrived in Hawaii and the Philippines during WWII and were quickly adopted into local culture. Today, the love of the SPAM brand is still strong as its incorporated into a ton of popular dishes.
I'm trying to change the stigma of the SPAM brand in the U.S. because it's a product me and my family grew up eating, and I'm proud to partner with a brand that gave me fuel to grow up and become the person I am today! It's delicious, easy to cook, and has so many uses it's nearly impossible to not love once you give it a try!
You've created some new dishes featuring SPAM. What are they and what's your inspiration for creating them?
I recently made Cheesy SPAM Pastor Tacos which are inspired by my Filipino taqueria, Flip Sigi, along with my love for Mexican cuisine! The dish consists of diced SPAM Classic, pineapple, cheese melted directly onto the tortilla, and a classic onion and cilantro garnish which brightens up the whole dish. (See below for the recipe!)