How SPAM® Classic Helps Chef Kia Damon Conquer the Kitchen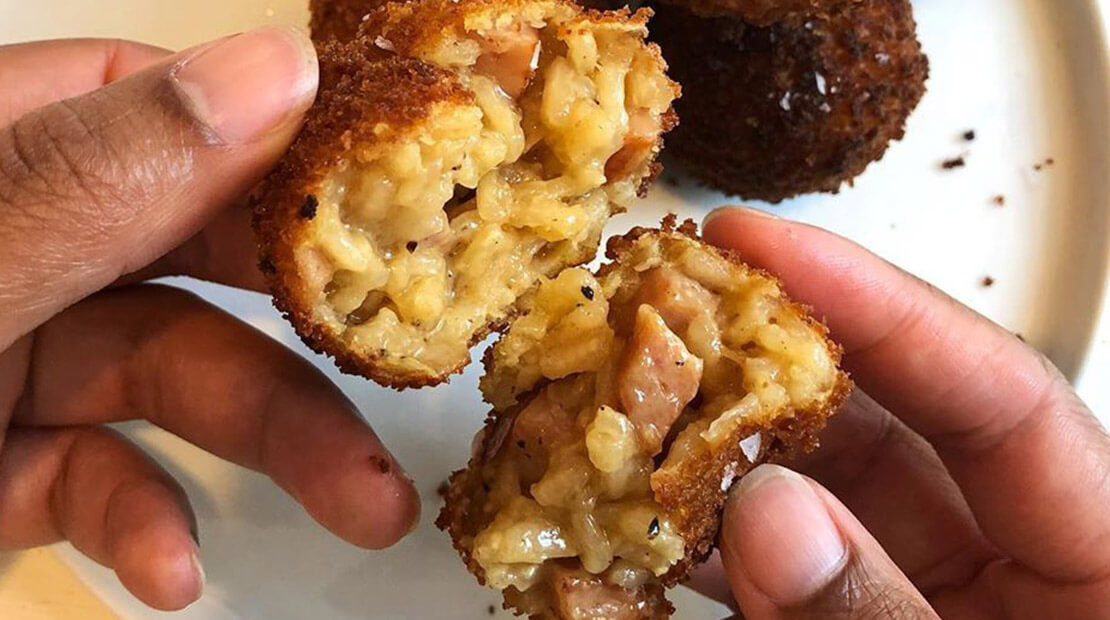 Vice
It shouldn't be an intimidating place, and SPAM® products can help.
At an early age, Chef Kia Damon climbed the kitchen ranks to become head chef at 24-years-old of a popular downtown Manhattan spot, and now holds the title of culinary director for Cherry Bombe Magazine. Having achieved immense success at a young age, the Florida native sees much of her work as lifting the veil off what can often be seen as an esoteric craft. "I'm completely self-taught. At first it seemed really scary to learn all these things—deglaze this, make a roux that, Béchamel—words can often leave people feeling disconnected from what's happening, or fearful that they can never do it." In this way SPAM® products are the perfect example of her entire ethos: "It's tasty and it's accessible," she says, "Nothing to be scared of or intimidated by."
The young chef calls herself "Kia Cooks ," and has used her talents to host pop-up dinners and private cooking demos as part of her desire to identify the threads that tie cultures together. Damon wants to empower people to cook well, too, regardless of their upbringing or background. She grew up eating SPAM® products with her grandmother, who would slice it thin, fry it up, and put it on toast for a quick, delicious sandwich. Throughout her adult life SPAM® products have reappeared in various cuisines, like her friend's fried rice, or her girlfriend's pan-fried SPAM® Classic with kimchi. No matter the preparation, the taste of the classic staple is a distinct reminder of her childhood. "It brings back those memories of eating it with my grandma."
One of Damon's favorite things to do with SPAM® products is to get it frying in a pan, whether sautéing it with black garlic and green beans, or putting it in a creamy pasta—"SPAM®onara," as she calls it. When developing the recipe for her Creamy SPAM® Risotto Croquettes, Damon was looking to make something comforting, indulgent, and down-to-earth. Salty, smooth, and crunchy all at once: "It hits every spot," she says. "When I think of SPAM® Classic, I think of that comforting salty taste that can be compared to pancetta, in my eyes." The recipe falls in line with her philosophy of emphasizing the approachability of food. "Risotto is something that people don't feel like they can do at home, but anybody can make Risotto," she says of the Northern Italian rice dish. "You have to stir like your life depends on it to help release the starch and achieve its desired creamy consistency."
Taking something as technical as Risotto and incorporating sautéed SPAM® Classic, makes for a delicious, creamy delight. "It's just fun and comforting," Damon says. "Two, three different techniques in one recipe, and none of them are out of reach." The seemingly inaccessible, made accessible—that is what the SPAM® brand can provide for a variety of dishes.