Doubling Down on Nuttiness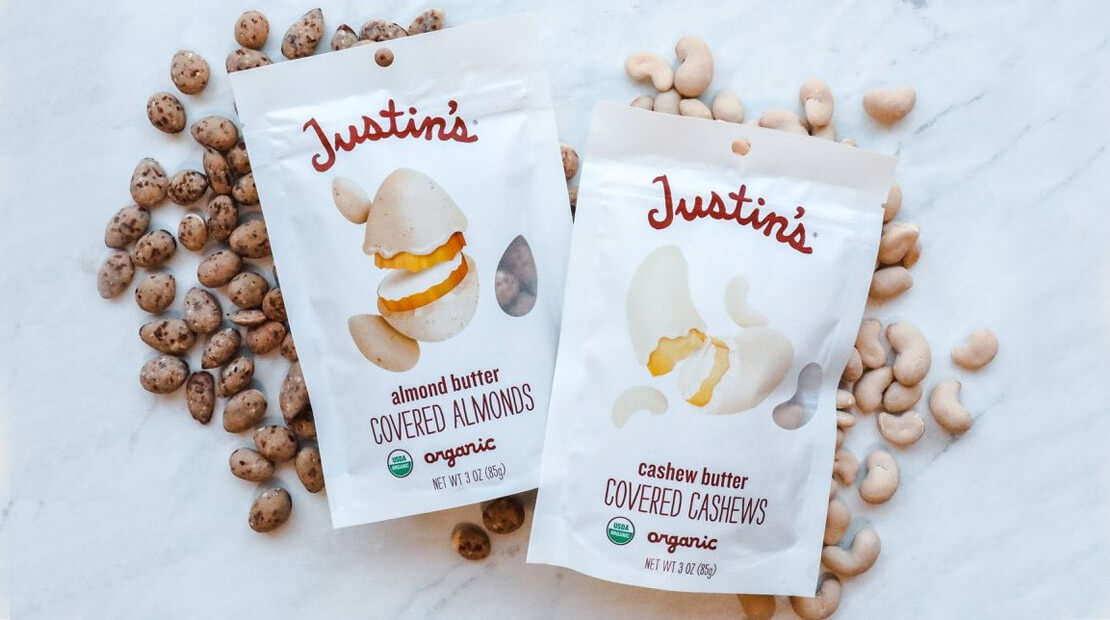 Food Dive
Justin's latest one-of-a-kind creation will likely attract almond and cashew fanatics.
Leftovers is our look at a few of the product ideas popping up everywhere — some are intriguing, some sound amazing and some are the kinds of ideas we would never dream of. We can't write about everything that we get pitched, so here are the leftovers pulled from our inboxes…
The Hormel-owned organic nut butter maker just unveiled its new snack: organic nut butter covered nuts, according to a release. The product, which the company says is the world's first, will be available in two varieties, Almond Butter Covered Almonds and Cashew Butter Covered Cashews.
Justin Gold, founder of Justin's, said in the release he was inspired to make this new product because the combination of dipping almonds and cashews directly into nut butter was "mind-blowingly delicious."
The new covered nuts are Non-GMO Project Verified, gluten free, dairy free and made with USDA-certified organic ingredients. The nuts also have 2 to 3 grams of plant-based protein per serving. As the consumer demand for plant-based and protein-packed products continues to increase, this latest launch could be a hit with shoppers.
Justin's does have a knack for launching successful nut-based products. The fast-growing company started in 2004 with its protein-filled nut butters. It was acquired by Hormel Foods for $286 million in 2016. In addition to its signature nut butters, the company also sells nut butter cups covered in chocolate.
The increased demand for healthy and natural products has led to more consumer interest in different nuts. Mordor Intelligence predicted the global nut-based spread market would grow at a compound annual growth rate of 6.9% from 2018 to 2023.
And although other companies haven't launched organic nut butter covered cashews and almonds, more brands have introduced covered nut varieties. Brach's recently unveiled milk chocolate double-dipped hazelnuts, so Justin's will have some competition.
The product will debut at Whole Foods and Sprouts before being added to other retailers later in the year. The nuts have a suggested retail price of $5.99 and come in 3 ounce bags, which are made with at least 25% post-consumer recycled content. The sustainability of the nut packaging also could attract shoppers who are increasingly looking to be environmentally conscious.