May the 4th Be With This Inspired Charcuterie Board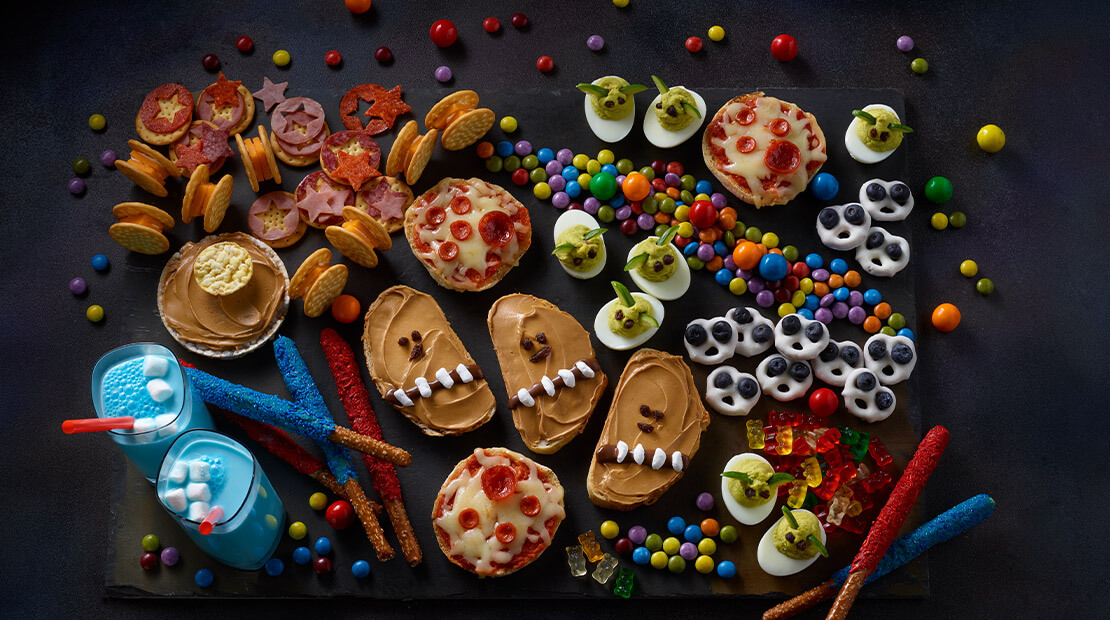 Guilty Eats
If you're a Star Wars fan, then you probably already know all about May the 4th be with you day. And Hormel is doing their part to celebrate courtesy of one of the most epic Charcuterie Boards we have seen yet.
Honestly, this Charcuterie Board idea from Hormel is not only a lot of fun, but it also seems to be pretty easy, even for those of us who might not be the best in the kitchen. The reason I say this is because we are talking about things like peanut butter toast made to look like mini Chewbaccas and Deviled Eggs that look like a "Master Alien."
It is simple goodies, made to look and feel like Star Wars snacks done right. And they are definitely done right.
I can't wait to whip up these goodies and make my own Star Wars Charcuterie Board thanks to Hormel and if you want to make it happen, here's how:
Hormel is giving us the perfect Charcuterie Board inspired by Star Wars just in time for May the 4th
Master Alien Deviled Eggs – Take a hard boiled egg and scoop out your hard-cooked yolk and mix it with some WHOLLY GUACAMOLE (you can also make your own to mix in). Pipe the mix back into the egg whites and then decorate with baby cucumber slices for ears and cut in half raisins for the eyes.
Chewy Peanut Butter Toasts – To create mini Chewbacca toasts, take your favorite peanut butter (they recommend Skippy) and spread it on tiny oval toasts. Take mini marshmallows and chop them into small slivers. Take chocolate and create a bandolier and place the marshmallow slivers spaced out. (I recommend checking out the picture of the Charcuterie Board to see the way they decorated their Chewys.) The chocolate is also used for the eyes and mouth.
That is No Moon Pepperoni Pizzas – These mini pizzas are just that – small bagel bite pizzas made with mini Hormel pepperonis, specifically their Cup N' Crisp pepperoni and their mini pepperonis.
Light Sabers – Check out the linked recipe for a quick and easy light saber recipe using white chocolate and pretzel rods!
Tasty Fighter – This is as easy as snagging a Hormel Gatherings cheese and cracker party tray and taking the mini cracker rounds in the tray and put a piece of cheese in the middle, using cream cheese as a form of glue to keep the cheese in between the two crackers.
Alien Yogurt Pretzels – Whether you dip your own pretzels in white chocolate or cheat a little and get pre-dipped white chocolate covered pretzels, these aliens are simply chocolate covered pretzels with tiny blueberries as eyes (a little melted chocolate acts as a perfect glue to keep the eyeballs in place).
Star Destroyer – This is a fun one, that requires both big rice cakes and small rice cakes. Take a rice cake and spread a layer of peanut butter across the top. Then take a small rice cake round and place it onto the peanut butter. (Seriously, this is like the easiest creation.)
If you want a more step-by-step approach to creating this exact board, check out Hormel's Star Struck Ideas which gives you recipes, an example of another out of this world board, and so much more.
Of course, there are so many ways to personalize your own Star Wars Charcuterie Board. And if you take inspiration from what Hormel has whipped up, we want to see! Share pictures of your board on social media and let us all see the magic you created.