Bring balance to your celebration with a "May the 4th Be with You" charcuterie board featuring with Master Alien Deviled Eggs, PB Light Sabers, Chewy Peanut Butter Toasts, That is No Moon Pepperoni Pizzas, Tasty Fighters, Stars, and a Star Destroyer. Furred bipeds, gum balls, chocolate coated candy pieces and alien yogurt covered pretzels help set the scene. Don't forget the blue milk!
Master Alien Deviled Eggs

Mix WHOLLY® guacamole with hard-cooked egg yolks and pipe into egg whites. Decorate with baby cucumber slices and cut up raisins.

Chewy Peanut Butter Toasts

Spread SKIPPY® peanut butter on toast. Pipe chocolate bandolier on toast and load with cut up mini marshmallows.

Tasty Fighters

Use HORMEL GATHERINGS® Party Tray cheese and crackers with a bit of cream cheese for glue.

Stars

Use HORMEL GATHERINGS® honey ham, salami and pepperoni and cut into stars.

Star Destroyer

Top rice cake with peanut butter and a mini popped rice cake as a super laser.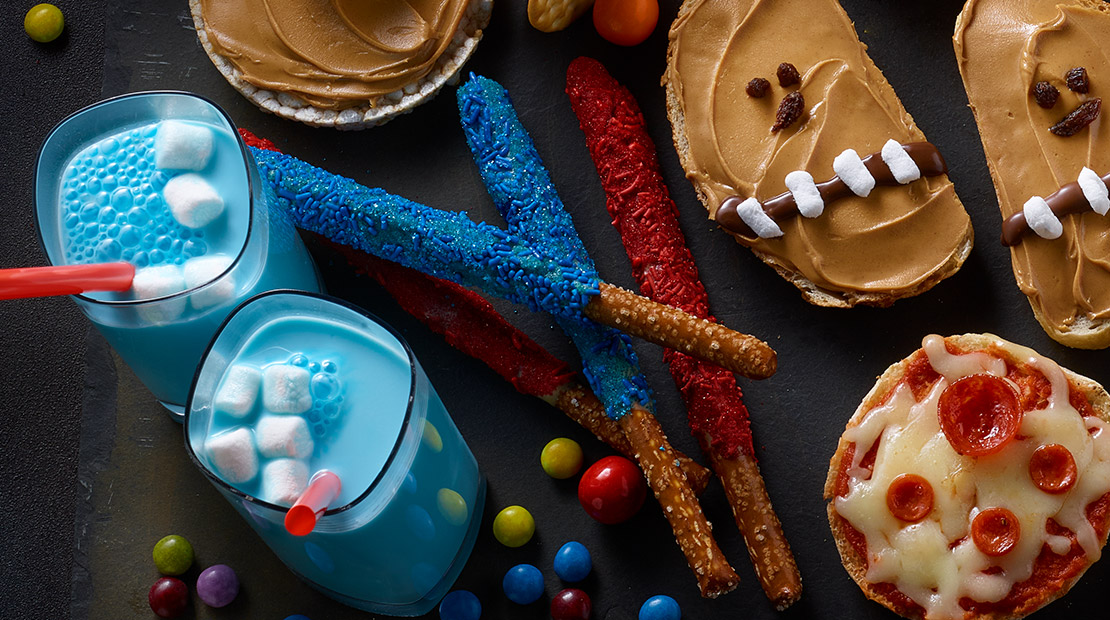 PB Light Sabers
1

cup white baking chips

1/2

cup SKIPPY® Creamy Peanut Butter

1

(10-ounce) bag pretzel rods (about 28 pretzels)

Red and blue sprinkles, if desired
Instructions
In medium microwave-safe bowl, microwave chips and peanut butter on HIGH (100%), stirring occasionally, 1 1/2 minutes or until melted and smooth.
Dip one end of each pretzel in peanut butter mixture; arrange on wax-paper-lined baking sheets.
Decorate with colored sprinkles or nonpareils, if desired.
Refrigerate 15 minutes or let stand at room temperature 30 minutes or until set.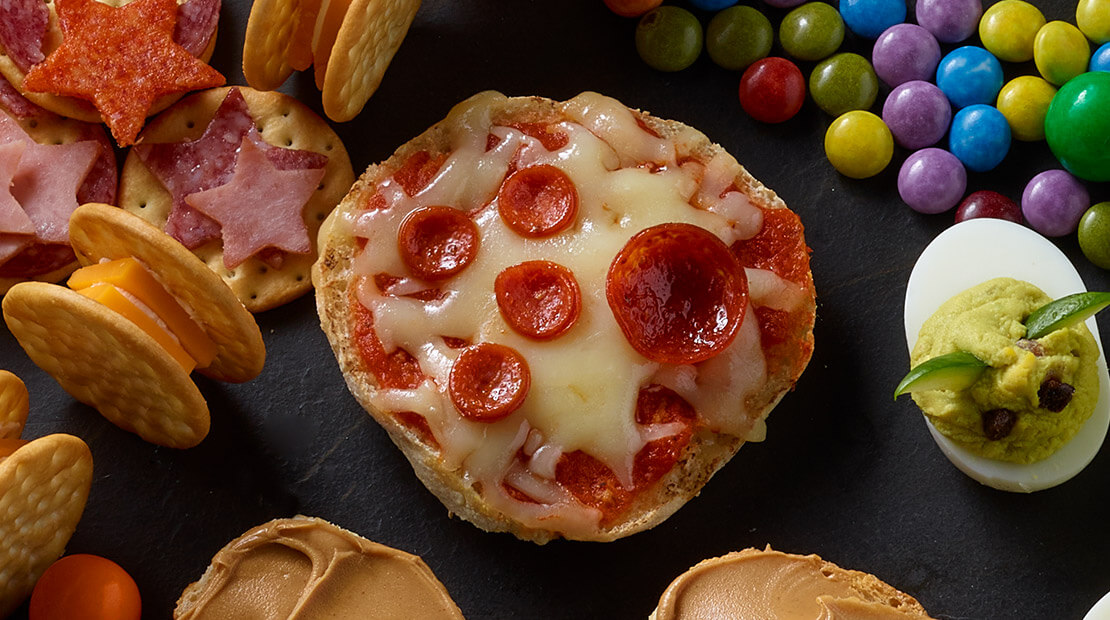 That is No Moon Pepperoni Pizzas
Total Time

30 minutes

Serves

12
6

English muffins, split and lightly toasted

1

(24-ounce) jar pizza sauce

3

cups shredded mozzarella cheese

Garnish

HORMEL® Pepperoni minis, HORMEL® Pepperoni Cup N' Crisp
Instructions
Heat oven to 425°F. Spread about ¼ cup pizza sauce over cut side of each English muffin. Sprinkle evenly with shredded cheese. Decorate using HORMEL® Pepperoni Cup N' Crisp for the super laser and HORMEL® Pepperoni Minis for the craters, . Place on rimmed baking sheet. Bake 10 minutes.
In a Galaxy Far Far Away

Charcuterie Board
In a galaxy far, far away lives a charcuterie board with a galactic amount of cheese, COLUMBUS® Craft Meats, fruit, veggies, and sweets to help you celebrate May 4th. It's out of this world!
Galaxy Party ideas
Paintball: Guests will have a blast attacking opposing teams of "space invaders" with paintball ammo. You can purchase regular paintball kits and add galaxy-inspired party masks to divide the guests into teams.
Movies: Set up your living room, patio, or basement family room for movie viewing. Choose classics like Star Wars, Close Encounters of the Third Kind, or 2001: A Space Odyssey.
Stargazing: Have printouts of the different constellations to search for and spot in the night sky.
Meteor shower: Make or decorate a round piñata to look like a meteor and fill it with candy. When your party guests break it open, the candy that falls is a "meteor shower."
Costumes: Ask guests to dress up as their favorite inter-galactic character.