Minnesota Made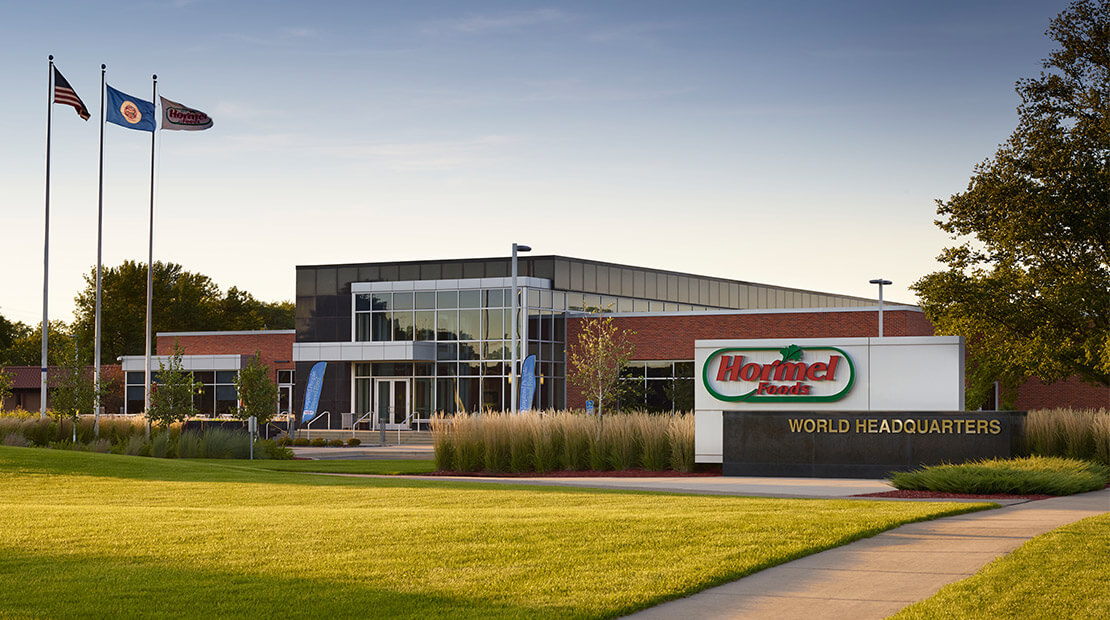 Moorhead Magazine
Hormel Foods is passionate about food and your food choices. The 127-year old company is proud of its small-town roots, with its world headquarters in Austin, Minn., pop. 24,718. Yet, this food giant brings its iconic protein products to the world stage. You may be familiar with many of their products but surprised to know they support 54 brands around the world.We caught up with a few alumni who work at Hormel Foods. Combined, these Dragons have 119 years of service at Hormel.
When Robert Christiansen graduated during the 1980s farm crisis, he found few employment opportunities in manufacturing. He liked Hormel Foods because "it's a strong Minnesota company, and people will always need food."
Jacob Zimmerli had a clear idea of what his career should provide.
"I wanted a successful, stable company on the Fortune 500 with an international footprint that offered advancement opportunities. Secondary to all of that was working in the food industry," Zimmerli said.
Hormel Foods interviewed Jennie-O Turkey Store CEO Steve Lykken during an MSUM recruiting event.
"It wasn't the sexiest industry per se, but their corporate reputation was quite strong," he said.
What may surprise many, but not the 20,000+ people across the globe who work for Hormel Foods, is the magnitude of this company's impact locally, nationally and globally.
Growing up in Austin, Sam Weikum and his family were quite familiar with the company. His first position as sales representative for the foodservice division landed him in Denver, Colo. Each new assignment came with career advancement – Tampa, Fla., Salt Lake City, Utah, and San Francisco, Calif.
"I've been fortunate to relocate to these beautiful places and have learned a lot. It's been great fun," he said.
A significant strength of this company is its commitment to professional advancement.
"I wanted to shift gears and that's something Hormel Foods is great about," Weikum said. "Many marketing roles are filled by people with sales experience because they understand customers."
His career change required a move to Minnesota when he became the brand manager for four product lines in the foodservice division. He markets to chefs and food service directors at restaurants, hotels, healthcare facilities and universities.
Lykken, who's worked with the company's Hormel®, Applegate® and Jennie-O® brands, embraced the growth opportunities.
"Hormel Foods is an organization that gives you the autonomy to create your own success," Lykken said. "They've had a strong promote from within philosophy for decades."
"There is tremendous opportunity within Hormel Foods," Christiansen said. Through his production experience, he discovered a passion and talent for developing safety systems and for training employees. He maneuvered his way to the safety field and now oversees all of the company's safety programs and systems.
"We are recognized as an industry leader in safety with roughly 1,700 people directly involved in safety through various committees," he said. "My greatest satisfaction is knowing that on a daily basis my policies and programs help people work safely."
Brenda Fisher settled in Austin with her family. After nine years in Quality Control at the plant, she joined the Compensation department at the corporate office. She feels fortunate to continue building deep roots in the community.
"It was beneficial to me to be in Austin throughout my career and afforded me the opportunity to surround myself with great leaders," she said.
Originate, don't imitate
George A. Hormel worked in the tannery and meatpacking business for years before founding Geo. A. Hormel & Co. His experience shaped his vision for the company he wanted to create, "instilling values that are still held in high regard. His instruction and vision to 'originate, don't imitate' continues to lead the company's innovation efforts." (hormelfoods125.com)
Even in food, innovation drives growth – new products, new flavors, new delivery systems, new packaging – all designed to keep up with ever-changing consumer tastes.
At the forefront of managing innovation is Heidi Akkerman, one of five members of the corporate innovation group charged with bringing new and improved products to market.
The first can of SPAM® came off the production line in 1937.
"We don't just look at new ideas, but also flavor extensions or new forms of existing products," she said.
Favorite standbys are often enhanced with bold, new flavors to meet consumer demand. Whether it's 24 flavors of Hormel® Black Label® bacon, 15 varieties of SPAM® products or 15 flavors of Hormel® chili, the company strives to meet the tastes of consumers. The acquisition of like-minded companies expands its global protein footprint, such as Justin's® nut butters, SKIPPY® peanut butter products or Lloyd's® Barbeque items.
Hormel® Rev®, a ready-to-eat wrap sandwich, was one of the first new ideas to emerge from the innovation group in 2013. One of Akkerman's projects was to develop a natural meat and cheese formula for the existing Hormel® Rev® product and re-launch it under the Hormel® Natural Choice® brand. They also introduced a new product in conjunction called Hormel® Natural Choice® Stacks.
An example of a product extension is SKIPPY® P.B. Bites introduced under the snacking pillar. The bite-size morsels are the first in its category of peanut butter snacks that are portable and nutritious.
"These are a great protein snack for athletes," Fisher said. "They don't have a coating – just peanut butter. They are awesome!"
"There's a lot of collaboration to make product launches successful," Akkerman said. "We have a great cross-functional team that helps to deliver the goals of each project."
In Southeast Asia, SPAM® is given as a luxury gift.
"When I first started, Hormel Foods sold a lot of fresh product, to include bacon, ham, hot dogs, pepperoni and canned ham. Very few items were shelf-stable or considered convenience foods," Fisher said. "The company now produces items that are center of the aisle and offer convenience."
"One of my favorite items is marinated Hormel® Always Tender® tenderloins. They are a wonderful way to add flavor," she said.
"One of the benefits of Hormel Foods is we have a wide portfolio of products for any consumer," Akkerman said.
Sports enthusiasts enjoy Muscle Milk® products to support muscle recovery
People with unique dietary needs benefit from Hormel Health Labs, an expansive line of specialty items featuring thickened beverages and pureed food.
Hormel® Vital Cuisine™ is a line of meals and shakes to meet the needs of cancer patients.
Justin's® and Applegate® brands appeal to consumers focusing on natural and organic ingredients.