Packaging Details Matter for Hormel's Premium Ham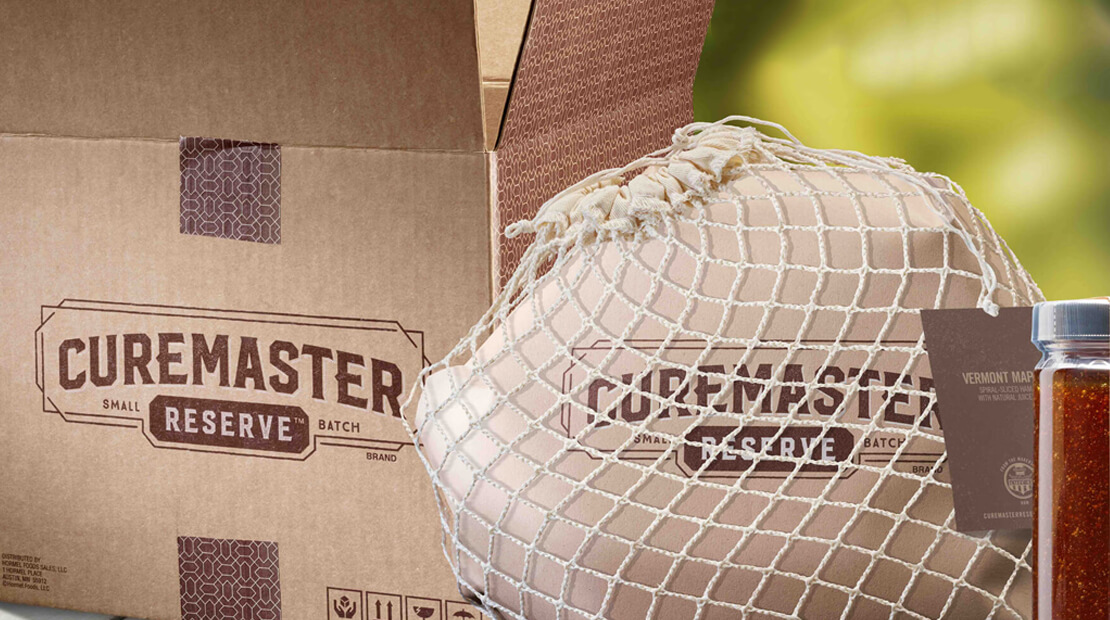 Packaging World
Hormel considers every aspect of the packaging for its e-commerce-only premium ham, Curemaster Reserve®, to leverage its small-batch quality and the heritage of Hormel's retail ham brand.
When Hormel Foods launched a first-of-its-kind e-commerce premium ham, the company wanted every detail of the product to have a premium look and feel. To get everything just right, they worked with Smith Designand printing and retail marketing company Meyers on packaging that focused on details as small as making strings and grommets out of paper. Meyers initially produced the Curemaster Reserve® Smoked Ham wrapper, label, and other elements from Kona® paper, a stock made from recycled jute coffee bean bags. But when mills producing Kona stock shut down, Meyers had to find other solutions that maintained the same look and feel. Ultimately, they chose grocer kraft, part of Neenah Paper's Environment line, and a 5.5-mil synthetic film printed to give it the same butcher paper-like appearance.
Available online only, Curemaster Reserve® bone-in, spiral-sliced ham is a premium product; it is priced at $80 for an eight- to 10-lb ham. Setting itself apart from the competitive set, the ham is available in Vermont Maple, Campfire Sugar Rubbed, or Double Smoked varieties, each of which comes with a collection of three glazes. These include either Honey Dijon, Pineapple Ginger, and Cranberry Chipotle, or Crunchy Brown Sugar, Apple Cider Bourbon, and Brown Sugar Sriracha, in small glass jars.
Smith Design created the packaging for Curemaster Reserve® and its accessories. "We were tasked with creating a design experience that worked across packaging, e-commerce, and product engagement," says the firm. "It was important to leverage the small-batch quality and heritage of the Cure 81® brand [Hormel Foods' retail line] to marry to the premium price point."
Getting all of the details right takes work, says Lee Lund, Sales Executive, Label and Card, for Meyers. The synthetic film used to wrap the ham is thin, so feeding it through a sheetfed press is a challenge. Making grommets out of paper instead of metal is another extra step. "Hormel Foods wanted a crafty-looking and natural substrate for their Curemaster Reserve® ham packaging," Lund says. "This is a premium product, and Hormel wanted that to come through in every detail of the packaging. This is a true collaboration focused on giving customers a premium experience at every step of the process."
Components of the Curemaster Reserve® brand's packaging include the wrapper for the ham, an insert, hang tags, nutritional labels, a label that goes on the glaze jar, and an envelope that contains cooking instructions. The paper components range in weight from 50 to 80 lb. Meyers prints the pieces with the Curemaster Reserve® logo, brand collateral, and product identification information in digital, flexo, and offset processes, depending on the component.