Pizza: New Twists on an Old Favorite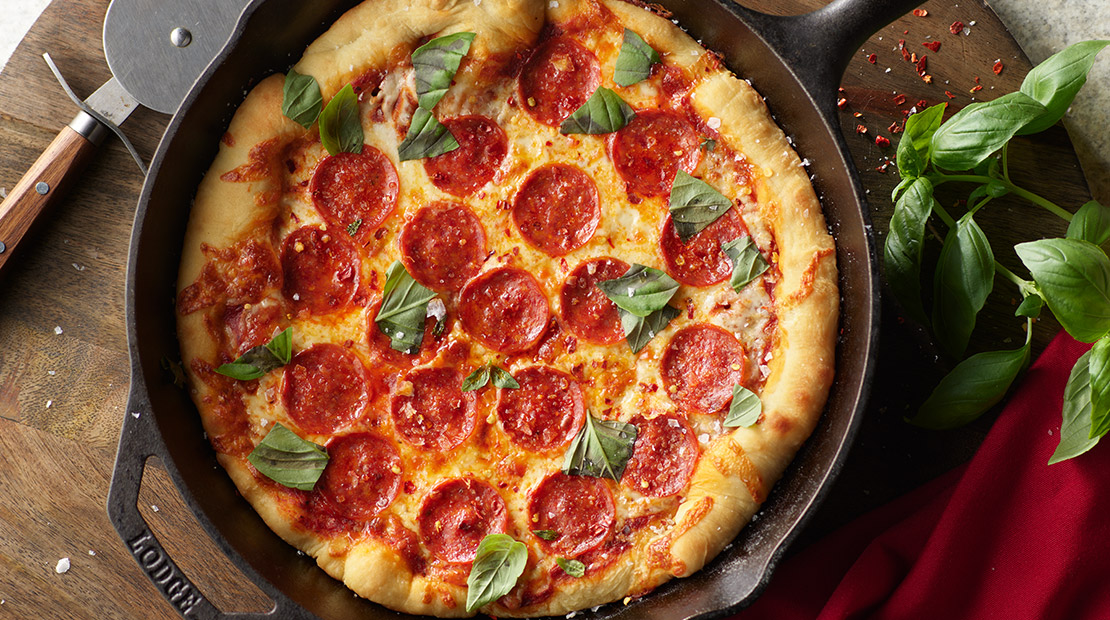 Supermarket Perimeters
Despite COVID's impact, the pizza category has held its own in the grocery perimeter, said Trey Pick, associate brand manager for Hormel Deli Solutions, a division of Austin, Minn.-based Hormel Foods.
"We've seen demand for pizza staying steady or growing in the deli prepared foods area, even as the current situation has changed consumer shopping habits," Pick said.
That said, the impact of the pandemic is real. Many retailers that served pizza by the slice or made to order pizzas shifted to more of a take and bake pizza model, Pick said. And retailers that had a more established take and bake pizza program pre-COVID-19 are continuing to see great demand.
When it comes to current trends in the pizza world as a whole, two stand out to Pick.
One, pepperoni remains the king of pizza toppings and has seen growth in the prepared foods category throughout the pandemic. Fortunately for Hormel, Pick said, the company has a huge portfolio of pepperoni solutions.
"Everything from lay flat pepperoni to cup and char pepperoni, all in several varieties, flavor profiles, sizes, and slice thicknesses," he said. "We are also continually sourcing consumer insights and innovating in this space to stay ahead of upcoming consumer trends."
The second big trend Hormel is tracking is the willingness of retailers to get creative to elevate their pizza offerings with differentiated toppings — everything from globally inspired pizzas to "out of the box" toppings like chorizo, sliced meatballs, prosciutto, or pulled pork.
Hormel's pizza solutions for grocery prepared foods sections includes products from both the company's Hormel and Fontanini brands.
"We offer solutions to help retailers enhance their current offerings or even create a complete and customizable pizza program," Pick said. "We are a leader in the pizza toppings category and offer a vast portfolio of pepperoni, Italian Sausage topping, bacon topping, Canadian Bacon and beef and chicken toppings."
Hormel's pizza program has changed in three significant ways in recent years, Pick said.
The acquisition of Fontanini in 2017 gave Hormel one of the top brands in premium pizza toppings, with a reputation for quality and flavor that Pick calls second to none.
Two, Hormel has added a variety of new pepperoni with elevated flavor profiles – both in lay flat and cup-and-char varieties.
And finally, the company has continued to innovate its pizza toppings portfolio to ensure it has a pizza topping to meet any consumer or retailer needs or preferences.
"From our classic Hormel pizza toppings to our premium Fontanini Italian Meats, as well as the natural line of Applegate pizza toppings and our latest Happy Little Plants plant-based pizza toppings, we have the broad and on-trend portfolio of products to meet the needs of any retailer or consumer," Pick said.