Record Year for Potato Lover's Month Contest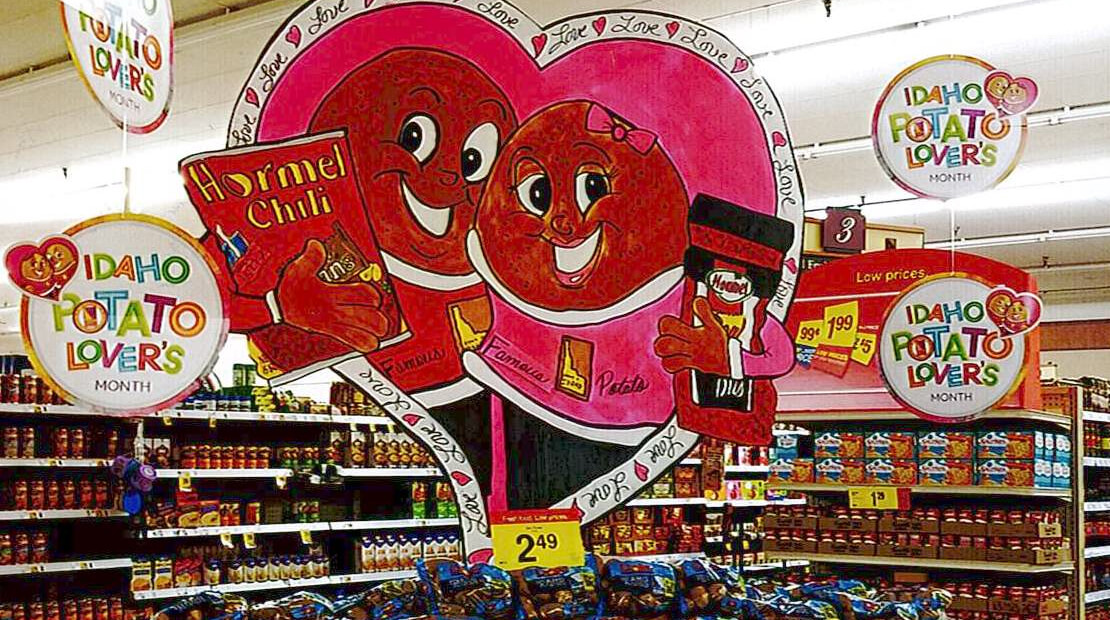 Produce News
A grand total of 5,266 retail displays nationwide flew the flag for Idaho potatoes in this year's Potato Lover's Month Display Contest — the most entrants ever in the competition's 27-year history.
"We couldn't be more thrilled about all the enthusiasm for the Idaho potato brand," said IPC Marketing Manager Jamie Bowen. "Retailers tell us they have a great time creating the displays, and shoppers love them. We also received a lot of really good comments this year about our free prize for everyone who entered, the Ninja Fit single-serve blender."
John (Rich) Rosser, assistant manager for produce at Raley's in Loomis, CA, chalked up a first place win for his store in the 10-plus registers category. Rosser did all of his own chalk art for the display, which featured a ski-jumping spud in Sun Valley, ID, in honor of the sweepstakes prize destination.
"I do all the drawings — I like to get creative," said Rosser. "People migrate to [displays] like this. When we put it center stage, sales take off."
For the six- to nine-registers category, Kroger J-915 in Elkhart, IN, won first place for its loving tribute to Idaho potatoes, topped by a giant heart framing a handsome tater couple clasping partner products Hormel Bacon Toppings and Hormel Chili. The state of Idaho was the center attraction in the Nebo Market display in Nephi, UT, which took first prize among stores with one to five registers. Illustrated Idaho fun facts, along with a carved-foam spud family riding in an old wooden wagon, served as backdrop for a wide variety of Idaho potato products …
"I am always amazed at the creativeness I see in the displays with this program," said Corrine Hjelmen, Hormel Bacon Toppings brand manager. "This year was no exception — the entrants did a fantastic job of coming up with new ideas, larger displays and very unique themes to make this program a success. Potatoes, bacon and chili create a perfect combination of deliciousness!"