Richard L. Knowlton Obituary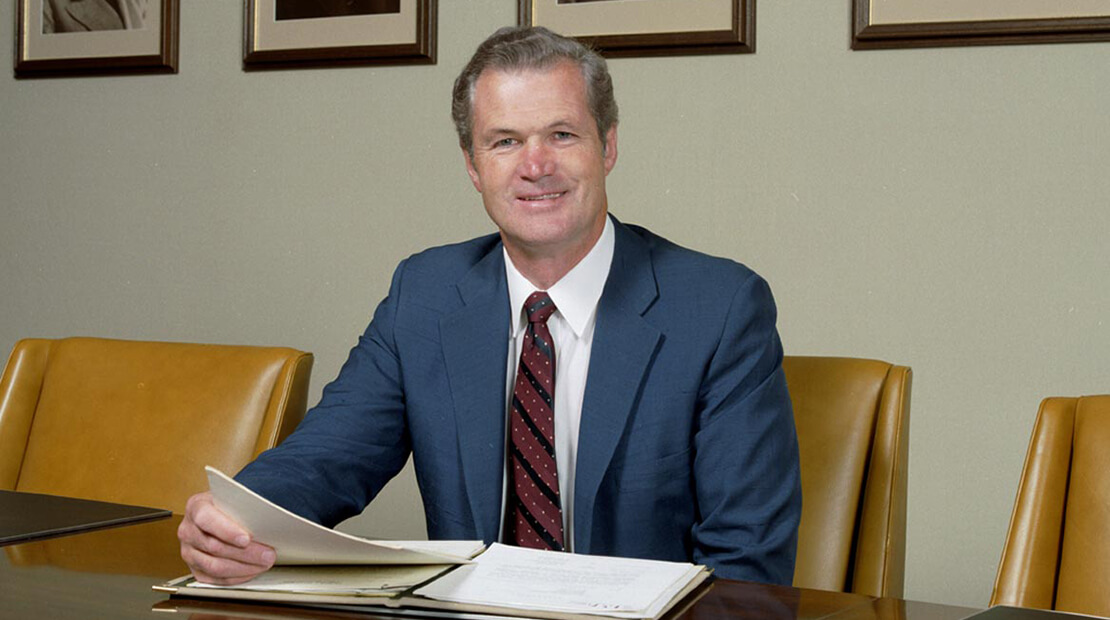 Austin, Minn.
Richard Knowlton was a man of vision, family, community and knew the importance of hard work, honesty and determination.
Richard Lyle Knowlton lost his hard-fought battle from complications of Alzheimer's disease on February 1, 2019. He was a man of vision, family, community and knew the importance of hard work, honesty and determination to overcome obstacles.
Dick was born on June 9th, 1932 in Austin, MN, two blocks from the Hormel meat packing plant, to Lyle and Rosella (Bothun) Knowlton. He became a star on the hometown football team. He came from a family of seven children with little money but lots of love. His father worked for the Hormel Company weighing live stock. Dick started working at Hormel at the age of 16 performing a variety of jobs throughout the Austin plant.
Dick's athletic skill earned him a football scholarship at the University of Colorado in Boulder, where he majored in geography and economics. Summers found him working for Hormel and upon graduation from college he took a job with Hormel. He met the love of his life, Nancy VanDerbur, while at CU. They married November 3, 1954 and spent 2 years in the Air Force at Spokane, Washington, where Dick served as an Intelligence Officer. Dick worked 62 years at Hormel starting in the hide cellar and ultimately serving as President, CEO and Chairman of the Board of Hormel Foods Corporation and Chairman of the Hormel Foundation.
Nancy and Dick brought life to 5 children – Scott, Kimberly, Claudia, Dave, Julie. They have 12 grandchildren and 13 great grandchildren.
Dick left his mark on both the community of Austin as well as so many people throughout his life time. Dick had great vision and raised over $87M in funding for projects to benefit the Austin community. He additionally raised the funding for the Dal Ward Athletic Center at University of Colorado. Dick has provided mentoring and financial resources for so many deserving students to attend college. He wrote the book 'Points of Difference: Transforming Hormel' which has been used in College Business Leadership classes and enjoyed by many.
Dick was a key member of numerous Boards, including:
The Hormel Foundation (Chairman)
Horatio Alger Association (Chairman Emeritus)
SUPERVALU INC.
ING America Insurance Holdings, Inc.
Business Advisory Council – Univ. of Colorado Leeds School of Business
Mayo Clinic Board of Trustees
President's Advisory Council – Mayo Foundation
American Meat Institute (Past Chairman)
Austin YMCA
Canada Packers
Carlson School Board of Overseers
Chamber of Commerce (V.P. and Director)
First Bank Austin
First Bank Minneapolis
Future Fuel Corporation
Grocery Manufacturers of America
Industrial Funds Drive (Gen. Chmn.)
Minnesota Business Partnership
Minnesota 4-H Foundation (Trustee)
National Livestock & Meat Board
ReliaStar Financial Corp.
Rotary Club
St. Olaf Hospital Fund Drive (Gen. Chmn.)
Salvation Army (Advisory Board)
United Way of Austin
University of Colorado Foundation
University of Minnesota Foundation (Trustee)
U.S. Bancorp
Vintage Club (President)
The Perth Corporation (Cargill)
He received numerous Honors and Awards, of which some are:
Outstanding Crisis Manager of the Year – 1987 by Carnegie-Mellon
University of Colorado Hall of Honor – 1989
William H. Albers Award – by the Food Marketing Institute in recognition of contributions to the food industry – 1989 (highest award)
Two Gold, two Silver, three Bronze awards presented annually by the WALL STREET TRANSCRIPT to the Outstanding CEO in the Food Processing and Commodity Categories
1990 Man of Achievement Award – by the Anti-Defamation League
Honorary American FFA Degree – Highest honorary award of FFA – 1991
Honorary Member – Mayo Alumni Association
Distinguished American Award – Horatio Alger Association – 1992
University Medal – University of Colorado – 1993
Industry Advancement Award – American Meat Institute – 1993
Minnesota State Athletic Directors' Association – Distinguished Alumni Award – 1995
Distinguished Business Service Award – University of Colorado College of Business – 1995
Herbert Hoover Award – National-American Wholesale Grocers' Assn – 1996 – (highest award)
Norman Vincent and Ruth Stafford Peale Humanitarian Award – 2000 (a national award presented to Mr. and Mrs. Knowlton)
Colorado University All Century Football Team –
Minnesota Business Hall of Fame – 2011
Norlin Award from University of Colorado
To honor Dick, Austin named the Austin High School Auditorium and an Avenue after him
Most importantly – his highest honor was being the family patriarch.
Survivors include his wife Nancy, Vail, CO; five children: Scott (Andrea Biller), Palm Harbor, FL; Kimberly Heymann, Vancouver, WA; Claudia (Anthony) Knowlton-Chike, Spring, TX; David (Teri) Knowlton, Wyoming, MN and Julie (Rich) Wham, Denver, CO; grandchildren: Kari Larrañaga, Missy Freund, Sarah Heymann, Ashley D'Onofrio, Zach Chike, Julian Chike, Chris Chike, Justin Knowlton, Korina Knowlton, Dawson Knowlton, Charlie Wham, Coco Wham; great grandchildren: Linnea, Christian, Beth, Rosie Larrañaga, Kaitlyn and Riley Freund, Adalyn, Alaria, Haddon, Kendrick, Cameron Chike, Victoria and Lexi D'Onofrio; a sister Carol Warfield; two brothers Gary and Bob (Joan) Knowlton. Many nieces and nephews. Special acknowledgement of Dick's loving caregiver Boyd Williams.
He was preceded in death by his parents, Lyle and Rosella Knowlton; his sisters Susan Knowlton, Marjorie Anderson, Mary Jane Knowlton and sister-in-law Mary Knowlton.
Memorials may be designated to the Alzheimer's Association, Eisenhower Medical Center, Vail Health, Mayo Foundation, University of Colorado.