There's an Actual Guy Named 'Justin' Making Those Nut Butter Packets, and He's Everything You'd Expect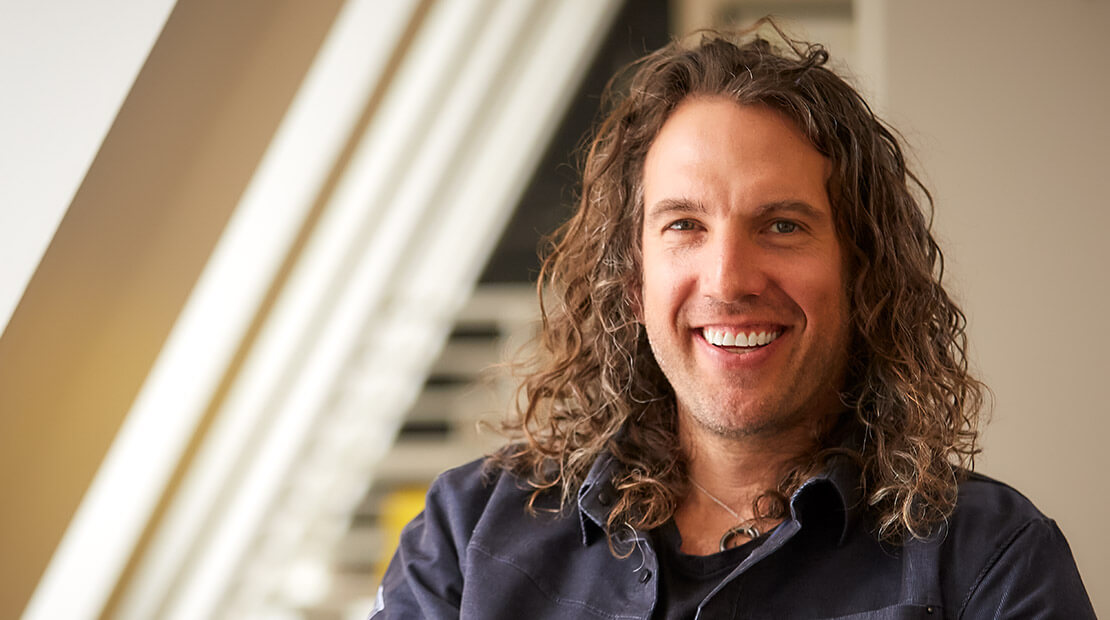 Elle
It's 3:30 p.m. in the office. You're drained, exhausted, calorically-depleted. Namely, you're hangry.
Then, it dawns on you: you actually have a healthy-ish snack carefully stowed in your desk drawer for just this occasion. You pull out a squeeze-pouch of Justin's peanut butter. Oh hell yeah.
First introduced back in 2004, Justin's wide range of offerings now include everything from dark chocolate peanut butter cups to almond butter covered almonds—and they've become a staple office snack among millennials. As it turns out, we are indebted to an actual human being named Justin for curing our mid-afternoon empty-belly blues.
His full name is Justin Gold and he's a 41-year-old entrepreneur, father of two, and longtime Boulder, Colorado resident. He's also a master flavor technologist and a self-described "nut" for nuts. His company was bought for a reported $286 million by Hormel back in 2016, and it now makes over 40 different products. We tracked down THE Justin—or, as his friends call him, "PBG" for "Peanut Butter God"—to chat all things nut butter.
You came up with the concept for Justin's squeezable packets of nut butters while mountain biking. Personally, when I'm biking, I'm usually thinking about an upcoming hill or, if we're being completely honest here, when the bike ride is going to be over. What made you think about squeezable nut pouches out on the trail?
So I had actually just taken a break from biking and I was eating an energy gel, like a Clif Shot or a Gu Gel. But in that moment I was just thinking to myself, man, you know what, right now I really don't want a sugary gel. All I really want is protein and I don't want just any protein. I just want peanut butter or almond butter, you know? And then that was the ah-ha moment. I thought why isn't anybody putting peanut butter or almond butter into a little squeeze pack like these energy gels?
I ended up finding a used squeeze pack machine that had done shampoo back in the '80s and it was sitting in Jersey in a warehouse needing to be reconditioned. I borrowed $50,000 from my roommate's parents, and I bought my own squeeze pack machine, brought it to Boulder, got it working. It took me about a year to get it to work and made the world's first, I guess you could say, the world's first commercially viable nut butter squeeze pack.
How did you come up with the company name? (Just kidding.)
Actually, originally the company I created was called Paragon Peanut Butter because that had a nice little alliteration, but all of my friends were like, "Dude, what is Paragon? Dude, just call it Justin's."
The business now includes many different flavors and products, including, my personal favorite, your dark chocolate peanut butter cups. How involved are you actually in coming up with new ideas?
So my favorite thing to do is to create new products and to talk to customers. My poor family, I have a wife and I have a five-year-old and a seven-year old, and any time we travel to another part of the country, another part of the world, they already know that any time we pass the grocery store I'm going to go in and I'm going to look at the products and flavors and see what the nut butter companies are doing. I'm always inventing and looking for ideas. They just roll their eyes and they put up with it.