Adam Thielen Partners with The Makers of HORMEL® Chili for Chili Dip Touchdown Dance Contest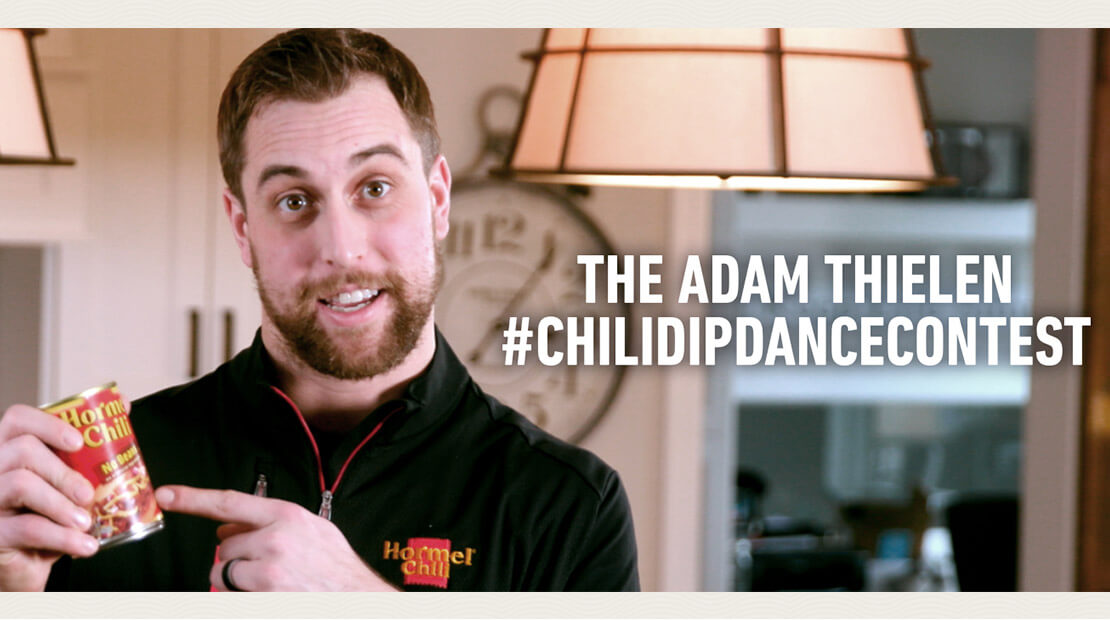 Austin, Minn.
The Nationwide 'Show us Your Chili Dip Touchdown Dance' Contest Gives Fans a Chance to Win a Trip to Next Year's Big Game
The makers of HORMEL® Chili, America's iconic No. 1 chili brand, are teaming up with star wide receiver Adam Thielen to find the nation's best 'Chili Dip Touchdown Dance.' The contest will allow fans across the country the opportunity to submit their very own chili dip touchdown dance for the chance to win a trip to next year's Big Game in Miami, Fla.
From now through Sunday, Feb. 3, 2019, fans will be encouraged to submit their best Chili Dip Touchdown Dance via social media on Facebook, Instagram, or Twitter incorporating a can of HORMEL® Chili, using the hashtag #ChiliDipDanceContest and tagging Hormel Chili (@HormelChili on Twitter and Instagram; @Hormel.Chili on Facebook) for judging. Hormel Foods will select one Grand Prize winner. The winner and a guest will be flown to Miami to watch next year's Big Game. Judging of dances will be based on uniqueness, unexpectedness and originality behind each entry submission.
"We are excited to partner with Adam Thielen to announce the Chili Dip Touchdown Dance contest," said Jason Baskin, HORMEL® Chili senior brand manager. "Adam is the perfect partner because he knows that it's not a touchdown without celebrating, and it's not gameday without chili cheese dip. We look forward to seeing all of the unique entries and creativity everyone shows in their chili dip touchdown dances."
The brand officially announced the contest with Adam Thielen today via social media, who will also be at this year's Radio Row before the Big Game further discuss the partnership and #ChiliDipDanceContest. Outside of being a football player on the field, Adam is dedicated to giving back to the community by empowering kids to reach their full potential through the Thielen Foundation.
"I'm thrilled to be partnering with the makers of HORMEL® Chili to find America's best Chili Dip Touchdown Dance," said Adam Thielen, star wide receiver. "Just like my touchdown dances on the field, this is a fun competition to showcase the nation's best dance moves, I look forward to viewing the submissions!"
For more information about the contest visit: www.hormel.com/Brands/HormelChili/ChiliDipDance. For additional information on HORMEL® Chili varieties, including recipes, nutritional information and where to buy, visit www.hormel.com/brands/hormelchili or follow the brand on social media at www.facebook.com/hormel.chili, https://www.instagram.com/hormelchili/, www.pinterest.com/hormelchili, and www.twitter.com/HormelChili.