Fusion Fajitas-Top Dish in National State/County Fair Recipe Contest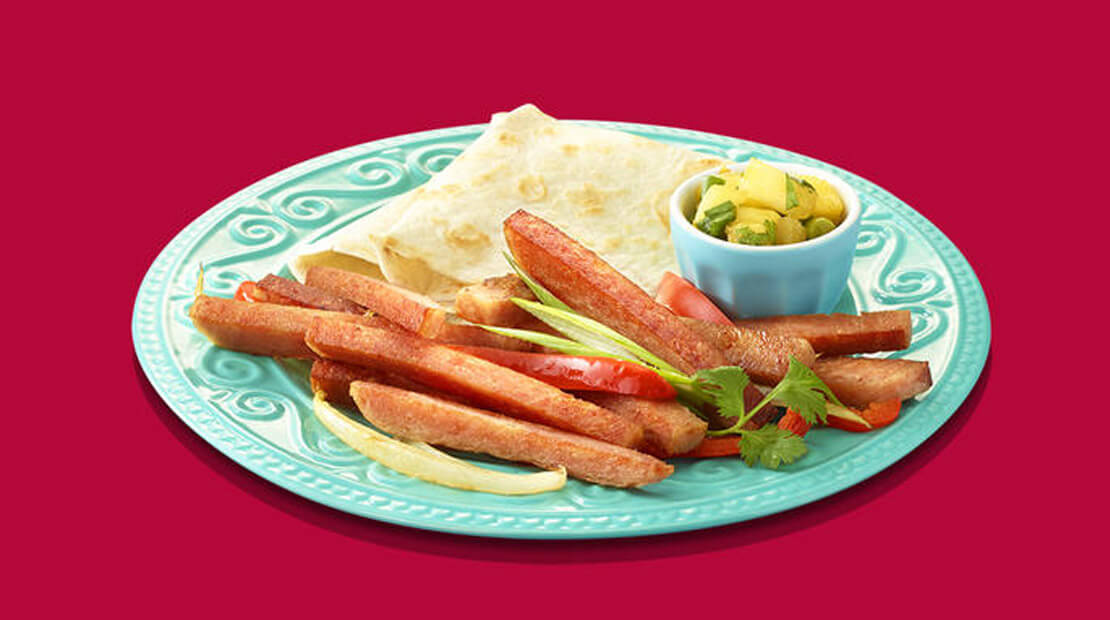 Austin, Minn.
"Fusion Fajitas" is the national grand prize winning recipe in the "Great American SPAM Championship"
"Fusion Fajitas" is the national grand prize winning recipe in the "Great American SPAM Championship," an annual recipe contest at state and county fairs across the country. The fajitas feature sauteed SPAM® Classic, red bell peppers and onions wrapped in tortillas with a sweet and spicy pineapple salsa.
FUSION FAJITAS
FOR SALSA:
1 (20-ounce) can crushed pineapple in juice, drained
1 (4-ounce) can diced jalapenos, drained
1/4 cup sliced green onions
1/4 cup chopped cilantro
1/4 cup teriyaki sauce
FOR FAJITAS:
2 tablespoons olive oil
1 medium yellow onion, sliced into thin wedges
1 large red bell pepper, cut into thin strips
1 (12-ounce) can SPAM® Classic, cut into 1/4-inch thick strips
8 fajita-size flour tortillas, warmed
Cooking Directions:
In medium bowl, combine all salsa ingredients; set aside. Heat olive oil in a large skillet over medium-high heat. Add onion and bell peppers. Saute for 5-8 minutes or until lightly browned and softened; remove from skillet and set aside. In same skillet, add SPAM® Classic and fry until lightly browned, about 5 minutes. Return onions and peppers to skillet and stir to combine with the SPAM® Classic. Spoon SPAM® mixture onto flour tortillas. Top with salsa and enjoy! Serves 4-6.
Stacy Slagor of California, a first time cooking competitor, created the fajitas. She won out of 40 first place winning recipes from fairs around the country, from the L.A. and San Diego county fairs to the state fairs of New York, Minnesota, Iowa, Indiana, Texas, Wisconsin, and more.
Other contenders (800+ people took part) were a "SPAM® Pot Pie," a "SPAM® Game Day Club" and a "Recession-Buster SPAM® Pea Soup.")
Hormel Foods Test Kitchens led the national judging and credited Slagor for her tasty twist on a classic and delicious dish. For her grand prize, Slagor is off to Hawaii this spring for an all expense paid trip to the Waikiki SPAM JAM® Festival (April 24, 2010).
SPAM is a registered trademark of Hormel Foods, LLC for a family of products.