Hormel Foods and USDA Collaborate to Help Improve Physical and Cognitive Development in Malnourished Children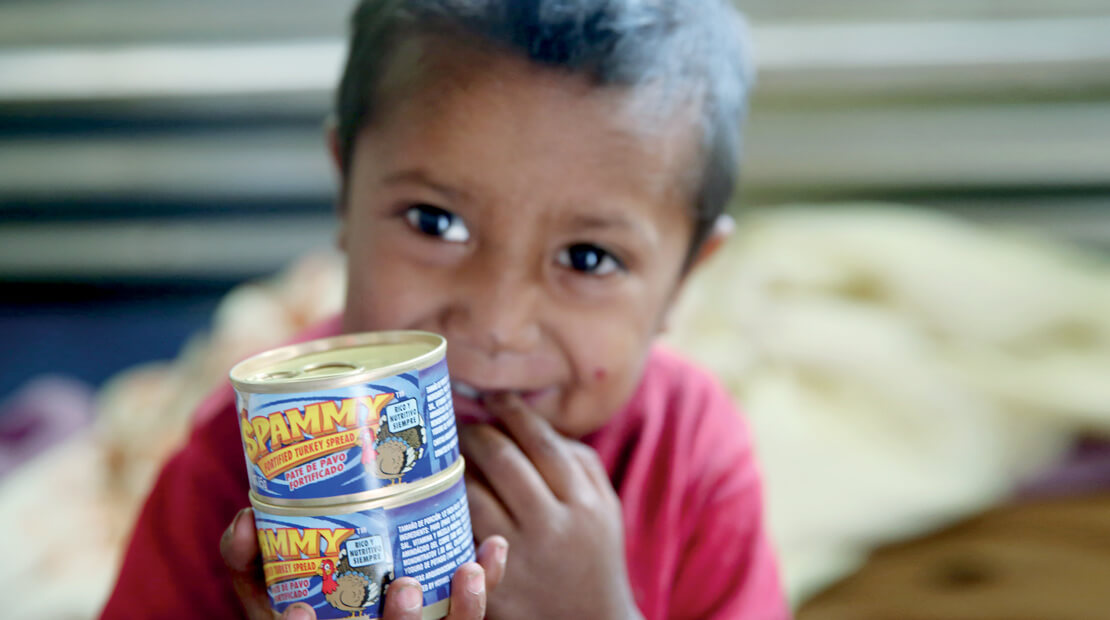 Austin, Minn.
Hormel Foods Corporation (NYSE: HRL) today announced promising results of the nutrition research portion of Project SPAMMY®.
SPAMMY®, a fortified poultry product designed by Hormel Foods and named after the company's iconic SPAM® family of products, was created to help address malnutrition in children.
SPAMMY is used as an ingredient and blends easily into customary diets. The product was tailored to meet the specific micronutrient needs of children in Guatemala based on findings from earlier research conducted by Hormel Foods. In a public/private partnership jointly funded by Hormel Foods and the Micronutrient-Fortified Food Aid Products Pilot (MFFAPP), administered by the U.S. Department of Agriculture's (USDA) Foreign Agricultural Service under the McGovern-Dole International Food for Education and Child Nutrition (McGovern-Dole) Program, this latest research demonstrated the benefits of supplementing traditional diets with high-quality protein and micronutrients. During the trial, more than 160 preschool-age children in Guatemala ate either a fortified or unfortified version of SPAMMY on school days over a 20-week period. The fortified version contained the addition of several micronutrients, such as vitamins D and B12, which are important nutrients for children, but are deficient in this area of the world. Both versions were identical in protein, calories and fat.
The study revealed:
• All participants showed greater-than-expected improvement in cognitive scores
• There was a 44 percent reduction in the number of school days missed due to illness
• Children receiving fortified SPAMMY showed statistical improvements in vitamin D and B12 levels
• A positive correlation was found between increase in cognitive gain scores and vitamin D concentrations in the treatment group
"It is encouraging to see these results and the success that SPAMMY is having in improving the lives of so many children in need," said Kevin L. Myers, Ph. D., vice president of research and development of Hormel Foods. "Our company and our employees are enthusiastic about this program, and we plan to continue our efforts in Guatemala."
Dr. Noel W. Solomons, scientific director for CeSSIAM, a partner in the project stated, "The findings revealed the magnitude of deficiencies of two vitamins – D and B12 – in young Guatemalans, and fortified SPAMMY has outstanding potential to address this situation when it is incorporated into meals fed to children."
Hormel Foods has been working with partners in Guatemala since 2008 to provide SPAMMY fortified poultry product to malnourished children and donated 2.4 million cans of the protein-based item in 2013.
"Every time I return to Guatemala it is amazing to see the growth of Project SPAMMY and the positive contribution the SPAMMY product is making in the lives of so many," said Jeffrey M. Ettinger, chairman of the board, president and chief executive officer at Hormel Foods. "We are encouraged by the success thus far and are excited about the potential of this product to help improve the lives of children and families."
Hormel Foods and its partners, Caritas and Food For The Poor, are also building opportunities for thousands of families by providing SPAMMY to 8,300 families, representing more than 30,000 children in Guatemala. Additionally, Project SPAMMY provides scholarships to eight high school-age students to attend the Villa de los Niños boarding school in Guatemala City.
*For further details of the study, please see the appendix materials
# # #
APPENDIX
Research Study Details:
Millions of children throughout the world suffer from chronic malnutrition. Our company's collaborative effort was built on the premise that changing lives occurs only through building sustainable solutions. The project focused on delivering proper nutrition through our expertise in protein and through partnerships. Together with the USDA, Food for The Poor and in-country partners Center for Study of Sensory Impairment, Aging and Metabolism (CeSSIAM) and Caritas, we implemented a feeding program to evaluate the benefits of SPAMMY, a fortified poultry protein for preschool-age children living in a low income area in Guatemala.
A total of 167 children at a daycare center located in Ciudad Peronia, a semi-rural city approximately eight miles outside of Guatemala City, Guatemala, completed the randomized, double blind trial. The control group received a daily meal containing unfortified SPAMMY, and a treatment group received a fortified version. The fortified product contained a vitamin and mineral blend that included, among other micronutrients, vitamin D, several B vitamins including vitamin B12, iron, zinc and iodine. Anthropometric measurements and blood draws were completed at both baseline and endline; a subset of 60 children completed cognitive tests before and after the 20-week trial.
Meals containing SPAMMY were prepared on-site and were served at the beginning of the school day. A 2-week rotating menu was created that incorporated SPAMMY into traditional foods such as doblada, tostada, chuchito, rice and black beans. Four women were hired from the community to monitor and record consumption and liking. The meals were well accepted among the children throughout the 20 week intervention.
Vitamins D and B12 were low in many of the children at the beginning of the project. Overall 59 percent of the children had vitamin D values below 30 ng/ mL and 19 percent had vitamin B12 levels below 300 pg/mL.
Over the course of the program, school days missed due to illness decreased and teachers reported that children were better able to pay attention after eating the meal. Hemoglobin levels increased in both treatment and control groups. Vitamin D levels increased in the treatment group and decreased in the control group while levels of vitamin B12 increased in the treatment group and remained steady in the control group.
The Bracken Basic Concept Scale – Receptive was administered to assess intellectual function at baseline and endline for a subset of children. Both groups had higher scores on the cognitive test at study completion and a positive relationship was found between vitamin D and cognitive gain among the treatment group.
Educational workshops were provided throughout the intervention. These included informational sessions for day care staff, parents and caregivers to increase community knowledge of nutrition and food safety. Workshops covered the importance of micronutrients by life stage and food related hygiene. Local experts helped develop and present information in a culturally relevant format.
This latest research builds on previous work conducted by Hormel Foods showing vitamins D and B12 are of public health concern in this population. A 2011 survey of preschool-age children living in urban and rural locations in Guatemala illustrated that 36 percent and 77 percent had low vitamin B12 and vitamin D values, respectively. In response to these results, SPAMMY was reformulated to address the documented nutritional needs of the region.
About Hormel Foods
Hormel Foods Corporation, based in Austin, Minn., is a multinational manufacturer and marketer of consumer-branded food and meat products, many of which are among the best known and trusted in the food industry. The company leverages its extensive expertise, innovation and high competencies in pork and turkey processing and marketing to bring branded, value-added products to the global marketplace. The company is a member of the Standard & Poor's (S&P) 500 Index, S&P Dividend Aristocrats for 2013, was named the 2013 Sustainable Supply Chain of the Year by Refrigerated & Frozen Foods magazine, and was again named one of "The 100 Best Corporate Citizens" by Corporate Responsibility Magazine for the fifth year in a row. Hormel Foods was recognized on the G.I. Jobs magazine list of America's Top 100 Military Friendly Employers in 2012 and 2013, and named one of the 2014 40 Best Companies for Leaders by Chief Executive magazine. The company enjoys a strong reputation among consumers, retail grocers, foodservice and industrial customers for products highly regarded for quality, taste, nutrition, convenience and value. For more information, visit https://www.hormelfoods.com.