Hormel Foods Shares Founder's Wisdom via Twitter to Celebrate 150th "Birthday"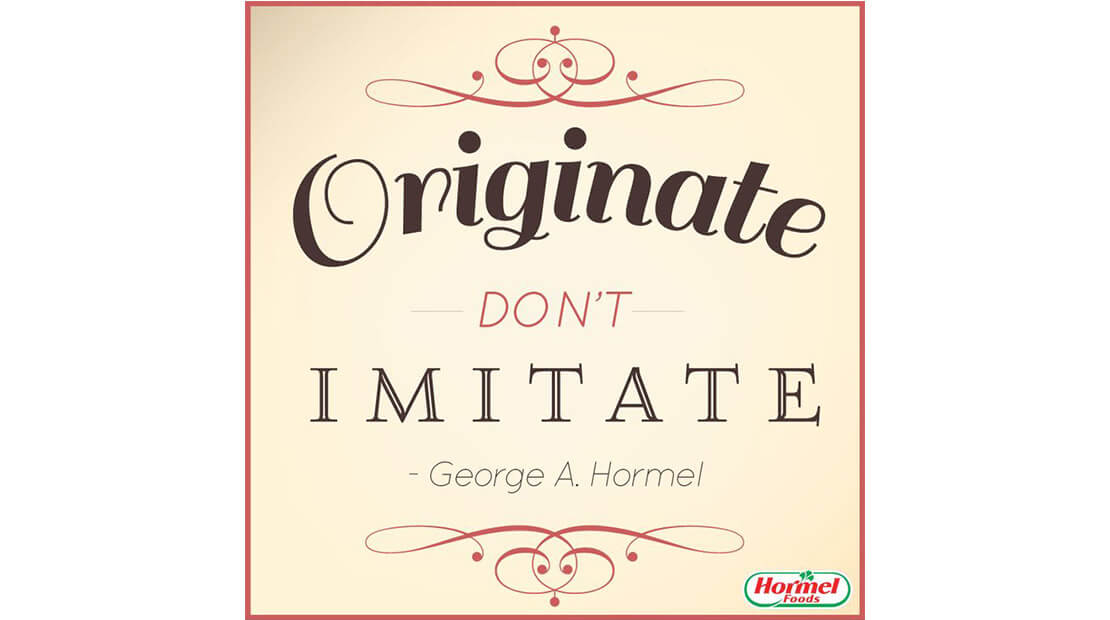 Austin, Minn.
Originate. Don't Imitate.
Hormel Foods Corporation (NYSE: HRL) announced today that it will share words of wisdom from its founder, George A. Hormel, via Twitter each Friday. Beginning Friday, July 2, followers of Hormel Foods on Twitter (@HormelFoods) will get exclusive access to quotes from Hormel about the lessons he learned while starting his company and more, in a new weekly series called "Founder's Friday." This series, which will culminate on Dec. 3, 2010, is part of the company's year-long celebration of the 150th anniversary of Hormel's birth on Dec. 4, 1860.
Hormel, who was born to German immigrant parents in Buffalo, New York, began his career in meatpacking in 1875 when he moved to Chicago to work at his uncle's meatpacking house for a salary of $10 per month. Following a brief hiatus from the industry when he took a job as a traveling wool and hide buyer in Kansas City, Missouri, Hormel moved to Austin, Minnesota in 1887 and established a meatpacking business with Albrecht Friedrich. The partnership dissolved a few years later and in 1891, Hormel established Hormel & Company, the company now called Hormel Foods.
"George A. Hormel was a great leader and wise businessman who built a company culture focused on high standards and continuous improvement," said Jeffrey M. Ettinger, chairman of the board, president and chief executive officer at Hormel Foods. "We are proud of our company's heritage and are pleased to share our founder's insights with the public. We look forward to carrying on his strong vision and values for many years to come."
Hormel Foods will also conduct a weekly contest in conjunction with the "Founder's Friday" series. Each week @HormelFoods will ask followers to either retweet the quote from Hormel or respond to a question for a chance to win high value coupons. The contest is open to U.S. residents age 18+ from July 2 to December 3, 2010. Additional details about the contest can be found at: https://www.hormelfoods.com/promotions/default.aspx