James P. Snee, President and Chief Operating Officer, Presents at the BMO Farm to Market Conference on the Long-Term Outlook for Hormel Foods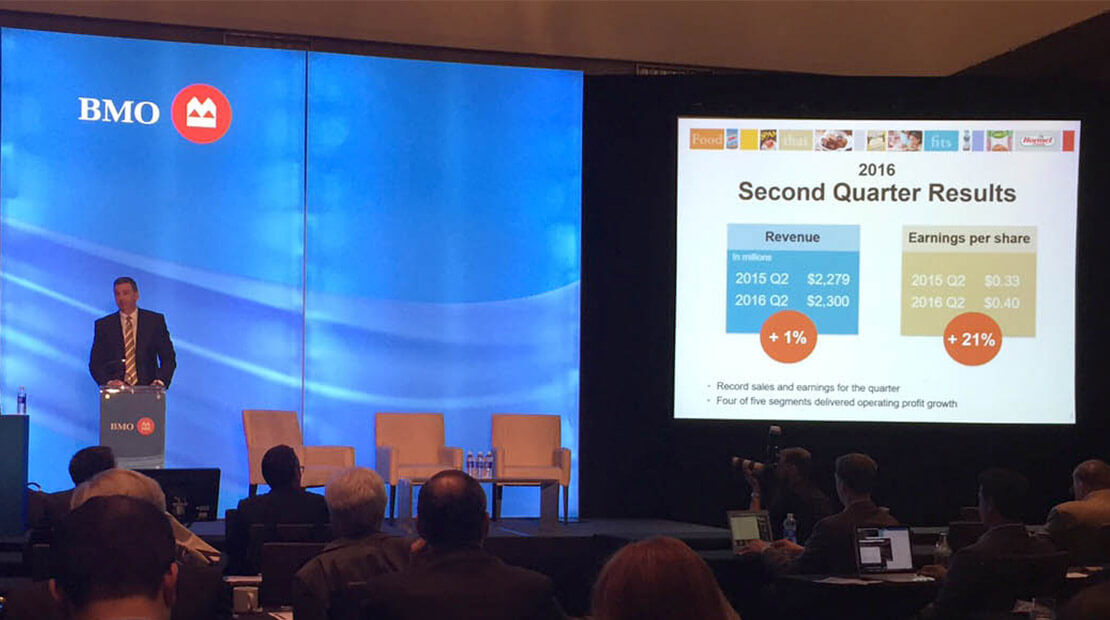 Austin, Minn.
James P. Snee, president and chief operating officer at Hormel Foods, presented to a standing room only audience at yesterday's BMO Farm to Market Conference.
Snee's presentation provided an overview of the company's long-term growth outlook.
Before the market opened yesterday, Hormel Foods announced record earnings and sales, and its definitive agreement to acquire Justin's, LLC. Hormel Foods also raised its annual guidance to $1.56 to $1.60 per share, up from $1.50 to $1.56 per share. During his opening remarks, Snee reaffirmed the company's long-term stated goals of growing 5 percent top line and 10 percent bottom line.
Snee highlighted many notable facts about the company's recent performance including: delivering 12 consecutive quarters of record earnings growth, earnings per share growth in 27 of the last 30 years and 50 consecutive years of dividend increases. Snee noted the accomplishments are a result of the company's formula for success.
The formula's key components include the company's ability to:
•Build and nourish strong brands such as SKIPPY® peanut butter, Jennie-O®turkey products, Muscle Milk® protein products and Hormel®Natural Choice® meats;
•Continuing innovation efforts to keep products relevant with consumer trends;
•Making strategic acquisitions such as Justin's, LLC and CytoSport; and
•Maintaining a balanced business model that allows the company to stay resilient in various market conditions.
Snee also provided an overview of the company's strong track record of success with acquisitions made over the past few years. A key topic of his presentation was the company's announcement of the acquisition of Justin's, a pioneer in specialty nut butters. "The Justin's® brand enhances our scale, complements our SKIPPY®brand and strengthens our position in the nut butter category. We also like the attractive growth profile that Justin's brings to Hormel Foods," Snee said.
Snee concluded his presentation with a reaffirmation of the company's long term prospects for growth as it celebrates its 125th anniversary.