Jennie-O Inspires Modern Holiday Hosts To Entertain With Ease And Convenience In 2015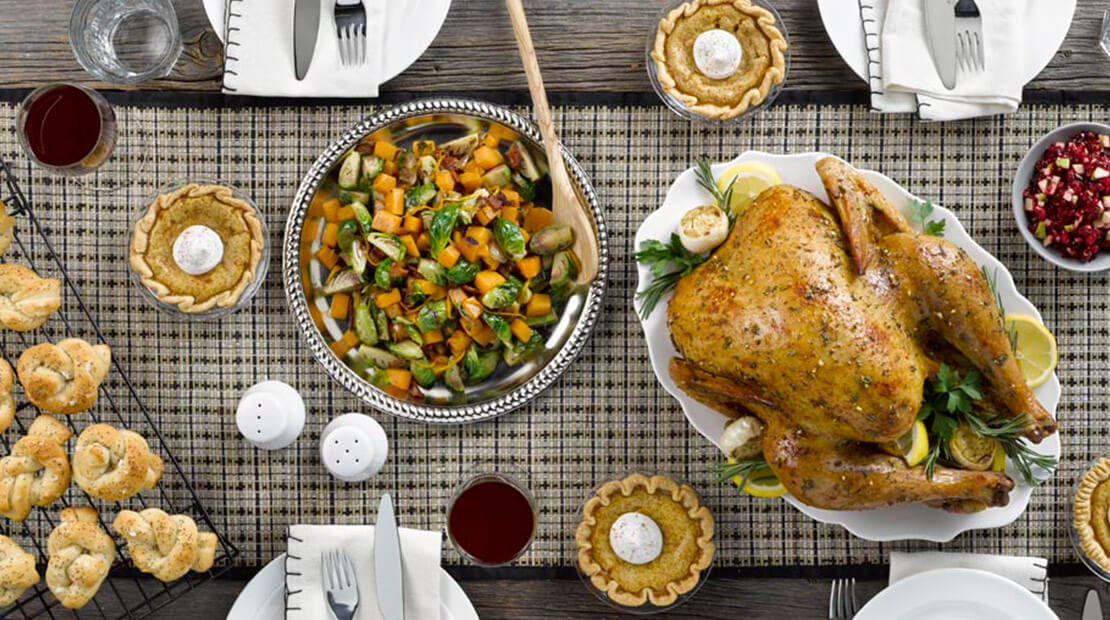 JennieO.com Offers Convenient Resources That Make it Easier Than Ever to Prepare Unforgettable Meals for Thanksgiving and the Winter Holidays
Jennie-O — a trusted ally in the kitchen — is on a mission to help families achieve a deliciously simple and easy holiday season with an expanded selection of resources on the JennieO.com "Holidays and Events" page, a convenient, one-stop web destination full of entertaining inspiration to impress any guest.
The "Holidays and Events" section — available online at www.JennieO.com/holidays-and-events — makes it easy for modern hosts to prepare an unforgettable holiday feast with flavorful turkey recipes and full menus featuring creative and unexpected side dishes and desserts. The page also includes a variety of helpful tools like how-to videos and do-it-yourself tips.
This year, Jennie-O is pulling out all of the stops to ensure hosts will "wow" their loved ones with expanded resources offering a new level of convenience to meet modern entertaining needs. Primed with even more delicious menus and time-saving tips for Thanksgiving and the winter holidays, the robust "Holidays and Events" page on JennieO.com promises to help make the season a stress-free treat for both experienced entertainers and first-time hosts, alike.
"Creating an iconic holiday meal — whether it's for Thanksgiving dinner or other events throughout the season — is always an exciting occasion," said Heather Teisinger, brand manager at Jennie-O. "Our new 2015 holiday resources include deliciously easy turkey recipes, unique side dishes and convenient holiday hacks that will help hosts everywhere feel confident they can prepare a beautiful, great-tasting feast their friends and families will love."
Resources to get from planning, to preparation, to praise
Starting with the season's iconic centerpiece — a delicious, perfectly cooked turkey — the expanded "Holidays and Events" section on JennieO.com has a wealth of culinary knowledge to make any home cook's efforts shine without adding extra hours in the kitchen.
Demonstration videos and turkey preparation tips
To become educated on the finer points of carving a turkey, marinating a turkey, grilling a turkey, brining a turkey or applying a seasoning rub, look no further. Jennie-O has videos of step-by-step turkey preparation tips, along with delicious marinade and seasoning recipes. New to the site this year are easy guides on how to slow-roast a turkey, how to cook a turkey upside down — a popular method that ensures an extra juicy result — and how to safely prepare the iconic centerpiece using a smoker.
New impress-the-guests menus for 2015
Building on its much-applauded 2014 holiday menus, Jennie-O has introduced four new options for hosts looking to serve up a feast that is the perfect blend of convenience and creativity on Thanksgiving and beyond.
Harvest Thanksgiving Menu: Inspired by favorite autumn flavors, the Jennie-O Harvest ThanksgivingMenu is a delight for the senses. Featuring colorful recipes, such as Orange Glazed Brussels Sprouts with Butternut Squash and decorative Poppy Seed Twisted Rolls, the menu combines tradition with a modern presentation for a truly memorable meal. The menu also includes a hassle-free JENNIE-O®OVEN READY™ Turkey — a unique turkey that goes straight from the freezer to the oven with minimal prep required — to help cooks feel certain their turkey will come out tender and golden brown while they focus on putting the finishing touches on beautiful side dishes.
Make-Ahead Thanksgiving Menu: Perfect for hosts hoping to spend more time with their guests and less time prepping the day of the celebration, the JENNIE-O® Make-Ahead Menu includes recipes with time-saving steps, such as seasoning and stuffing the turkey the night before and mixing salad dressing as early as a week ahead of the feast. The recipes in this ultra-convenient menu are as delectable as they are easy to create.
Leftover Thanksgiving Menu: One of the best parts of preparing the perfect Thanksgiving dinner is savoring leftovers following the feast. The new Jennie-O Leftover Thanksgiving Menu offers original recipes like JENNIE-O® Leftover Cranberry Relish Salad and the Leftover Thanksgiving Turkey Sandwich made with bold chipotle mayo for more marvelous meals after the holiday's main event has passed.
Festive Holiday Menu: As the Thanksgiving fun transitions into the winter holidays, hosts can surprise their guests with new recipes that match the excitement of the giving season and upcoming New Year. With sides like Spinach Puffs stuffed with crumbled tomato basil feta and ricotta cheese and a JENNIE-O® Turkey complemented with notes of citrus and tart green apples, the Festive Holiday Menu promises to become an instant classic.
A simple solution for tender, perfectly cooked turkey every time
The turkey is the star of the holiday show, so go for a simple, convenient solution like JENNIE-O® OVEN READY™ Turkey — a turkey that goes directly from the freezer to the oven with no thawing or handling of raw poultry, less mess and a perfect result every time. With OVEN READY™ Turkey, hosts can be confident they will impress their guests with a tender, perfectly seasoned turkey, allowing them time to focus on other elements of the meal, from creative side dishes to tantalizing desserts, or simply enjoying their company.
To make this Thanksgiving and the rest of the holidays the most memorable yet, head to JennieO.com or connect on social media at Facebook.com/JennieOTurkey and Pinterest.com/JennieORecipes for helpful tips, great-tasting recipes and much more.
About Jennie-O Turkey Store, Inc.
Jennie-O Turkey Store, Inc., based in Willmar, Minn., is a wholly owned subsidiary of Hormel Foods Corporation (NYSE: HRL) and one of the largest turkey processors and marketers in the world. It offers an array of more than 1,500 high quality fresh, frozen, refrigerated and deli turkey products that are distributed throughout the United States and 27 countries worldwide. Jennieo.com