Jennie-O Turkey Store takes over Los Angeles Area Restaurant – Gives Away Thousands of Turkey Burgers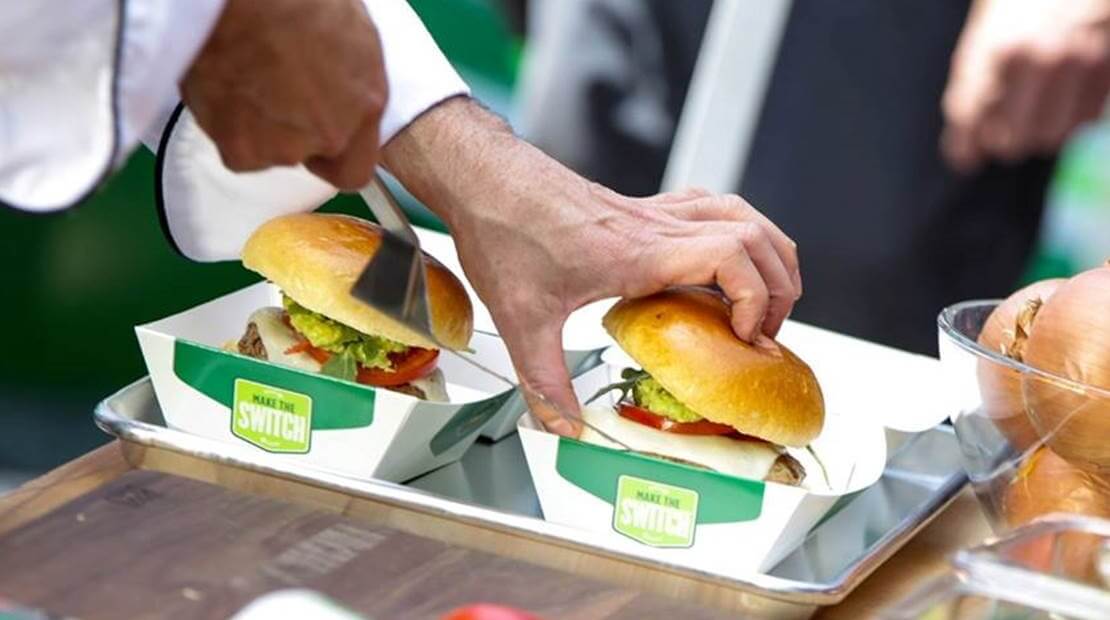 Willmar, Minn.
With a mission to show turkey is as lean as it is delicious
Burgers are an American dietary and cultural staple, in fact according to a recent omnibus survey conducted on behalf of Jennie-O Turkey Store, 31 percent of Americans identified the Burger as the American icon they could not do without, beating out rock n' roll (28 percent) and baseball (14 percent). The survey also found that if Americans could change one thing about the burger, 40 percent would choose to make it "better for you" and Jennie-O Turkey Store is helping them do that beginning with a one-day-only "turkey store" in El Monte, Calif., just outside of Los Angeles, on Sept. 2, marking the launch of a mission to get Americans to choose turkey.
Americans have an 11-billion-burger-a-year habit*, consuming 110 billion more fat grams than if they would have eaten turkey. "Burgers represent an exciting opportunity to prove to people that one of their favorite foods comes in a leaner, but just as delicious version – turkey," said Steve Lykken, senior vice president, retail division, Jennie-O Turkey Store. "Heading in to Labor Day weekend, a holiday known for grilling, we're making the all-American burger an all-around excellent choice and we hope the rest of the country will join us."
Jennie-O Turkey Store will be serving up complimentary turkey burgers that have 10 fewer grams of fat and 100 fewer calories than those made with a typical beef patty as per USDA data (Comparison : USDA Data for Beef, Ground, 80% Lean Meat / 20% Fat, Raw). It all starts on Thursday, September 2 from 11 a.m. until 3 p.m. PST at 11655 Valley Blvd. in El Monte, Calif.
Jennie-O Turkey Store's Make The Switch™ campaign comes at a time when Americans crave a more wholesome burger. But because their love for the burger runs deep, they make adjustments to compensate for the indulgence:
-42 percent choose a better for you side i.e., salad, apple slices
-34 percent avoid high-fat condiments i.e., mayonnaise, 'special sauce'
-32 percent order a lower-calorie beverage option i.e., diet soda, water
-31 percent choose a leaner patty i.e., turkey, veggie
With a goal of serving 5,000 turkey burgers, Jennie-O Turkey Store aims to save Los Angeles residents 50,000 grams of fat and 500,000 calories in just four hours. During this one-day event, Jennie-O Turkey Store will film consumer reactions to the turkey burgers for a national ad campaign, launching Sept. 20, that will challenge consumers to "switch".
Though more (44 percent) Americans dine out for their favorite burger, nearly 40 percent of Americans say they make their favorite burger at home. Jennie-O Turkey Store® products enable people to prepare their preferred burger in a way that is as lean as it is delicious. Jennie-O Turkey Store® products provide endless burger possibilities with 95/5 All Natural White Turkey Burgers, All Natural Quarter Pound Turkey Burgers, Fresh White Tray Turkey Patties, Savory-Seasoned Turkey Burgers, 93/7 Lean Turkey Burger Patties, 93/7 Lean Seasoned Turkey Burger Patties and their many fresh, ground turkey products.
For additional information on Jennie-O Turkey Store and their new Make The Switch™ campaign, visit www.JennieO.com.
* Technomic, November 2009 report
Survey Methodology
The online omnibus study was conducted by Opinion Research Corporation among a sample of 1,061 adults comprising 516 men and 545 women 18 years of age and older. Interviewing for this survey was completed on August 26-27, 2010. Significance testing is done to the 95 percent confidence level.