Secrets To Authentic Street Tacos Revealed By Chef Marcela During Herdez® Brand Cinco De Mayo Themed Facebook Live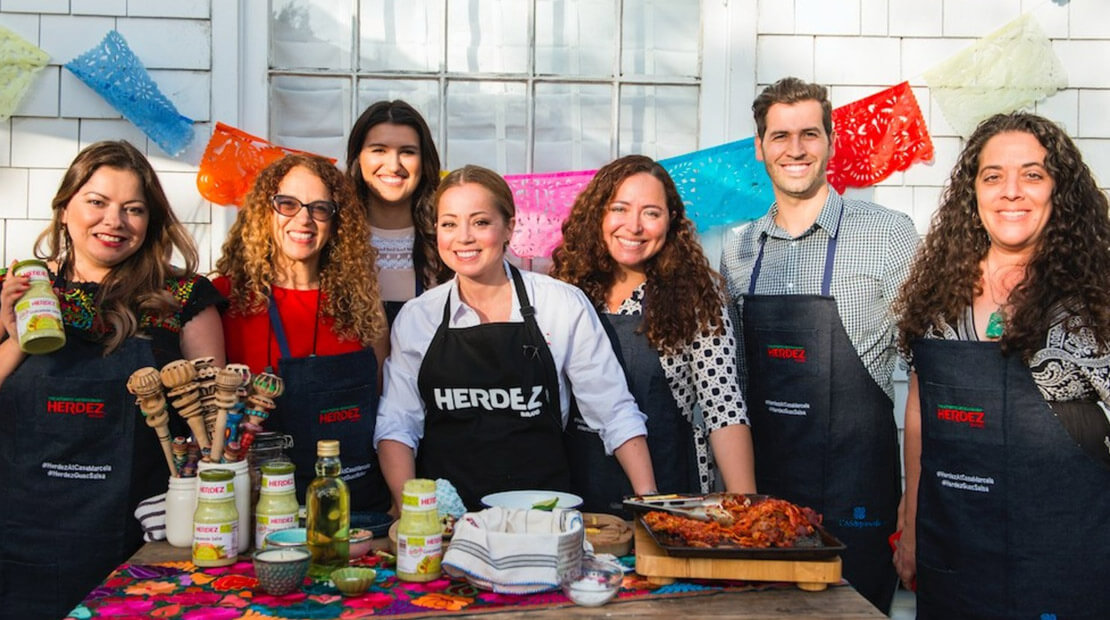 Orange, Calif.
A new series of HERDEZ® Guacamole Salsa – inspired recipes can be found in HerdezTraditions.com/Guacamole-Salsa
The makers of the HERDEZ® Brand, the No. 1 salsa brand in Mexico, enlisted the authentic Mexican food cooking expertise of celebrity chef and author of new cookbook Casa Marcela, Marcela Valladolid, in an evening of mouth-watering recipe making with some of California's most renown food bloggers. The master cooking class held at Chef Marcela's beautiful home in San Diego, was carefully planned for the eve of Cinco de Mayo weekend to provide genuine Mexican food ideas to the millions of people that would celebrate across the U.S. Thousands tuned into the Facebook Live broadcast on Facebook.com/HerdezTraditions, which will forever archive Chef Marcela's useful ideas and the secret to authentic street tacos made with HERDEZ® Guacamole Salsa.
"The evening was extremely successful," said Gilberto Gutierrez, Senior Brand Manager of the HERDEZ® Brand. "Chef Marcela artfully showcased a traditional Mexican food staple in a unique fashion, while demonstrating practical techniques that anyone can put to work in their own kitchen. The participating food bloggers learned her skills and presented a series of new recipes with HERDEZ® Guacamole Salsa created by them and inspired by Chef Marcela."
The new series of Chef Marcela-inspired HERDEZ® Guacamole Salsa recipes are available on the HERDEZ® website, www.herdeztraditions.com/guacamole-salsa. There, the influencers' dishes are detailed, including:
Mexican Eggs Benedict with HERDEZ® Guacamole Salsa
Taquitos de Lengua with Nopal Corn Tortillas
Mexican Turkey Picadillo
Kale Chicken Enchiladas with HERDEZ® Guacamole Salsa
Traditional Tacos Gobernador with HERDEZ® Guacamole Salsa
Baked Steak Taquitos with Corn and HERDEZ® Guacamole Salsa
"We had such a wonderful experience cooking with Chef Marcela and the HERDEZ® Brand of Salsas," said Lala Castrofrom Sparking Lala food and lifestyle blog. Delicious, traditional meals bring friends and family together in a way that is truly special and that is exactly what we experienced in this special "Street Taco" celebration. I had so much fun experimenting with HERDEZ® Guacamole Salsa inspired by Chef Marcela's vision.
The HERDEZ® Brand "Street Taco fiesta" cooking master class with Chef Marcela marked the eve of Cinco de Mayoweekend. The live broadcast is archived on Facebook.com/HerdezTraditions. Highlights from the event are featured on Instagram @HERDEZTraditions and on Twitter @HERDEZBrand. Join the conversation via #HerdezAtCasaMarcela and #HerdezGuacamoleSalsa.
Chef Marcela is best known as a television personality and top-selling cookbook author of Casa Marcela.