Teaching Real-Life Innovation is Part of Elite Culinary Program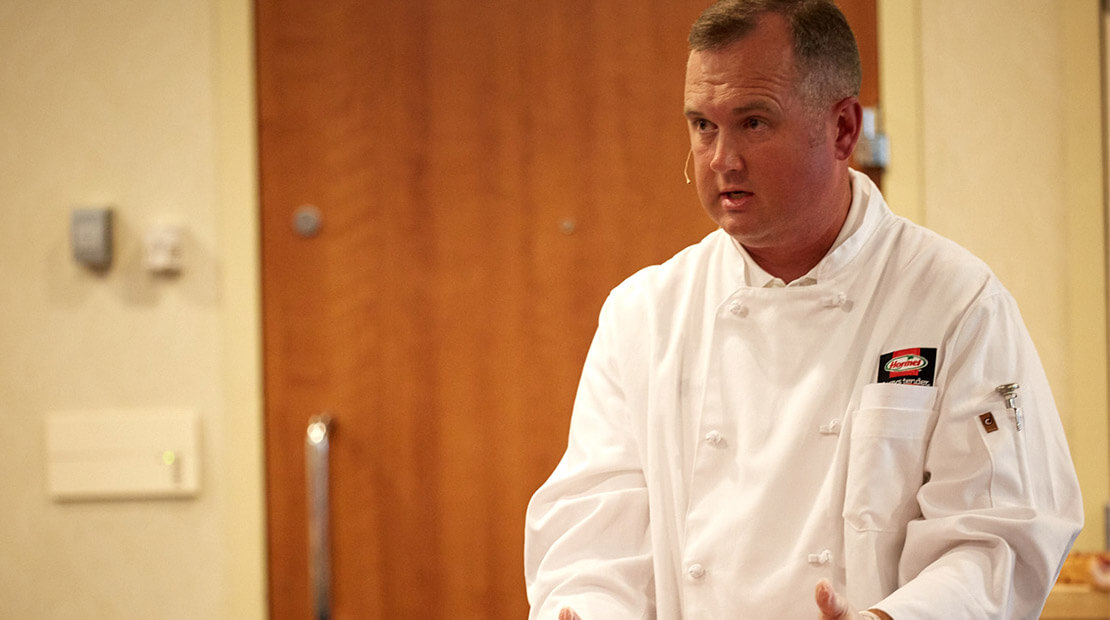 Hyde Park, N.Y.
Sixteen professional chefs from across the country, members of an elite new training program created by The Culinary Institute of America (CIA) and Hormel Foods Corporation (NYSE: HRL), will gather at the CIA's Hyde Park campus on the banks of the Hudson River on Oct. 20, 21 and 22, for the third session of the Culinary Enrichment and Innovation Program (CEIP).
The focus for this meeting is innovation and leadership, and for three days the chefs will role play, discuss and interact with recognized industry leaders. Steve Ells, founder, chairman and co-chief executive officer of Chipotle Mexican Grill, will be one of the program's guest academics. His dialogue will be personal, with the small class size allowing for extensive interaction. Joining him will be senior chef instructors from the CIA as well as Steve Binder, group vice president, Refrigerated Foods, Hormel Foods. All will bring their real-life experiences of leadership and innovation to the classroom for roundtable discussions.
CEIP is an 18-month program for chefs who have been recognized as future culinary leaders. Participants attend four intense three-day sessions at the CIA, each with a different focus. The overarching mission for the entire program (www.ceipinfo.com) is to identify, practice and master the skills for leadership and innovation.
CEIP was initially created because Hormel Foods sought to invest in the future of the culinary industry, explains Dennis Goettsch, vice president of marketing for the foodservice division of Hormel Foods Corporation, and co-founder of the program.
Goettsch approached Dr. Victor Gielisse, Certified Master Chef (C.M.C.) and associate vice president of the CIA, and Ron DeSantis, C.M.C. and project director of CIA Consulting, to discuss the creation of a program that would focus on leadership, innovation and entrepreneurship, the core values of Hormel Foods. Gielisse and DeSantis confirmed that no such program had previously existed in the industry. Hormel Foods pledged to sponsor the creation of the curriculum and the tuition for each student accepted into the program. Informal research was conducted to measure industry interest and support, and Gielisse and DeSantis created the curriculum in partnership with Hormel Foods.
The four academic areas of focus are Flavor Dynamics and Flavor Exploration, Contemporary Approach to Health and Wellness, Leadership and Innovation Strategies, and Innovative Menu Development for Profitable Operations. Each module is led by a CIA-based C.M.C. (there are only 60 such chefs in the country) and guest speakers from the culinary world. Members of the inaugural CEIP class, who began their study in the fall of 2008, will graduate in April of 2010 with advanced accreditation from the CIA.
The diverse student body represents seasoned chefs from 11 states who work in a broad range of foodservice organizations, from fine dining to multiple-operation QSR, from university to eldercare, from independent operator to large corporate hospitality. Most are responsible for menu development, scheduling, staff management, back-of-the-house operations, training, purchasing and vendor relations. All share a passion and commitment to their profession. They repeatedly state that the ability to work side-by-side their fellow chefs in competitive teams is one of their favorite parts of the program. "The benefit of working with the other chefs is like no other," says Joel Hetrick, sous chef, Classic Residence by Hyatt, Glenview, Ill.
Already, the chefs are actively incorporating what they learn into their organizations. Denise Baron, culinary director of Burtons Grill in Boston, is evaluating the sodium levels in her ingredients and mindfully increasing dietary fiber where possible. She is working with local producers to create a series of "West Coast Wines meet East Coast Cheeses" this fall, where she will feature ten smaller artisan cheese makers from Vermont, Maine and New York. In August, she offered bronzed swordfish over jasmine rice with an avocado, crab and tomato salsa, and apricot-glazed scallops over a sweet pea and feta risotto, as lighter, tastier fare on her menus.
Greg Masset, executive chef, Yakima Country Club in Yakima, Wash., has significantly reduced his use of butter and cream and is instead using a variety of vinegars, slurries and infusions to pop flavors. Where appropriate, Masset has reduced serving sizes to improve the overall healthfulness of the menu items.
Michael Edwards, culinary specialist 1st Class, Joint Chiefs of Staff, U.S. Navy, and 2009 Armed Forces Chef of the Year, returned to work after CEIP Module II with a small grain mill for use with his multigrain flours for bread production. Immediately following the first module, Edwards began incorporating Indian, Vietnamese, Korean, Pacific Rim and Latin American flavors into his global menus.
Eric Cartwright, executive chef, Campus Dining Services, University of Missouri, Columbia, Mo., has continued to work on delivering bold flavors, including Catalan pork stew and chili-rubbed smoked turkey in his campus restaurants.
For this third CEIP module, explains DeSantis, students have been asked to prepare a case study with three other team members, which they will present on the first day. Over the course of the session, they will examine the creative process of development, implementation and evaluation.
"This program is already exceeding our expectations," said Goettsch. "The learning is exponential and experiential. The creation and support of such a program reflects the dedication to innovation at Hormel Foods."
Hormel Foods is proud to announce that applications for the second CEIP class will be accepted simultaneous to the graduation of this first class in April of 2010. More information on the application process will be available at www.ceipinfo.com by Jan. 31, 2010.