The Maker of SKIPPY® Peanut Butter Creates an Isle on Animal Crossing Where Players Can Virtually Escape from Their Virtual Escape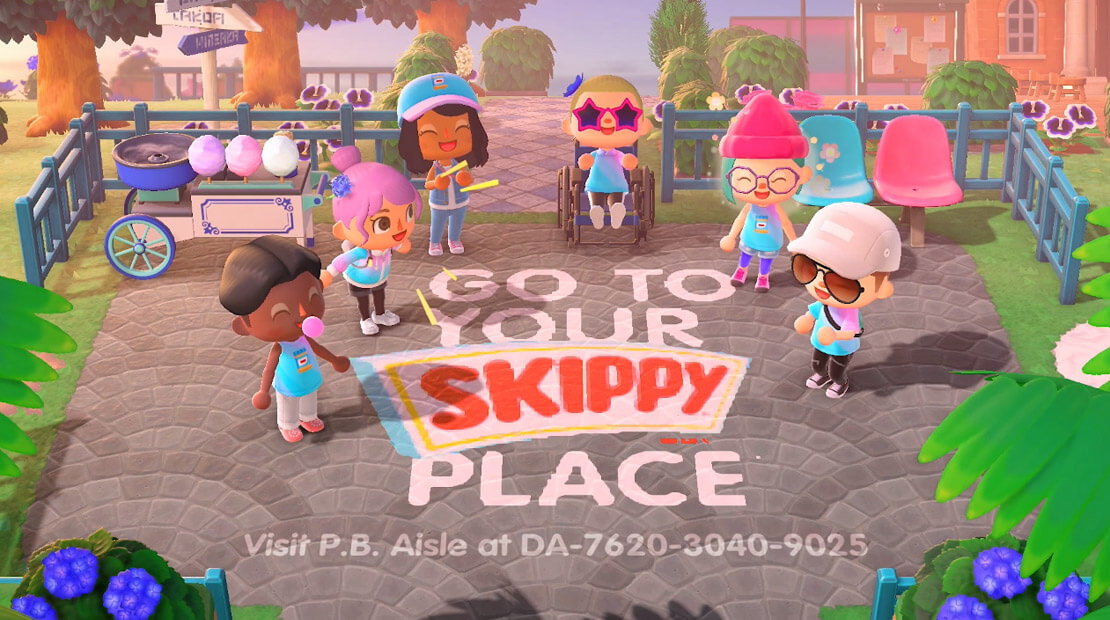 Austin, Minn.
You can now take a break from your everyday grind on the dreamy isle of P.B. Aisle. See what it means to truly escape. Virtually. Go To Your SKIPPY® Place™. Visit P.B. Aisle at DA-7620-3040-9025
Arguably one of 2020's most popular pastimes, Nintendo's "Animal Crossing: New Horizons" has sold over 22 million copies and counting. Now the maker of SKIPPY® Peanut Butter is adding another level of escapism to the already idyllic life simulator.
To get the word out, the SKIPPY® Peanut Butter brand team has created a short spot, all done in Animal Crossing, to introduce the world to its dreamy isle, which they've aptly named P.B. Aisle.
Finally, players can take a trip down the virtual P.B. Aisle thanks to the new SKIPPY® Peanut Butter choose-your-own-escape island on Animal Crossing. Inspired by the brand's latest campaign, which encourages people to take a snack break with SKIPPY® Peanut Butter, P.B. Aisle is designed to be an escape from Animal Crossing's everyday grind.
On the island, visitors can choose to explore three distinct and relatable escapes. From a field of blue roses, to an outdoor art gallery, and an orchard of bells, gold and turnips, the SKIPPY® Peanut Butter P.B. Aisle has pinpointed some of the game's greatest woes and created a dream-like escape where, for at least a moment, they no longer exist.
The virtual P.B. Aisle on Animal Crossing was developed with the help of BBDO Minneapolis.
"By creating our own Animal Crossing island, we give gamers – and SKIPPY® fans – a sweet escape from 2020 where blue roses are plenty, art is always real, and elections don't exist," said Nathalia Resende, creative director at BBDO Minneapolis.
Along with these three main escapes, the island has been outfitted with dreamy teal and pink attractions for players to explore and enjoy. Users are encouraged to dress up in colorful custom looks and share their in-game screenshots on social. The isle of P.B. Aisle is accessible to all players via a unique dream code and officially launches on Nov. 11. You can follow the SKIPPY® Peanut Butter brand on its social channels for the latest island-related updates.