The Makers of America's No. 1 Pepperoni are Changing the Pizza Game with the Launch of HORMEL® Pepperoni Cup N' Crisp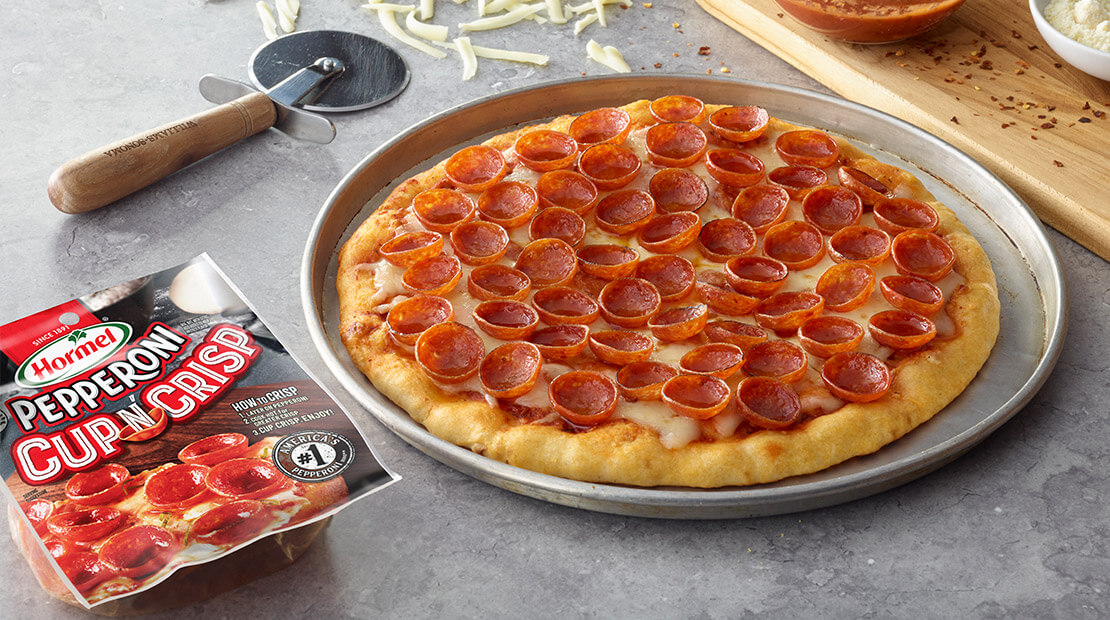 Austin, Minn.
The makers of
Hormel® Pepperoni
, America's No. 1 pepperoni brand*, announced today the launch of
Hormel®
Pepperoni Cup N' Crisp, a premium pizza topping uniquely crafted to cup and crisp, bringing high-quality restaurant flavor to kitchen tables everywhere.
Unlike traditional lay flat pepperoni, Hormel®Pepperoni Cup N' Crisp curls into a bowl shape as it cooks to crispy perfection. Also known as "roni cups" or "cup and char" pepperoni, Hormel® Pepperoni Cup N' Crisp provides an experience that no other retail pepperoni can provide.
"Few things satisfy your senses and capture your attention more than a pepperoni pizza fresh out of the oven," said Shane Ward, Hormel® Pepperoni brand manager. "Hormel®Pepperoni Cup N' Crisp is intensely flavored and uniquely formulated to achieve just the right amount of cupping and the perfect crisp, creating an unforgettable experience when crafting pizzeria-style pizzas at home."
Hormel® Pepperoni Cup n' Crisp was inspired by cupping pepperoni found in pizzerias throughout the country. Traditionally known as a key feature found on Buffalo-style pizza, cupping pepperoni has been on the rise and trending on pizzeria menus across the United States in recent years, especially in New York City.
Hormel® Pepperoni Cup N' Crisp can be perfectly baked hot in the oven, using a pizza stone or cooked on the grill. Simply top your favorite pizza crust with sauce and pizza cheese, place one (5 ounce) package of Hormel® Pepperoni Cup N' Crisp over the cheese and bake the crust per directions. The pepperoni will cup and crisp as it bakes.
Hormel®Pepperoni Cup N' Crisp, available in original and bold varieties, is the first of its kind to the consumer retail market (MSRP $3.49 – 3.99) and can be found at select retailers nationwide.
For more information about Hormel® Pepperoni, including recipes, nutritional information and where to buy, visit www.hormel.com/brands/pepperoni or follow the brand on social media at www.facebook.com/hormelpepperoni, www.instagram.com/hormel.pepperoni, www.twitter.com/hormelpepperoni, and www.pinterest.com/hormelpepperoni.
* Based on last 52 weeks of IRI data