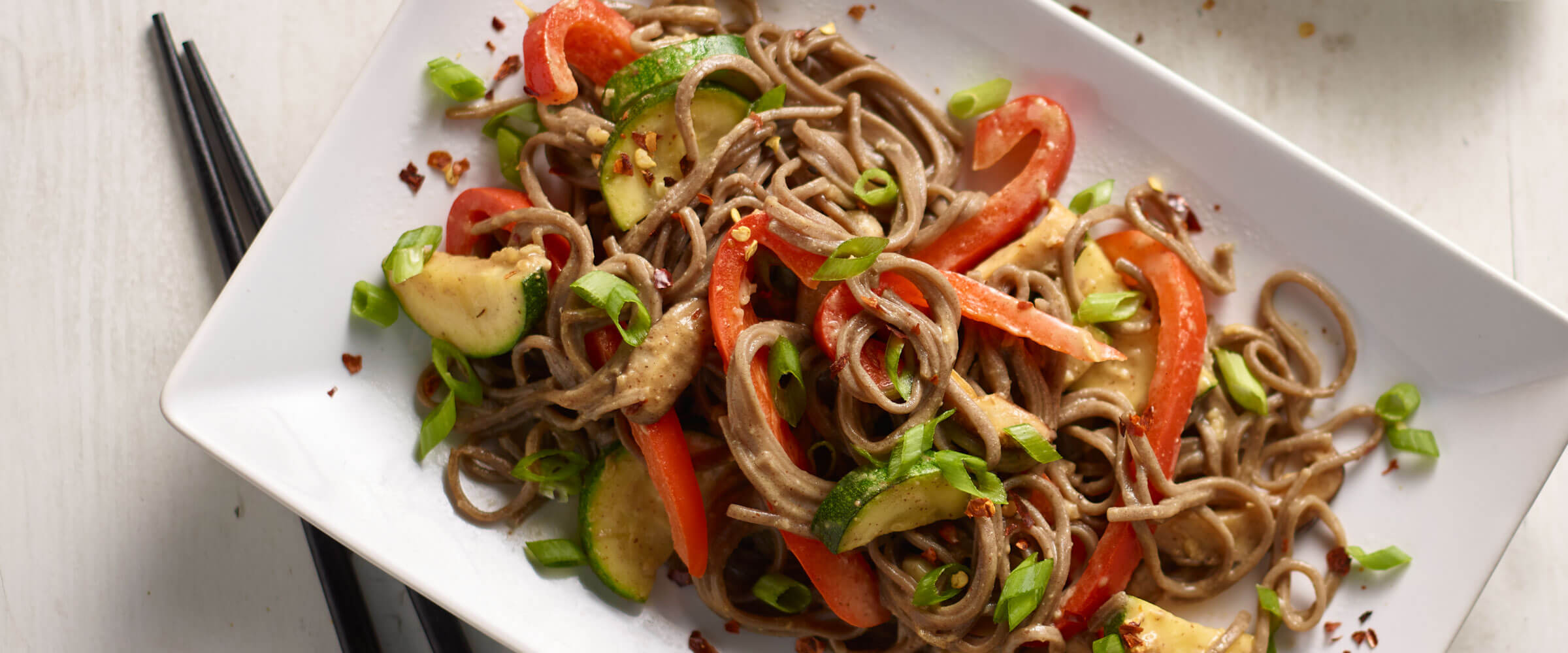 Indulge in the perfect balance of spice and nutty goodness with our spicy Asian almond noodles recipe.
This delectable dish will tantalize your taste buds and leave you craving for more. Whether you're a fan of Asian cuisine or love a good spicy kick, our noodles made with JUSTIN'S® almond butter are sure to satisfy your cravings.
Kitchen Tip: Try this topped with tofu or protein of your choice.
Prep Time
Cook Time
Cook Method
Dish Type
Ingredients
8

ounces soba noodles
1

½

teaspoon sea salt

1

tablespoon toasted sesame oil
1

½

tablespoon freshly grated ginger

3

garlic cloves, finely minced

¼

cup Justin's® Classic Almond Butter

3

tablespoons reduced-sodium soy sauce or tamari

2

tablespoons maple syrup

¾

teaspoon red pepper flakes

1

cup sliced shiitake mushroom caps

1

red bell pepper, seeded, halved, and thinly sliced

1

large zucchini, halved and thinly sliced

3

green onions, trimmed and thinly sliced
Directions
Bring large pot of water to boil. Add noodles and salt. Cook according to package instructions or until al dente. Reserve 1/4 cup pasta water. Drain pasta and rinse under cold running water to cool.

In large, deep non-stick skillet or wok over medium heat, heat oil. Add ginger and garlic. Cook 1 to 2 minutes or until fragrant.

Stir in almond butter, soy sauce, maple syrup, pepper flakes and reserved cooking water. Cook and stir 2 to 3 minutes or until it becomes creamy.

Add mushrooms, peppers, and zucchini. Cook, stirring often, 2 to 3 minutes or until vegetables are tender. Stir in noodles. Serve sprinkled with green onion.
Other Pasta & Noodles Ideas