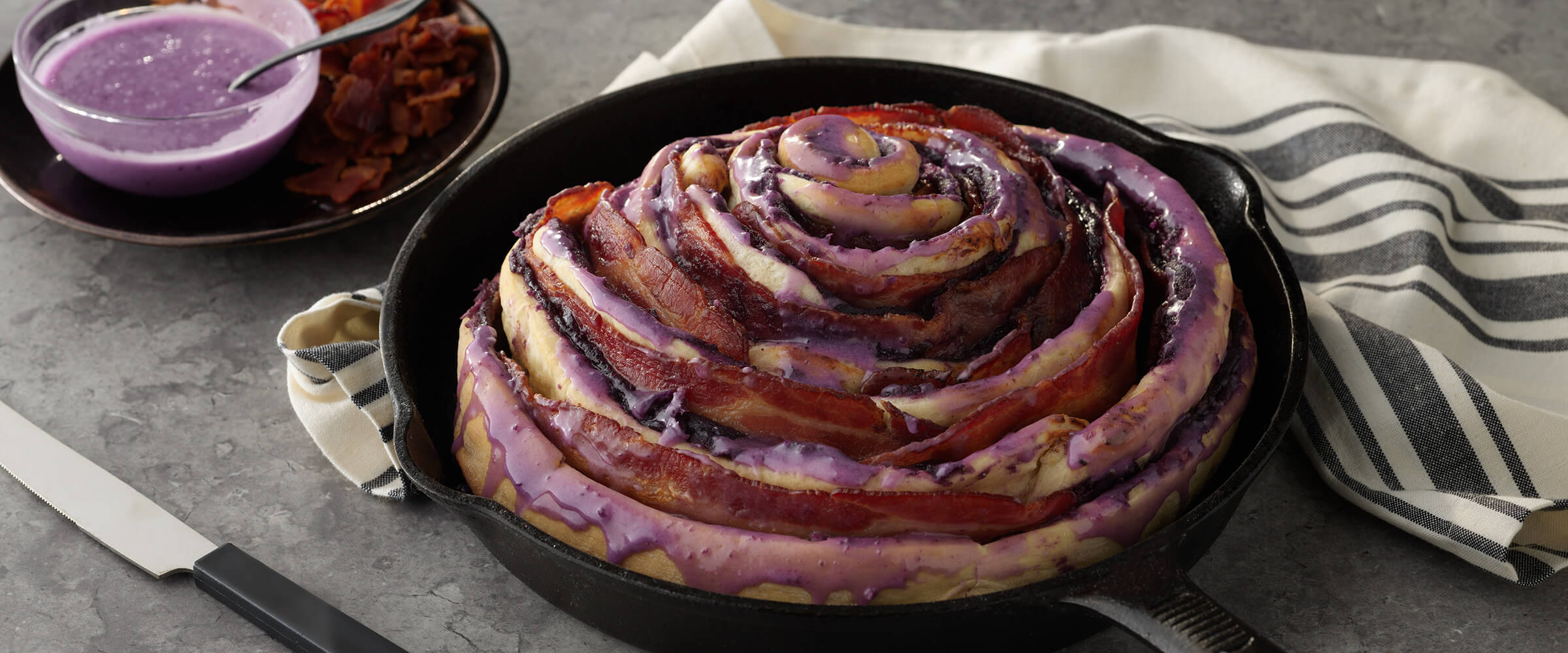 Elevate your breakfast or brunch with a burst of flavor and color with this Ube Bacon Skillet Breakfast Roll. This creative dish combines the sweet essence of ube with the savory delight of crispy bacon, wrapped up in a delicious cinnamon roll.
Prep Time
Cook Time
Cook Method
Ingredients
| | |
| --- | --- |
| 1 | loaf frozen bread dough, thawed |
| 10 | slices Hormel® Black Label® bacon, plus more for garnish if desired |
| 1 | (10-ounce) jar ube paste or jam |
| | |
| --- | --- |
| 1 | cup powdered sugar |
| 2 | tablespoons tablespoons ube paste or jam |
| 2 | tablespoons milk, or more to thin |
Directions
Heat oven to 350°F. Grease a 10-inch cast iron skillet or glass pie plate.

Prepare bacon by placing slices on paper-towel-lined microwaveable plate. Cover with paper towel. Microwave for 3 to 4 minutes or until cooked, but pliable.

Roll dough out into a large, symmetrical rectangle, approximately 18-inch by 8-inch. Spread ube paste evenly over dough. Using a pizza cutter, make four horizontal strips, 2-inches wide. Place bacon end to end on strips and start tightly rolling dough and bacon strips into one large roll.

Place in center of prepared pan. Bake 30 to 40 minutes, or until it's deep golden brown and springs back to touch. Cover with foil if browning too quickly. Let cool 10 minutes before icing.
For the Icing
Whisk together icing ingredients and drizzle over the roll. Sprinkle with additional bacon bits if desired.
Featured In
Stories
Falling for Flavor
Exploring Autumn's Delicious Trends with Corporate Chef, Barry Greenberg
Read More