Who doesn't love a deliciously creamy summer risotto? *raises all the hands* This one is a fantastic seasonal dish with freshly chopped tomatoes, basil from the garden and crispy bacon to top! Unreal. You will fall apart. Who says we can't have comfort food in the summer?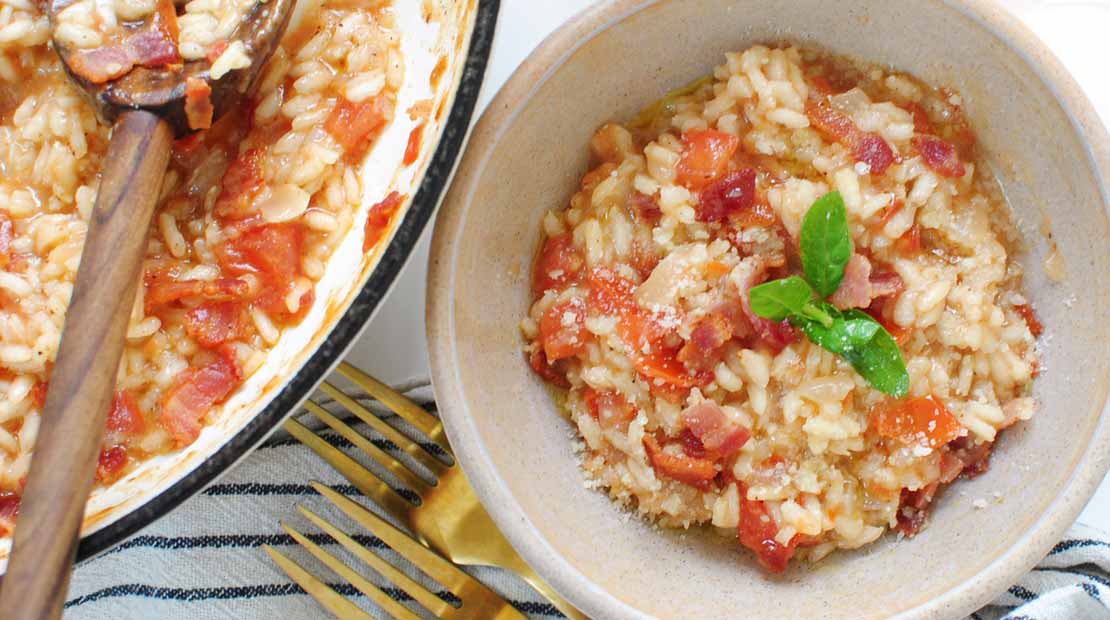 Summer Risotto
Hands-On Time

15 minutes

Total Time

40 minutes

Serves

4
4

cups chicken stock

2

medium tomatoes, cored and chopped

6

slices HORMEL® NATURAL CHOICE® Original Uncured Bacon, chopped

1/2

white onion, finely diced

Pinch of salt

1

tablespoon oil, if needed

1

cup Arborio rice

1/4

cup white wine

2

tablespoons butter

1/3

cup grated parmesan cheese

Coarse salt and freshly ground pepper, for serving

Fresh basil, for garnish
Instructions
In medium saucepan over medium-high heat combine chicken stock and tomatoes. Bring to boil. Reduce to simmer.
In large skillet over medium heat, cook bacon 7 to 9 minutes, or until crispy. Remove with slotted spoon to paper towel lined plate. Reserve.
In same skillet over medium-high heat, add onion and salt. Add oil if necessary. Sauté 5 to 6 minutes, or until onions are beginning to brown. Add rice, stirring to toast, about 3 minutes. Add wine. Cook 1 minute. Reduce heat. Using a ladle, transfer two ladles full of warmed chicken stock mixture into the pan. With wooden spoon, begin to stir the rice and stock together. Cook, stirring constantly, until the rice begins to soak up the stock and starts to release its starch. Maintain an even heat that gives time for the rice to cook. Continue to add the stock one ladle at a time until rice is just tender and the mixture is creamy.
Remove from heat. Stir in butter and cheese. Season to taste with salt and pepper. Garnish with fresh basil and reserved bacon.
This grilled corn and turkey bacon salsa just screams summer. Simple enough to serve at a party, and absolutely divine next to tacos or even grilled chicken. Any way you serve it, make it happen pronto!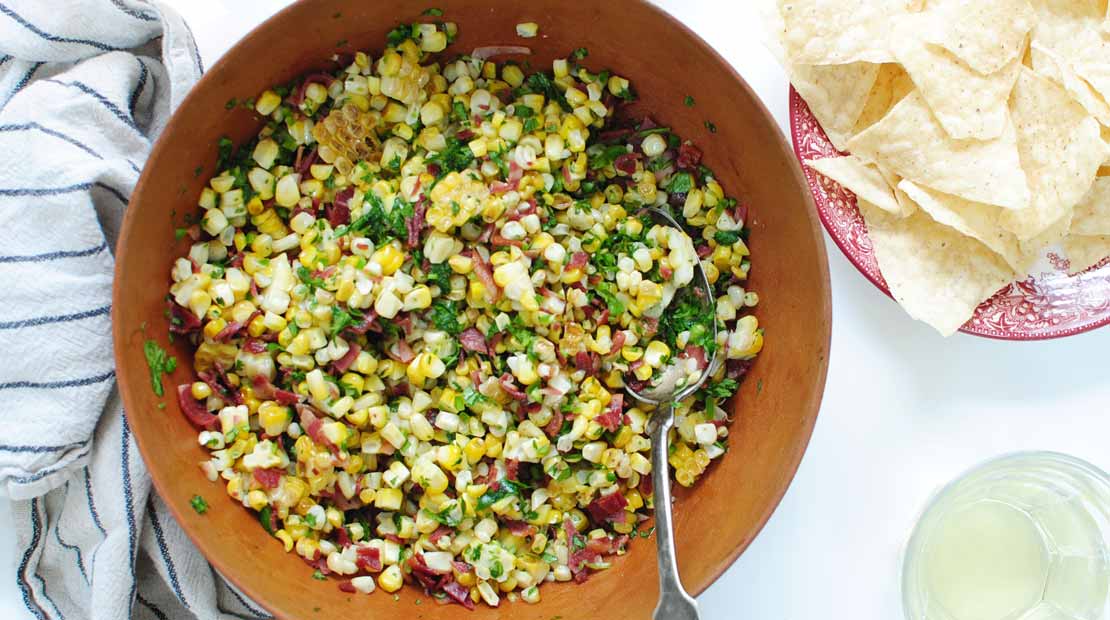 Grilled Corn and Bacon Salsa
Hands-On Time

10 minutes

Total Time

40 minutes

Serves

4
4

slices JENNIE-O® Turkey Bacon, chopped

2

tablespoons olive oil, divided

4

ears fresh corn, shucked

2

small jalapeño peppers, seeded and minced

1/4

cup chopped cilantro

2

tablespoons lime juice

Coarse salt, to taste

Tortilla chips, for serving
Instructions
In skillet over medium heat, cook bacon pieces 6 to 7 minutes or until crispy. Transfer to paper towel lined plate.
Prepare grill for medium-high heat. Drizzle 2½ tablespoons oil over corn. Grill, turning frequently, 20 to 25 minutes or until tender and charred. When cool enough to handle, slice kernels off cobs and place in medium bowl.
Add turkey bacon, jalapeño, cilantro and lime juice. Toss to combine. Season to taste with salt. Drizzle with remaining oil. Serve with tortilla chips.
This four ingredient appetizer will wow your guests (or let's be real, yourself) with fleshy fresh figs, crisped brown sugar bacon, the freshest of garden herbs and a drizzle of spicy oil. Unexpectedly savory and sweet, it's a crowd pleaser with minimal effort! And hello, bacon and figs. 'Nuff said.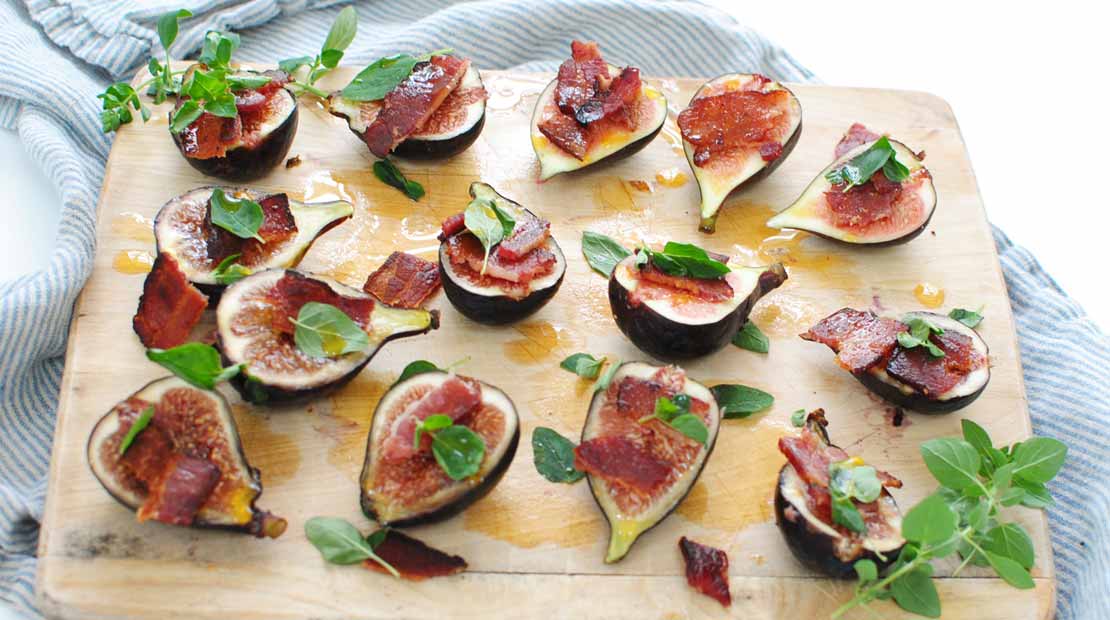 Figs with Bacon and Chili Oil
Hands-On Time

10 minutes

Total Time

30 minutes

Serves

8
8

fresh figs, halved

4

slices HORMEL® BLACK LABEL® Premium Brown Sugar Bacon, crisply cooked and crumbled

1

tablespoon chopped fresh herbs, such as oregano

Hot chili oil, to taste
Instructions
Arrange figs on a serving tray. Top with bacon. Sprinkle with herbs. Drizzle with chili oil. Serve immediately.