Getting your little one to enjoy eating a healthy variety of foods is no easy task. So, to help you out, we've curated our top five tips for parents of picky eaters — with a few recipes to get you started on your journey to a more colorful and fun mealtime!
Get them involved
When kids are left out of the prepping process, it's no wonder that the food in front of them feels foreign! Try letting your kiddos help you pick out meals for the week from a kids' cookbook, choose the fruits and vegetables at the farmers' market or grocery store, have a hand in a small garden at home or just help with simple cooking practices like washing and stirring!
Lead by example
Your kids look up to you more than you think they do — so make sure to set a good example by eating with no distractions at mealtime, eating all together instead of at different times when it works and showing that you also enjoy the healthy foods you are wanting them to eat! When you can, also try to have meals and snacks at consistent times each day to ensure your child will be hungry when the next plate comes around.
Make it fun
Cut fruits and vegetables into fun shapes like hearts and stars with cookie cutters, arrange the plate of veggies to resemble a rainbow or even add a smiley face on top of pancakes with berries! The options are endless. Kids are more apt to try something when it looks intriguing, so let yourself have some fun when prepping with all the colors, textures and shapes!
Undercover veggies
Add broccoli, carrots or bell peppers into pasta sauces, casseroles, soups or pizza, spiralized zucchini into pasta or a few leaves of spinach into a delicious smoothie. When you let them explore some of these new foods with some familiar favorites, it's a little less daunting for their tastebuds.
One step at a time
Let your picky eater ease into the new food with smaller portion sizes. Let them start with just licking, touching or smelling foods before asking them to eat it. You can chop up a small piece of bell pepper and put it on top of a slice of pizza, or even just dip it in their favorite dipping sauce and let them lick the sauce off. Any step is a step — so don't be afraid to take it slow!
We hope these tips will help you and your picky eater discover the rainbow of delicious foods out there. Try our simple recipes below to make your first colorful meals a breeze.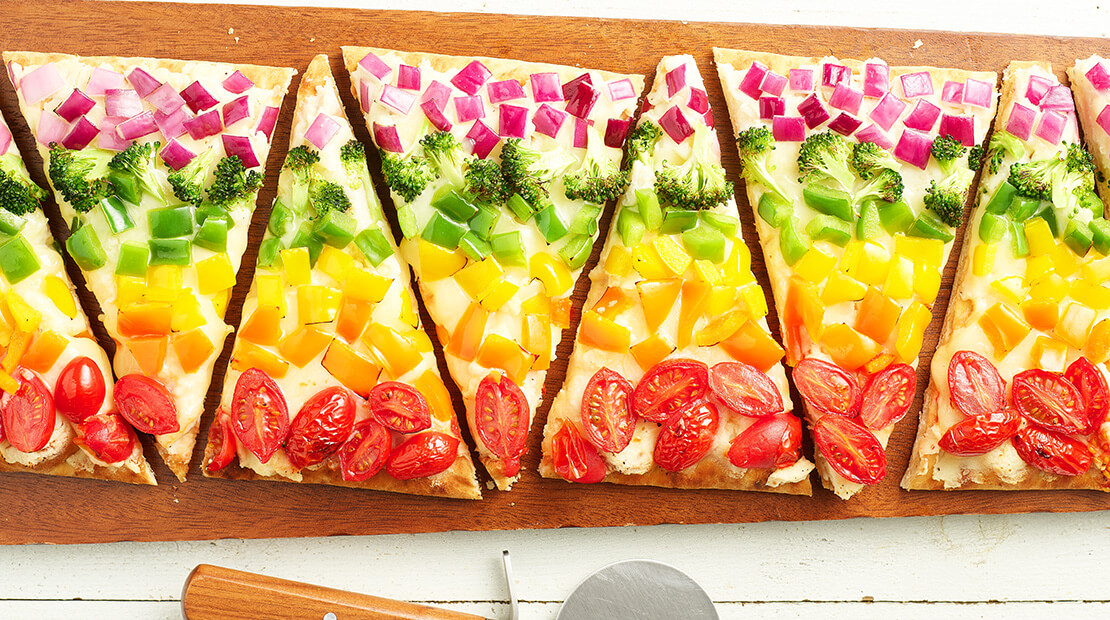 Mashed Potato Rainbow Flatbread Pizza
Hands-On Time

10 minutes

Total Time

30 minutes

Serves

4
1

purchased flatbread

1

cup HORMEL® Homestyle Mashed Potatoes, from a 20-ounce package

1

cup shredded white cheddar cheese

4

cups chopped colorful vegetables; red onions, broccoli florets, green peppers, yellow peppers, orange peppers and grape tomatoes

Olive oil
Instructions
Heat oven to 425°F.
Place flatbread on large baking sheet. Spread potatoes evenly over top. Sprinkle with cheese. Arrange vegetables in rainbow order on top of cheese. Drizzle with olive oil.
Bake 15 to 20 minutes, or until the vegetables are tender and flatbread is golden.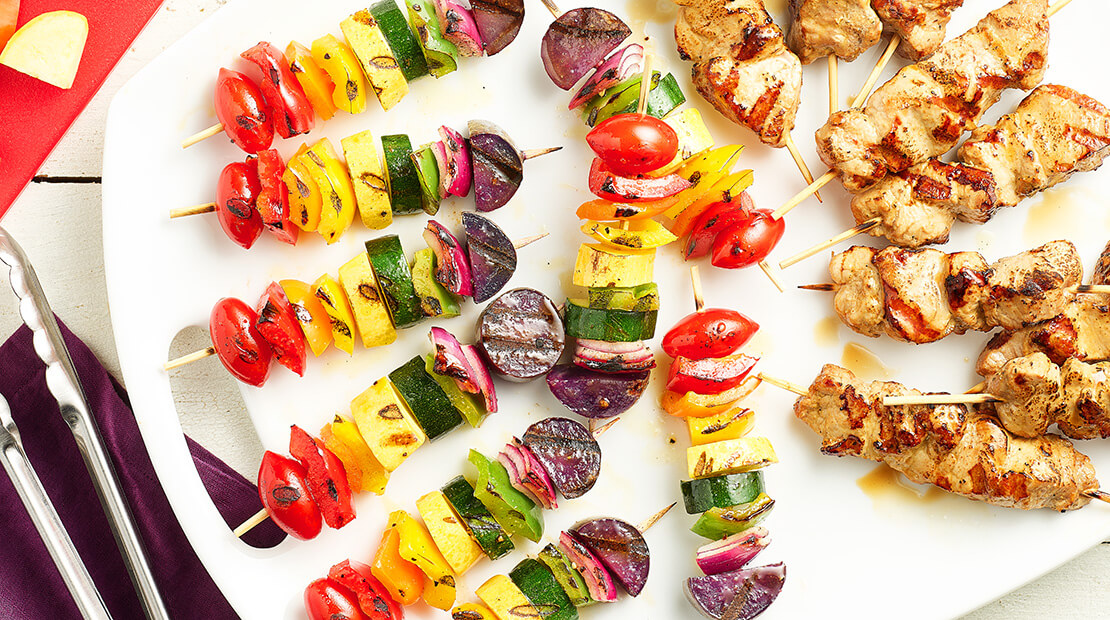 Rainbow Veggie & Grilled Peppercorn Pork Kabobs
Hands-On Time

20 minutes

Total Time

40 minutes

Serves

5
1/4

cup olive oil

2

tablespoons lemon juice

1/2

teaspoon garlic powder

1/2

teaspoon salt

1/4

teaspoon black pepper

9

small purple potatoes, cut into 1-inch slices

15

grape tomatoes

1

red bell pepper, cut into 1-inch pieces

1

orange bell pepper, cut into 1-inch pieces

1

small yellow squash, halved and cut into 1/2-inch thick slices

1

yellow bell pepper, cut into 1-inch pieces

1

zucchini, halved and cut into ½ -inch thick slices

1

green bell pepper, cut into 1-inch squares

1

red onion, cut into 1-inch pieces

1

(18.4-ounce) package HORMEL® Peppercorn Pork Tenderloin, cut into 1½-inch cubes
Instructions
Veggies
In small bowl, combine olive oil, lemon juice, garlic powder, salt and pepper.
In saucepan, place potato pieces. Add water to cover. Bring to a simmer over medium heat. Cook potato pieces 4 to 6 minutes or until tender. Drain.
Heat grill to medium. Thread 6-inch skewers with vegetable pieces in rainbow order. Brush skewers with olive oil mixture. Grill, turning once and brushing with additional olive oil mixture, 8 to 10 minutes, or until vegetables are tender.
Pork
Prepare grill for medium-high heat.
Thread pork onto 6-inch skewers; brush lightly with oil. Grill kabobs, turning once, 12 minutes or until internal temperature of pork reaches 155°F.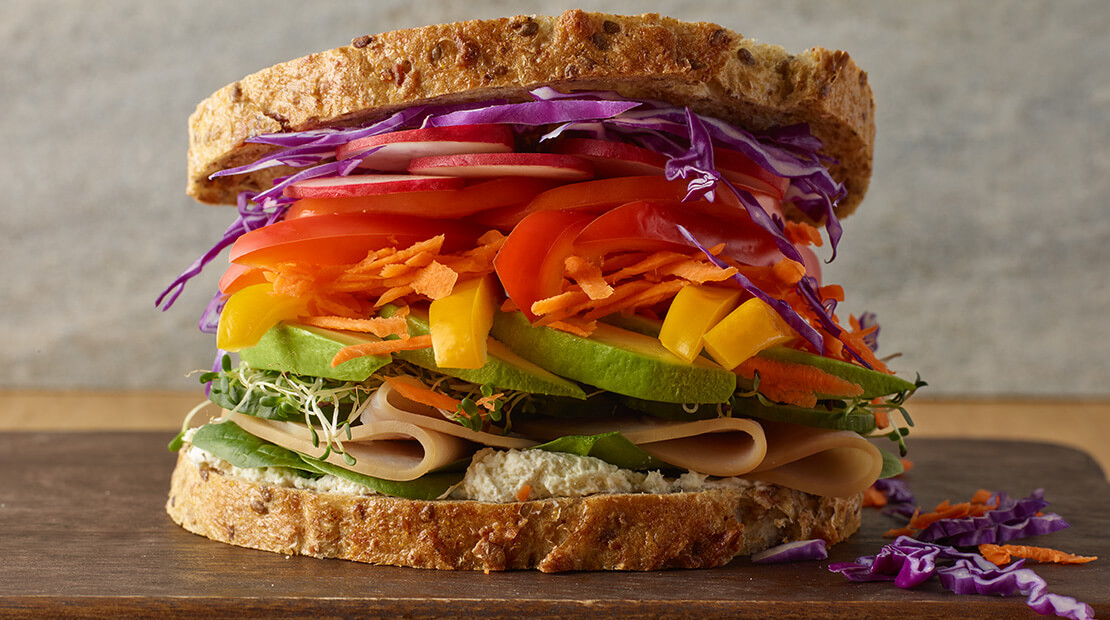 Turkey Rainbow Veggie Sandwich
Hands-On Time

10 minutes

Total Time

15 minutes

Serves

1
2

slices multigrain bread

2

tablespoons herbed cream cheese

1/4

cup baby spinach leaves

4

slices HORMEL® NATURAL CHOICE® Oven Roasted Deli Turkey

6

cucumber slices

1/4

cup alfalfa sprouts

1/2

avocado, sliced

4

yellow bell pepper strips

1/4

cup shredded carrots

4

red bell pepper strips

2

tomato slices

3

radishes, sliced

3

tablespoons shredded red cabbage
Instructions
Spread bread slices with cream cheese. Top one slice bread with spinach leaves and turkey. Layer remaining ingredients on top of turkey. Top with remaining bread slice.