Leaves changing. Temperatures dropping. #PumpkinSpiceLatte trending. These are timeless signals of the annual shift away from summer.
Yet, pumpkin spice is more than just a latte flavor; it is a sublime complement to a variety of ingredients, from apples to zucchini.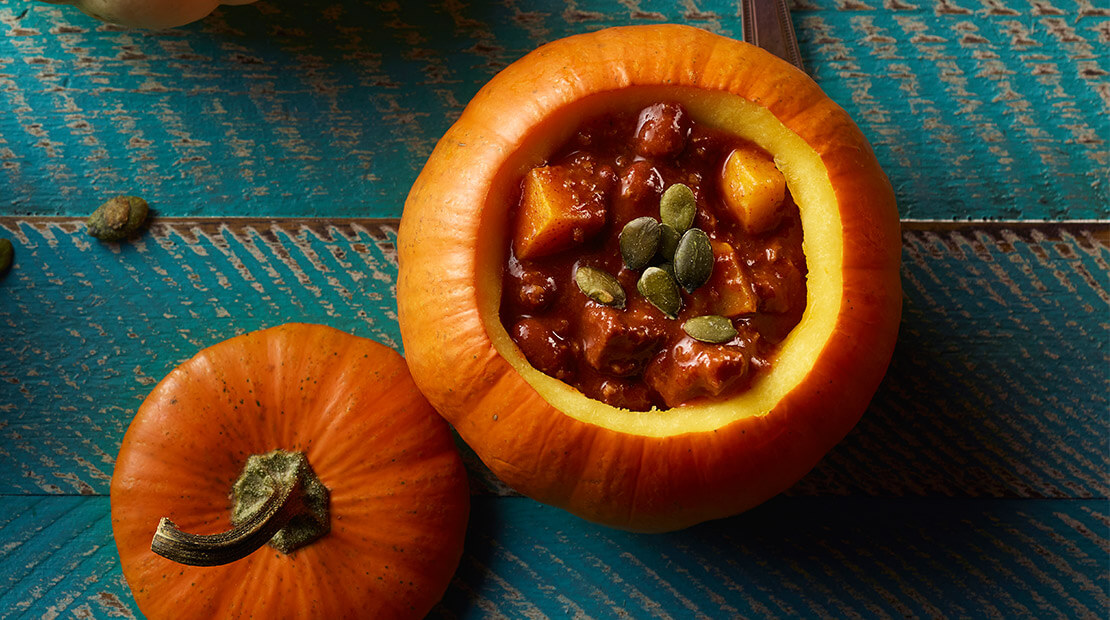 Pumpkin Spice Chili
Total Time

30 minutes chili, 1.5 hours chili + pumpkin bowls
1

tablespoon olive oil

1/2

cup onion, chopped

1/2

teaspoon ground pumpkin pie spice

2

(15-ounce) cans Hormel® chili

1/2

cup cubed pumpkin

6

miniature pumpkins (optional)
Instructions
In large saucepan, heat oil over medium heat. Sautée onion 7 to 9 minutes or until translucent. Add pumpkin pie spice and cook 1 minute. Stir in chili and pumpkin. Bring mixture to a boil; reduce heat and simmer 20 minutes or until pumpkin is tender.
Mini Pumpkins (Optional)
Heat oven to 400°F. Place whole pumpkins on a lightly greased baking sheet, stems up. Bake 20 minutes. Let stand 10 minutes. Cut stem off and scoop out seeds.
Food
4 Flavorful Favorites For The Grill
Easy-to-grill recipes for delicious weeknight dinners cooked outdoors
Try Them At Home
Food
Travel the World with Your Dinner Plate
Recipes from around the world ready to prepare in your kitchen
Try Them At Home
Food
From Our Pits to Your Plates
True barbeque is a passion, but that doesn't mean you need to wait hours for that cravably delicious flavor.
Try It At Home