As a working mom of two little ladies (one born on Christmas Day and the other on January 10), "busy time of year" is the understatement of the season in the Leyk household. Juggling working, gift buying, dual birthday party planning, laundry sorting (and spot cleaning), meal planning, housekeeping, snow shoveling, toddler wrangling, ornament dangling, cookie baking, lefse making, Santa faking, and Elf on the Shelf mischief-making—ON TOP OF holiday hosting—is crazy. Somewhere in there, for the good of the general public, I have to shower. And that, my friends, is the inspiration for this article.
While the holidays are an exciting time of year to gather friends and family to celebrate, it can be an overwhelming season for those hosting, even for those sans toddlers. As if family dynamics, gift buying and mountains of food prep aren't enough, the pressure is on to also be festive and put-together—even when you may feel like Clark W. Griswold post-exterior-illumination-letdown. Aspirational decorating ideas abound online through resources like blogs, Pinterest and Instagram, but it's important to remember that little extra sparkle can be kept simple … and even inexpensive. Here are five tips to simplify your holiday hosting to-do list and add a special personal touch to your gatherings with enough time (and energy) left to enjoy your company.
Snail mailed or electronic, invitations are an easy way to set the tone for your gathering and provide information upfront to your guests. RSVPs can help you plan for adequate seating, beverages and food.
As you get RSVPs, have the conversation about your menu and don't be afraid to accept help or even ask guests to bring a dish to share. Most are more than happy to do so, and often will bring something they already know they enjoy, so you're sure to please everyone involved with the food selection at your gathering. Save non-perishable items for guests coming from out of town if possible. Keep track of what guests are bringing to ensure you have your bases covered for side dishes, desserts, etc.
No matter the floor plan of your gathering space, guests have a natural tendency to congregate at the heart of the home—the kitchen. Keep snackers at bay (and reclaim your food prep space) by having a few low-maintenance, make-ahead munchies to set out, such as a snack mix or a party tray. Hormel Gatherings® party trays and snack trays are a perfect way to save you time slicing and dicing—and save your serving platters for the main event!
Preparing a signature drink is a nice way to save yourself time and money and add a personal touch and an attractive showpiece to your gathering. Rather than taking individual requests for beverages, guests can serve themselves as needed. Opt for a non-alcoholic punch (that can be added to) so there's something for everyone.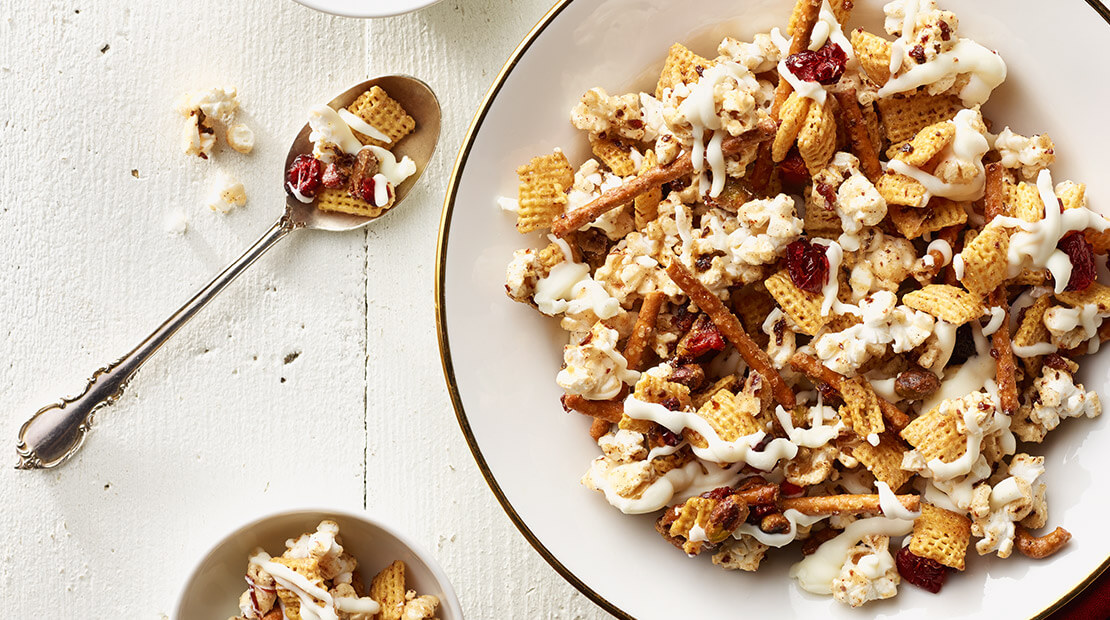 Pumpkin Spice Popcorn Mix
8

cups popped white popcorn

4

cups honey sweetened corn cereal

1

cup pretzel sticks

1

cup pistachio nuts

1/2

cup Hormel® real bacon pieces

1/2

cup butter

1/2

cup granulated sugar

1/4

cup corn syrup

1

teaspoon vanilla extract

1

teaspoon pumpkin pie spice

1/2

cup dried cranberries

8

ounces vanilla flavored almond bark
Instructions
Heat oven to 325°F.
In large bowl, combine popcorn and next 4 ingredients.
In small saucepan melt butter over medium heat. Stir in sugar and corn syrup and cook 2 minutes, stirring constantly. Remove from heat. Stir in vanilla extract and pumpkin pie spice until well blended.
Stir butter mixture into popcorn mixture, stirring thoroughly to coat.
Transfer mixture to 2 lightly greased jelly-roll pans. Bake 25 minutes, stirring every 10 minutes.
Remove from oven and immediately transfer to wax paper to cool. Evenly sprinkle dried cranberries over snack mix. Melt almond bark according to package directions. Drizzle over snack mix. Let stand 20 minutes. Break apart and store in air-tight container.
Nutrition Info
Calories: 425, Protein: 6g, Carbohydrate: 50g, Fat: 21g, Cholesterol: 27mg, Sodium: 499mg
Add a festive touch to your gathering with little effort and investment with these simple centerpiece ideas using materials you may already have around your home. Stick with one or add variety, texture and visual interest to your table by combing several of these ideas.
Personalized

Place Settings
You'll Need:
Rustic Brown Wrapped Wire
Wire Cutters
Fresh Rosemary
Floral Wire
Cardstock
Scissors
Hole Punch
Felt Tip Pen
Ribbon