We throw parties for everything — full moons, new episodes of our favorite shows, because it's Friday! Or Wednesday! — So why not host a freezer club night? Is it because you're not totally sure what a freezer club is? Fair enough! Freezer clubs are meal-sharing plans or frozen food exchanges between like-minded friends and neighbors, old and new. It's a way to stock your freezer with nutritious, satisfying meals that you chose, yet did not have to cook. But that doesn't mean you're completely off the hook; you have to make food to share with everyone, too. It's actually not that complicated. Let's break it down step by step — or better yet — lasagna by lasagna.
Okay, this is a rule for life, not just your freezer club! But let's focus on the club for now. You'll probably want to orchestrate a freezer club with friends who have kids the same age, who eat in the same general style as you do and who can afford a similar grocery budget. If you're a vegetarian, find other veg friends to join up with. Same goes for allergies and any other dietary restrictions. On a slightly more personal level, collaborate with people you like and relate to. Don't join a freezer club with someone who makes you anxious or intimidated. Do join a freezer club with someone who won't mind if every now and then, your baked-not-fried fish sticks are an epic flop. And better yet, a friend who can laugh about it with you.
Highly Organized, Task-Oriented Leaders Make Ideal Administrators
Freezer clubs involve commitment, responsibility and work. So, pick someone who actually likes all that, and give that über-organized friend permission to take charge and be authoritative. That way, all you have to do is throw on your favorite apron, blast some jamming music and enjoy cooking the ratatouille. Because seriously, not everyone is stellar at the less-fun stuff. For example, how often will your freezer club meet? Once a month? Every six weeks? Everyone should take turns hosting, and the administrator will stay on that schedule. Also, budgets. Ideally, you'll combine grocery receipts and split the total amount on party night, but that's tricky, given the fact that some people grow their own food, some people have non-club items on their receipts, etc. Unless you're a highly orderly and systematic superhero, let the administrator figure all this logistical stuff out, and just go with it!
How Much To Cook and What To Cook
The best idea is to cook for however many people are in the club. So, if there are five members, everyone makes five meals in advance. Each meal should serve a family of four to eight, unless you're in a singles freezer club, which sounds like a fun idea! Some clubs get together to decide on recipes in advance, but the most timesaving method is to email a recipe idea list and see if everyone approves. Preparing five large meals sounds like a lot of shopping and a lot of work — and it is. But there's definitely a way to do it without getting overwhelmed. Buy all your groceries at once, at your favorite market with the best deals, and go with a monumental list. Then, pick a day you have time to cook your heart out. Instead of cooking the day before freezer club, try to cook a few days before, just in case something goes wrong and you have to tweak the recipe or start over.
You'll want to label and store everything in the most efficient way. Make sure you use a container or dish that you can freeze AND bake in. As for labels, write the name of the dish, cooking instructions and your name, so whoever ends up cooking it knows to contact you with questions about preparation or ingredients.
Food is the language that brings us together, so let's focus on the togetherness. Exchange night — and again, you'll rotate homes for this — should be all about wine and chatting. So, first things first, give and receive your frozen meals. Get them into your big red cooler out in the car, and then go back to the fun. You certainly don't have to talk about recipes at the party, but for new friends and neighbors, food is indeed a great unifier. Chances are, the room will be filled with so much joy and gratitude, the night will be wonderful no matter what happens next. (Side note: Some moms like to make freezer club less of an evening soiree and more of a post-naptime playgroup and hang session. Do whatever works for the group.)
Remember, You Now Have Frozen Meals for Those in Need
This is a huge perk for freezer clubbers. If someone you love has a baby or a crisis, or even if someone you don't know needs a helping hand or an act of kindness, you now have a hearty, precooked meal to offer. That is such a compassionate thing to do; karma will thank you later. And you'll thank freezer club for keeping you on top of your mealtime game.
Recipes
Here are a few freezer-club-approved meals from our kitchen. Not ready to jump into a freezer club just yet? These are still great to help you get ahead on your stock of easy meals.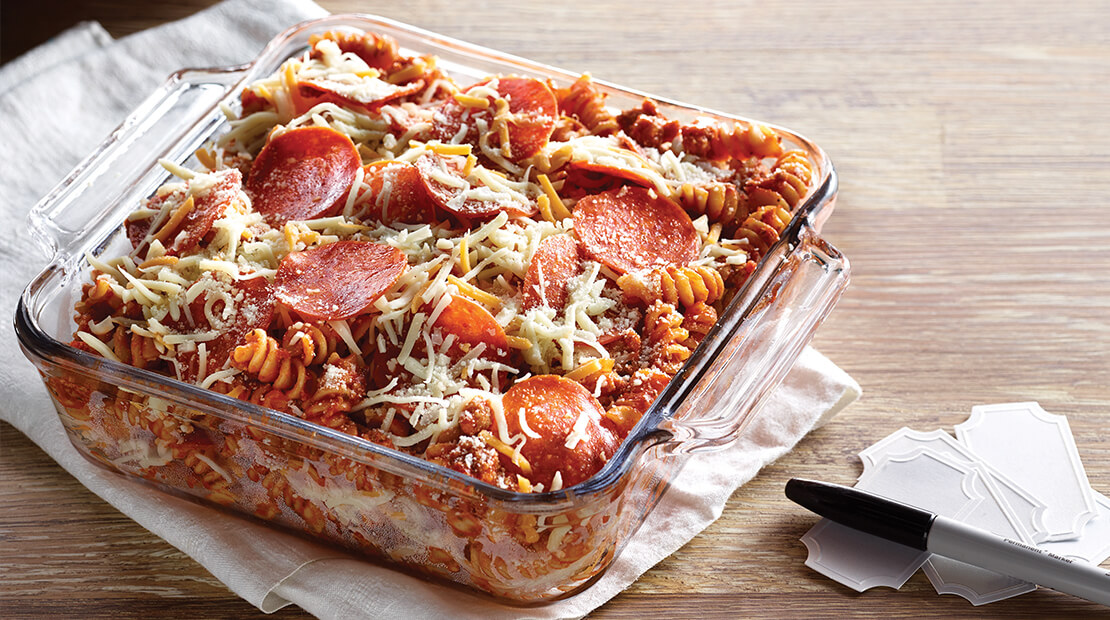 Pepperoni Rotini Bake
Hands-On Time

25 minutes

Total Time

1 hour 5 minutes

Serves

8
1

pound JENNIE-O® lean ground turkey

1

teaspoon garlic salt

1

(24-ounce) jar spaghetti sauce

1

(14-ounce) jar pizza sauce

1

(1-pound) box rotini

1/4

(6-ounce) package HORMEL® pepperoni

1

(8-ounce) package shredded pizza blend cheese

As desired

Parmesan cheese
Instructions
Heat oven to 325°F. In a large skillet over medium heat, cook turkey until no longer pink. Always cook to well-done, 165°F as measured by a meat thermometer. Stir in garlic salt, spaghetti sauce and pizza sauce and cook 5 minutes, stirring occasionally. Meanwhile, cook pasta according to package directions and drain. In large bowl, combine pasta and turkey mixture. Transfer half of mixture to a lightly greased 13×9-inch baking dish. Layer with half of the shredded cheese and pepperoni. Top with remaining pasta mixture, remaining pepperoni and remaining shredded cheese. Sprinkle with desired amount of Parmesan cheese. Bake 30 to 40 minutes, or until hot and bubbly. Let stand 5 minutes.
Nutrition Info
Calories: 396, Protein: 27g, Carbohydrate: 37g, Fat: 17g, Cholesterol: 74mg, Sodium: 983mg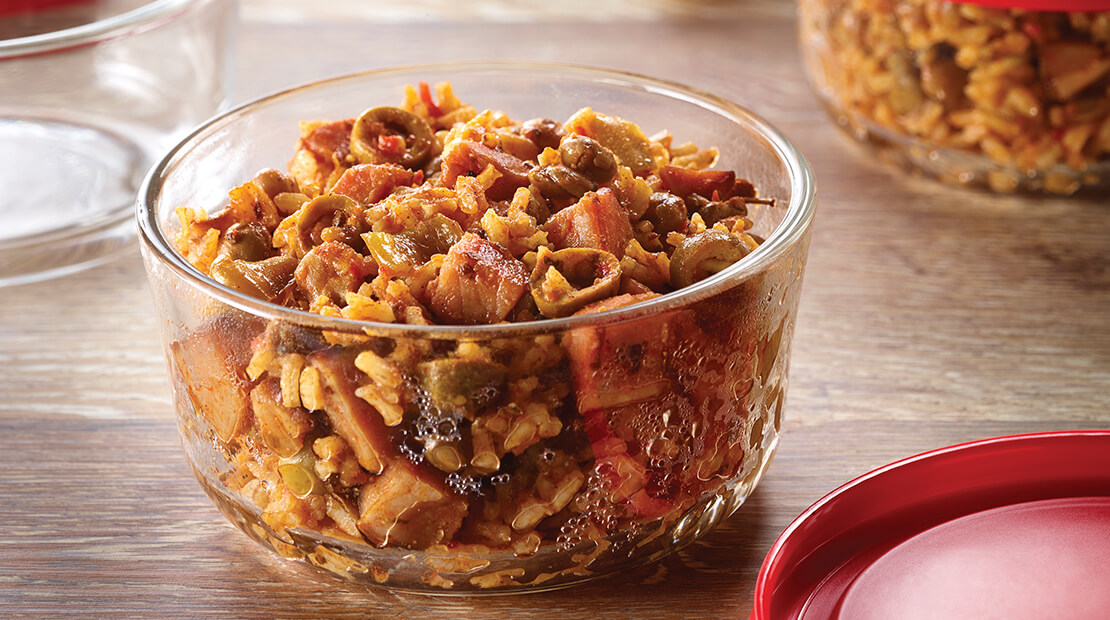 Arroz Con Gandules (Puerto Rican Rice With Pigeon Peas)
Hands-On Time

15 minutes

Total Time

45 minutes

Serves

6
3

tablespoons olive oil

2

teaspoons ground annatto (can be found in the spice section of Latin grocery stores and online)

1/3

pound HORMEL® CURE 81® ham, diced

1/2

green bell pepper, diced

1/3

cup sofrito (recipe below)

2

teaspoons ground cumin

1

tablespoon dried oregano

2

teaspoons smoked paprika

2

teaspoons garlic powder

1 1/2

cups long-grain rice, uncooked

1

(15-ounce) can pigeon peas, not drained

1

teaspoon kosher salt

1 1/2

cups water

1/2

cup tomato sauce

1/3

cup pimento-stuffed Spanish olives, sliced

1

tablespoon capers
Instructions
In large, heavy saucepan over medium heat, add oil, annatto, ham, pepper and sofrito. Sauté for 5 minutes, stirring often. Add cumin and next four ingredients, stirring well to coat. Cook 1 minute. Add pigeon peas with liquid, salt, water, tomato sauce, olives and capers; stir to combine. Bring to a boil and cook uncovered 5 minutes or until most of the liquid has evaporated. Stir again, cover and lower heat to low. Cook 15 to 20 minutes, remove from heat and let sit covered 5 more minutes. Fluff rice with fork before serving.
Nutrition Info
Calories: 370, Protein: 13g, Carbohydrate: 51g, Fat: 14g, Cholesterol: 16mg, Sodium: 1,448mg
This condiment made of puréed herbs and aromatics and is a staple in many Puerto Rican recipes. Puerto Rican cooks regularly make it in large batches and then freeze it in small portions to use throughout the month. This makes more than you'll need for the rice dish, but will keep for two weeks in the refrigerator or up to six months in the freezer. Use it to make other Puerto Rican recipes, or experiment with using it as a base for your favorite soups, as a marinade for chicken or shrimp, or to add flavor to sautéed vegetables and stir-fries. A tablespoon or so thinned with olive oil and vinegar makes for an easy and flavorful salad dressing!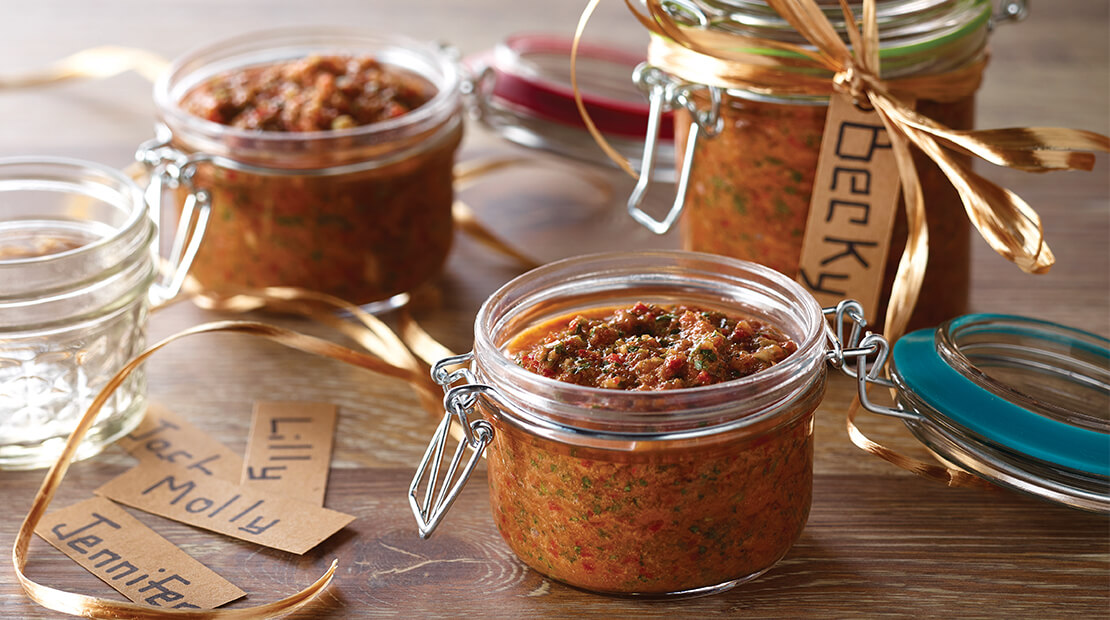 Sofrito
Hands-On Time

10 minutes

Total Time

10 minutes

Serves

4
1/2

cup extra-virgin olive oil

2

Spanish onions, chopped

6

cloves garlic

1

green bell pepper, chopped

2

red bell peppers, chopped

1

bunch cilantro, washed and trimmed

1

bunch parsley, washed and trimmed

4

cilantro leaves

2

large tomatoes, chopped

2

tablespoons ground cumin
Instructions
Combine all ingredients in food processor or blender and purée until smooth.
Nutrition Info
Calories: 91, Protein: 1g, Carbohydrate: 7g, Fat: 7g, Cholesterol: 0mg, Sodium: 11mg