Certified Master Chef Ron DeSantis and Minneapolis-based gift wrapping expert Andrea Loth, offer a new take on gift wrapping this holiday season, whether you're in charge of bringing dinner, dessert or a gift.
How To

Wrap a Holiday Dish
Chef Ron shared his recipe Stuffed Bacon-Wrapped Turkey Breast featured in this recipe below.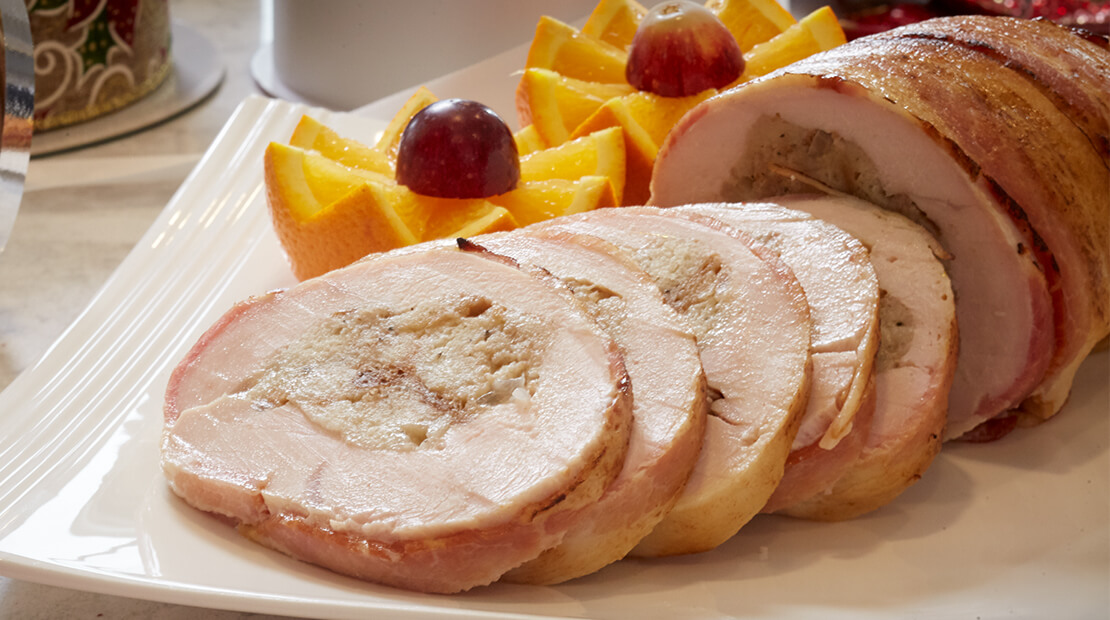 Stuffed Bacon-Wrapped Turkey Breast
Hands-On Time

30 minutes

Total Time

1 hour 30 minutes

Serves

6
8

slices HORMEL® BLACK LABEL® bacon

1

(1.25-1.75 pound) JENNIE-O® turkey breast half, removed from bone, skin removed, butterflied

1

cup prepared bread stuffing mix, chilled
Instructions
1. Heat oven to 350°F.
2. Lay bacon slices side-by-side on plastic wrap. Top with another piece of plastic wrap. Using a rolling pin, roll over the plastic wrap to create a thinner sheet of bacon. Remove top sheet of plastic wrap.
3. Place butterflied turkey breast half on top of bacon. Fill center of turkey with chilled stuffing. Reshape turkey around stuffing and wrap bacon around turkey. Place on rack in roasting pan.
4. Roast 40 to 45 minutes or until 165°F as measured by a meat thermometer. Remove from oven and let rest 5 to 10 minutes before slicing.
How To

Wrap A Gift Basket
Click through the gallery for tips from Andrea to build your gift basket evenly so it is easy to carry.
Chef Ron shared the recipe for an Almond Butter Chocolate Tart featured in this video below.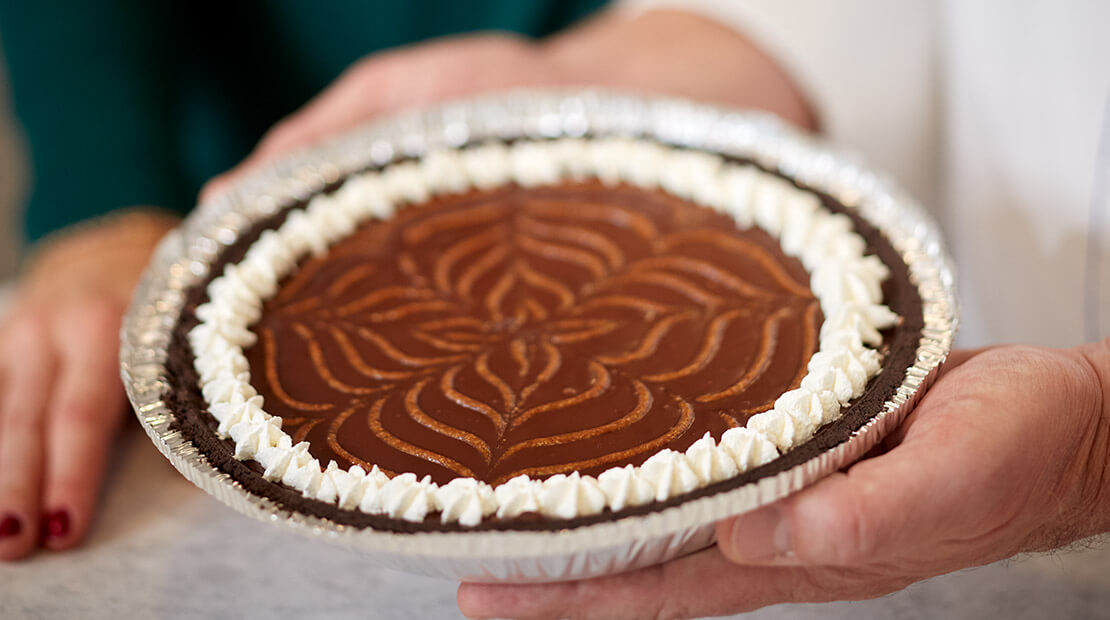 Almond Butter Chocolate Tart
Hands-On Time

30 minutes

Total Time

2 hours

Serves

8
1/2

cup JUSTIN'S® almond butter

4

teaspoons sugar, divided

1

(6-ounce) chocolate crumb pie crust

5

ounces dark chocolate, chopped

1

cup heavy whipping cream, divided

1/8

teaspoon salt
Instructions
1. In small heatproof bowl, combine almond butter and 3 teaspoons sugar. Microwave on HIGH 30 to 40 seconds or until mixture can be stirred smooth. Spread 1/3 cup of mixture on pie crust bottom. Chill 10 minutes.
2. In medium mixing bowl, place chopped chocolate. In small saucepan over medium-low heat, combine ¾ cup heavy cream and salt. Bring to a simmer. Pour over chopped chocolate and stir to combine. Let stand 5 minutes and stir until smooth. Pour into chilled crust.
3. Microwave remaining almond butter and sugar mixture on HIGH 10 to 15 seconds. Place in small resealable plastic bag. Snip a small corner of the bag and pipe the mixture onto the pie in a spiral. Using a toothpick and starting in the middle, pull a line to the edge of the crust and repeat to create 8 lines. Chill pie completely.
4. In small mixing bowl, whip remaining ¼ cup heavy whipping cream and 1 teaspoon sugar until stiff peaks form. Pipe around edge of crust.