Whether you plan to host a holiday gathering this spring or want to try your hand at a delicious new dinner for your family, Spicy Gremolata Seasoned JENNIE-O® Tender & Juicy Young Turkey Breast is the answer.
If you need a flawless centerpiece for an occasion, these turkey breast halves featuring a spicy gremolata are an impeccable choice to suit anyone's taste. Esteemed chef, cookbook author and beloved TV personality Carla Hall suggests a spicy gremolata to take JENNIE-O® Tender & Juicy Young Turkey Breast to new depths of deliciousness. Seasoned to perfection with hints of garlic, lemon zest and red pepper flakes, gremolata makes an ideal accompaniment for many dishes, but this takes a slightly different approach.
This powerhouse Italian condiment can be used numerous ways—and in this case, it does double duty. Rubbing the spicy gremolata under the loosened turkey skin, as well as finishing the seared and roasted turkey breasts with the herbaceous green sauce gives extra layers of flavor to this entrée. The fresh parsley and sage, combined with lemon zest add a bright flavor to the turkey, while the garlic and red pepper flakes provide a welcome spicy heat.
This recipe has a straightforward preparation, lending a fresh and exciting flavor profile to the focus of your spread, and with only 15 minutes of prep time, it offers you a chance to enjoy your loved ones as much as they will appreciate this dish. This recipe is undoubtedly a showstopper for any spring meal, to help you celebrate a holiday or the everyday.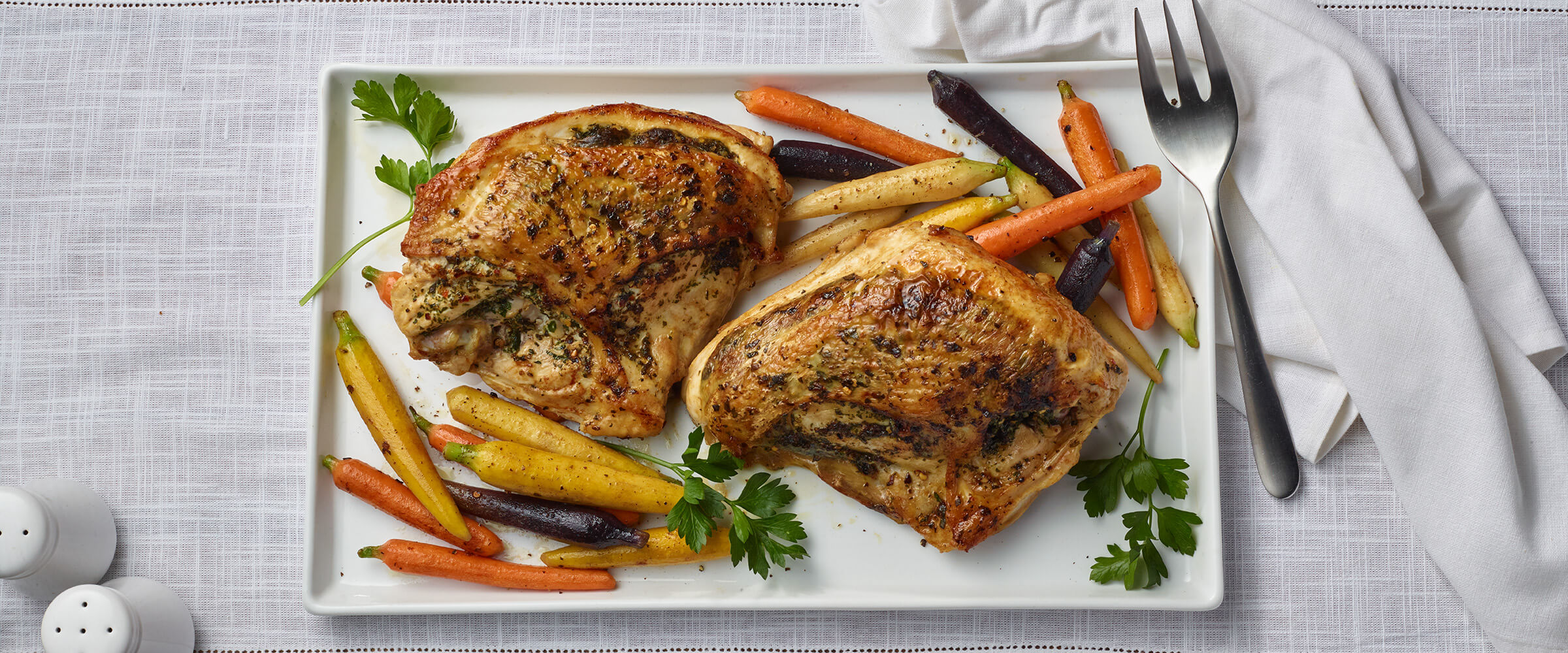 Prep Time
Cook Time
Cook Method
Dish Type
Ingredients
| | |
| --- | --- |
| | JENNIE-O® Tender & Juicy Young Turkey Breast (4 1⁄2 – 5 pounds), thawed if frozen, split into 2 halves |
| | Spicy Gremolata; recipe follows |
| 2 | tablespoons olive oil |
Spicy Gremolata
1

½

cup packed flat leaf parsley leaves, finely chopped

¼

cup sage leaves, finely chopped

4

garlic cloves, smashed

3

tablespoons finely grated lemon zest

1

teaspoon crushed red pepper flakes

2

teaspoons kosher salt

½

cup olive oil
Directions
Heat oven to 375°F.

Loosen turkey skin. Rub half of the Spicy Gremolata under the skin of turkey breast halves.

In large heavy bottomed skillet over medium-high heat, heat oil. Sear each breast half 6 to 8 minutes, or until golden brown on both sides.

Place seared turkey on large, rimmed baking sheet. Roast 30 to 60 minutes or until meat thermometer inserted into the thickest part of the breast registers 165°F.

Remove turkey from oven. Rub turkey breasts with remaining Spicy Gremolata. Let stand 15 minutes for easier carving.
For the Spicy Gremolata
In medium bowl, combine parsley, sage, garlic, lemon zest, red pepper flakes and kosher salt. Mix to combine. Stir in olive oil.
Nutrition Info
Calories: 375; Protein: 30.4g; Carbohydrates: 2.8g; Fiber: .9g; Sugars: .1g; Fat: 27.9g; Cholesterol: 81.3mg; Sodium: 427.4mg; Saturated Fat: 5.4g.
If you prefer serving a whole turkey for your holiday meal, consider Hall's favorite wet turkey brine recipe and cooking method for deconstructed JENNIE-O® Tender & Juicy Young Turkey ahead by clicking here.