The centerpiece of most Thanksgiving meals is undoubtedly an impressive turkey. With the holiday season fast approaching, to brine or not to brine isn't the question, but rather, to dry brine or to wet brine? Esteemed chef, cookbook author and beloved TV personality Carla Hall knows a thing or two about putting together a special holiday meal, including having an answer to that all-important brine question.
Combinations for turkey brine recipes vary, but one constant remains: the key ingredients—typically salt, pepper, sugar, herbs and citrus—unite to provide long-lasting flavor that infuses your turkey throughout cooking. A brine, which takes a matter of minutes to prepare, provides an excellent solution to pack your turkey with flavor without the time and fuss. Thanks to inactive prep time in the refrigerator, you can focus on cooking the rest of your Thanksgiving meal in the meantime or leave in your refrigerator overnight and get some sleep before the big day.
When it comes to prepping your turkey for Thanksgiving, you might be wondering what the difference is between a wet brine and a dry brine. Here's a quick rundown, from Carla Hall.
According to Hall, "With a wet brine, you'll need to submerge your turkey in a solution of water, salt and whole spices (just make sure the salt dissolved before adding the turkey!). This can be a bit tricky if you don't have a large enough container, but it's worth it because wet brines result in more moist and flavorful meat".
"Dry brines, on the other hand, are much simpler", says Hall – "you just rub the turkey all over with a mixture of salt and spices, then let it sit overnight. The next day, all you have to do is give it a quick rinse and pat it dry before cooking". Hall does add that dry-brined turkeys tend to be less moist than wet-brined ones, but some people prefer the flavor and texture.
"So which should you use? It really depends on your preferences. But either way, you're sure to end up with a delicious Thanksgiving turkey!"
WHOLE TURKEY:

Deconstructed
Another way to minimize worry around preparation of a whole turkey is to skip it altogether and opt for deconstructed pieces. It reduces cook time, frees up coveted space in your oven and allows you to focus on other parts of the meal and celebration, while still providing the opportunity to offer everyone's desired cut of turkey.
Hall shares her favorite wet turkey brine recipe and cooking method for deconstructed JENNIE-O® Tender & Juicy Young Turkey ahead of the holiday season to fulfill all your entertaining needs right through to the New Year.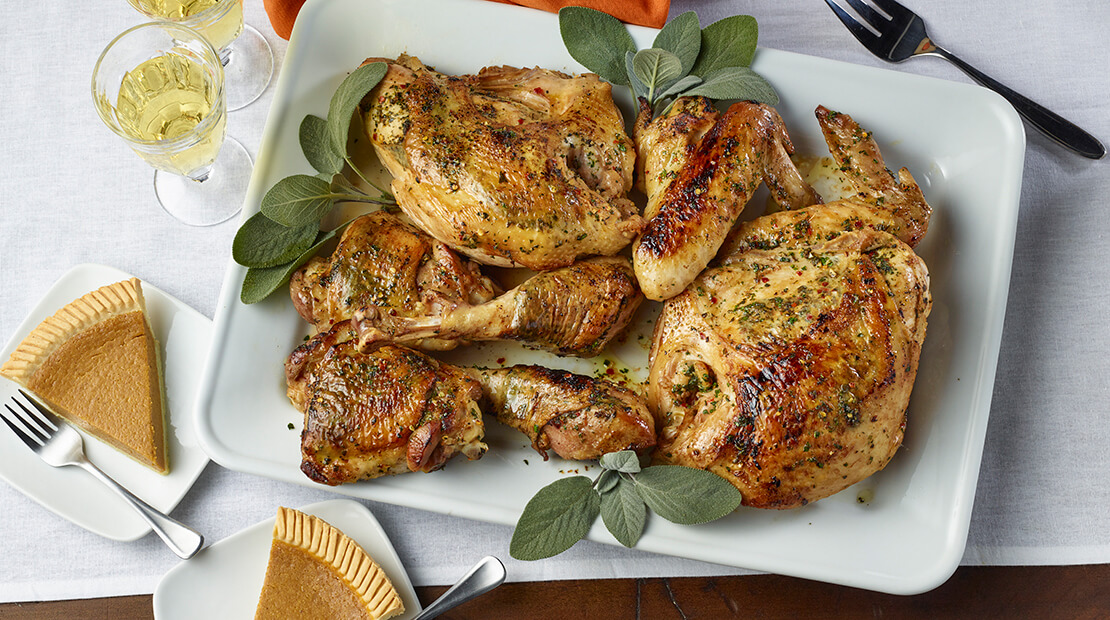 The Best Turkey Brine
Hands-On Time

30 Minutes

Total Time

10 hours

Serves

10
1

(12- 14 pound) JENNIE-O® Tender & Juicy Young Turkey, thawed if frozen, neck and giblets removed

4

cups water

1/2

cup plus 2 teaspoons kosher salt, divided

1/4

cup packed brown sugar

10

whole allspice berries

10

whole cloves

10

whole black peppercorns

5

whole star anise

1 1/2

cups fresh flat-leaf parsley leaves, finely chopped

1/4

cup fresh sage leaves, finely chopped

4

garlic cloves, minced

3

Tablespoons fresh lemon zest

1

Tablespoon crushed red pepper flakes

1/2

cup extra-virgin olive oil, plus more as needed
Instructions
TO DECONSTRUCT TURKEY:
Place turkey, breast side up on a cutting board. Pull one wing outward to see where the wing attaches to the body. Using a sharp boning or chef's knife, cut through the joint to separate the wing from the breast. Remove wing. Repeat on other side.
Pull leg away from the body and slice between the leg and the breast to the thighbone. Bend the leg away from the body to pop the joint out of the socket. Cut through the joint to separate the leg with the thigh. Repeat on other side.
Divide legs into thighs and drumsticks by turning each leg skin side down and cutting through the joint at the top of the drumstick.
Using kitchen shears, cut down both sides of backbone where it meets the ribcage and remove.
Place breast skin side up. Press down on breast to flatten. Flip breast over. Cut through the cartilage that runs between the 2 breasts. Using a firm pressing motion, snap the breast in two through the wishbone.
TO BRINE:
In a very large resealable plastic bag, combine water, 1⁄2 cup salt, brown sugar, allspice, cloves, peppercorns and star anise. Seal tightly and shake to dissolve salt and sugar. Add turkey parts. Seal tightly and place in a large bowl. Refrigerate at least 6 hours or up to overnight.
THREE HOURS PRIOR TO COOKING:
Remove turkey from brine. Rinse well. Pat dry with paper towels.
In small bowl, combine parsley, sage, garlic, lemon zest, red pepper flakes, oil, and remaining 2 teaspoons salt. Carefully run your hand between the turkey skin and meat to loosen skin. Rub parsley mixture over the meat and under the skin.
Cover and refrigerate for 3 hours.
AT COOK TIME:
Heat oven to 400° F.
Rub turkey pieces with olive oil to lightly coat. Heat a heavy skillet over medium-high heat.
Lightly coat the bottom with olive oil. Working in batches, sear turkey pieces until golden brown on all sides, about 3 minutes per side.
Transfer browned pieces to a large, rimmed sheet pan and arrange in a single layer.
Roast until a meat thermometer inserted into the thickest part of each piece registers 165°F, about 1 hour. Start checking temperature of pieces after 40 minutes, transferring each piece from pan to a plate as it cooks through. Smaller parts, like thighs, will be done earlier and larger pieces, like drumsticks, can take up to 1 hour.
Nutrition Info
Calories: 419; Protein: 36.6g; Carbohydrates: 10.3g; Fiber: 1.2g; Sugars: 7.8g; Fat: 28.9g; Cholesterol: 102.9mg; Sodium: 486mg; Saturated Fat: 5.8g.
Don't Forget
Questions on turkey prep? Give us a call at 1-800-TURKEYS